Exhibit Hall Activities
EDUCAUSE 2013 features more than 270 exhibiting corporations.
Use the Exhibitor Directory to find companies providing solutions of interest to you. All of the following options are available through the exhibitor directory:
Search for a particular exhibitor
Search by products and services
E-mail exhibitors in advance to set up appointments
Map your way through the exhibit hall
HALL HOURS:
Wednesday
9:30 a.m.–6:30 p.m.
Thursday
10:00 a.m.–4:30 p.m.
In addition to exhibits, there is much more to take part in within the hall. Explore the Start Up and Next Generation Learning Challenges Alleys, connect with others during the Networking Reception, and learn from community groups and innovators in the use of technology in higher education in the Learning Theater.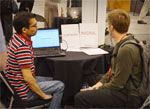 Start-Up Alley
This year, Start-Up Alley hosts 30 new companies. These companies are seeking input and support to help shape the future of information technology in higher education. Connect with companies by providing valuable feedback on their products and services, or attend the Discover Your Pilot presentation in the Learning Theater to find new IT services you can test drive on your campus.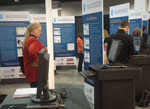 Next Generation Learning Challenges Alley
Visit Next Generation Learning Challenges Alley to learn about breakthrough models in education and how they can apply to your institution. Dig deeper into grantee profiles using an interactive touchscreen, watch streamed videos showcasing Breakthrough Models Academy 2013 projects, and stroll through the innovations corridor to see how these new models are making real strides towards college completion across the United States.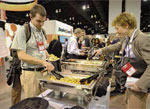 Networking Reception
Join us for an informal gathering with drinks and hors d'oeuvres in the exhibit hall. Kick off your conference experience right. Use this event to connect with colleagues and learn about exciting technology solutions for your campus. Also, win a FREE REGISTRATION to next year's conference! Scan your badge at all of the sponsor booths for a chance to win one of three complimentary registrations to EDUCAUSE 2014 in Orlando, Florida. Winners will be announced on Thursday.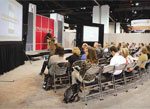 Learning Theater
The Learning Theater is a community space designed for high-energy presentations and informal group discussions. Presentations will represent a variety of institutions, EDUCAUSE Constituent Groups, and innovators within the use of technology in higher education. View the schedule and sessions below:
 
Wednesday Theater Schedule
Thursday Theater Schedule