OCTOBER 15–18
ANAHEIM AND ONLINE
The Best Thinking in Higher Education IT
CIO Experience
Leading transformation is best done as a community.
The higher education environment continues to experience complex and dramatic changes. MOOCs, connected learning, and BYOD are just a few of the buzzwords on the minds of C-level executives. Higher education organizations are dependent on their IT enterprise to meet the demands of these new trends while keeping up with operations. 
Join your community in Anaheim for the EDUCAUSE Annual Conference CIO Experience—more than 800 CIOs and senior IT leaders have registered for this year's conference.
To participate, simply register for the conference. No additional registration is required.
Program Highlights
Preconference Seminar
Join Paul Glen, author, columnist, and consultant, Leading Geeks, for Overcoming the Influence Deficit: How Higher Ed CIOs Can Hold More Sway. Learn More >
CIO Constituent Group Meeting
Tuesday, 3:00 - 4:30 p.m., Ballroom A.
Meet with fellow CIOs to discuss the year's top IT issues. Learn More >
CIO Discussion Sessions on Institutional Change
Room 303B
Join us Thursday for these sessions (created by the Annual Conference Program Committee):
CIO Lounge
Room 303C/D
Visit the lounge to relax, refresh, and recharge. Learn More >
Hawkins Leadership Roundtable
Room 303A
HLR enables new or aspiring CIOs to develop peer and mentor relationships and discuss IT leadership concerns. This year's Roundtable has reached maximum capacity. Learn More >
CIO Career Coaching
Register Your Staff for the Virtual Conference
More higher education CIOs attend the EDUCAUSE Annual Conference than any other event. We encourage CIOs to participate onsite to experience this unique networking opportunity. Encourage your colleagues who can't make it to Anaheim or who prefer online events to take advantage of program content straight from campus with the virtual conference.
Download the Mobile App

Download the new EDUCAUSE 2013 mobile app for quick and easy access to maps, sessions, and more.
App powered by:

CIO Meeting Rooms Map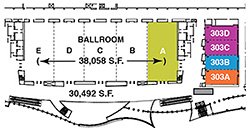 CIO Lounge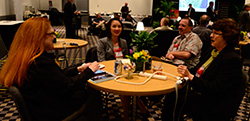 Relax. Recharge. Network.
Visit the CIO Lounge (Room 303C/D) to grab a snack, charge your devices, and watch the general sessions.
THE CIO LOUNGE SPONSOR
What if you could prove to your students, upfront, that they could do well in their classes?

PLATINUM Partner