Campus Team Resources
We encourage you to participate as a team. Team members find that active discussion and engagement with each other during session activities builds rapport, solidifies plans, and enriches collaboration. Please see the registration page for information on how to purchase additional logins at a reduced rate.
If you are participating as a team, we highly recommend that you complete the checklist below.
✔

Preconference

 

Note your team status via the registration form. If you selected "yes, we're participating as a team" on the registration form, watch for a special team e-mail message from EDUCAUSE, to be sent in September. If you want to check on or change your status, please write to onlineconf@educause.edu.

 

Mark your calendar and attend the participant orientation session.
Wednesday, October 9
10:00–10:30 a.m. PDT (UTC-7, convert to your timezone)

 

Promote the conference. Modify the EDUCAUSE 2013 Virtual Conference Flyer to promote the virtual conference on your campus. If you'd prefer to create your own flyer, feel free to use this EDUCAUSE conference logo.

 

Check out the hosting/facilitating kits. Visit the EDUCAUSE On Campus pages for helpful information on hosting or facilitating an event on your campus. We've found these particular resources most helpful.
Host: Event Planning Checklist
Facilitate: Discussion Facilitation Guide, Reflection Worksheets, Interaction Tips for Online Participation, Continuing the Conversation
Evaluate: Event Evaluation Questions, Online Survey Tools

 

Confirm meeting space. Reserve one or more rooms with the recommended technology to accommodate your registered number of log-ins as well as the anticipated number of participants.

 

Make sure your technology set up is correct. You need a high-speed wired Internet connection; screen and projector; computer with external adjustable sound; and a speakerphone as a back-up audio option for exclusive online sessions offered in Adobe Connect. Also, please complete the four system checks on each computer you plan to use. See the technical requirements page for additional information.

 

Send your team members a poll, and vote on which sessions to watch live: Download this spreadsheet. There are up to six concurrent session options in twelve total time slots, so if you have a limited number of logins, you may want to vote on which sessions to watch live. This spreadsheet includes all virtual conference sessions in date/time order. You can reformat and send this excel document directly to your group, or you may want to use to create a survey within Google Forms, Survey Monkey or SurveyGizmo.

NOTE: On-demand webcasts will be available within 15 minutes to 3 hours after a session ends; they're uploaded during 30+-minute breaks in the program. Registered attendees will receive a website link to all on-demand recordings that your nonregistered team members can use.*
 

✔

During the event

 

Distribute the private recordings page link. Send your nonregistered team members a link to the private recordings page. This page allows your team members to access all on-demand sessions without having to log into the Virtual Conference Center. It will be available as soon as the conference goes live, on October 15. Go to the Virtual Conference Center and click on the "Private Recordings Page" graphic on the main lobby page.

 

Print and hang this door hanger. Use the "Keep It Quiet" door hanger to tell colleagues that even though you're on campus, you're attending an online event.
Ideas from Past Attendees on How to Host a Team on Your Campus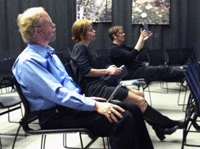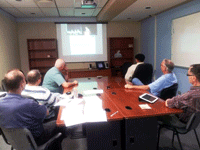 Above pictures submitted by 2012 campus teams, California State University, Chico and the University of Texas at San Antonio.
If you've hosted one of our virtual conferences, we'd love to hear from you! Please tell us what worked, what didn't work, and send some photos too! Write to onlineconf@educause.edu
Host your own breaks and/or reception:
One campus noted that additional PD dollars were freed up by having a large group attend using a single registration. They used these funds to purchase drinks, food and music. They said getting to know their own colleagues was invaluable.
No need to vote on which session to watch live, purchase 1 registration for every concurrent session:
There are up to six concurrent sessions in twelve total time slots. If you purchase one login, you may need to ask people to vote on which session they'd like to view (or you may select them yourself). One campus contact noted that instead of collecting this information, they purchased one full conference login plus five additional logins. They reserved six rooms with a computer, projector and screen in each and staffed these rooms with students. Staff and faculty members could watch any session live by just going to the correct room.
Need Assistance?
If you need help with registration, your login, or your EDUCAUSE profile, please contact EDUCAUSE Member Services:
conf@educause.edu
303-449-4430
 
If you need help during conference hours, click on the Help Desk within the Virtual Conference Center.