Advertise
EDUCAUSE Review
Reach the Most Influential Audience in the Higher Education IT Community
The award-winning EDUCAUSE Review is the premier higher education technology publication, both in print and online, that focuses on exploring current issues and emerging trends and how information technology affects institutions, higher education, and society.
Ranked by our members as one of the top three benefits of membership, this publication is highly respected in the community because much of its content is peer written by forward-thinking thought leaders representing leading universities and colleges.
Print
Mailed to 22,000 subscribers six times a year, the magazine reaches a wide and influential audience. Our readers share their print copy with an average of 1.7 additional readers, which positions your ad in front of more than 35,000 readers in every issue. Additionally, many of the issues have bonus distribution at annual EDUCAUSE events, including the EDUCAUSE Annual Conference, the ELI Annual Meeting, and the NERCOMP Annual Conference.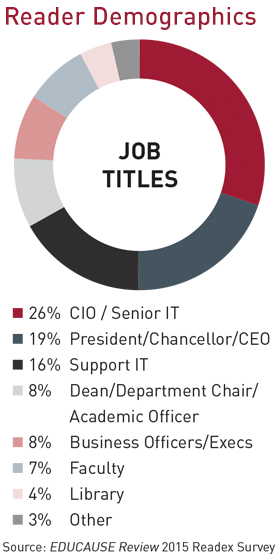 Advertising
EDUCAUSE Review offers a complete portfolio of advertising and thought leadership opportunities to connect you to decision makers. View our media kit for complete information and pricing.
Print Ads:
A staple of print advertising, EDUCAUSE Review offers a range of size options and discounted pricing for multiple insertions.
Content Marketing
Preprinted Inserts:
Bound or tipped into the magazine, customized inserts allow you to provide more in-depth content to your target audience. You supply the insert (or we can print it for you)—we make sure it's included in all 22,000 printed copies, strengthening your brand influence throughout the higher education IT community.
Case Studies:
Do you have a success story you want to publicize with decision makers in the higher education IT community? A one- or two-page case study provides one of the most compelling, credible thought leadership opportunities to tell how your product or service can address top IT issues on campus.
Outserts:
Imagine your message being the first thing readers see when they receive EDUCAUSE Review. That's the advantage of an outsert—a four-color, two-sided marketing piece that sits in front of the magazine, inside the polybag. This prominent positioning is a great way to make an immediate impact on higher ed IT decision makers.
2017 Editorial and Production Calendar
Issue/Theme
Conference Distribution
Reservations Due
Materials Due
Ship Week
Jan/Feb:
Top 10 IT Issues

ELI Annual Meeting

12/2/16
12/21/16
1/17/17
Mar/Apr:
Past and Future of Edtech

NERCOMP

EDUCAUSE Security Professionals

1/27/17
2/15/17
3/13/17
May/Jun:
Student Success

3/24/17
4/12/17
5/8/17
Jul/Aug:
Next Generation Digital Learning Environment
5/19/17
6/7/17
7/3/17
Sep/Oct:
Back-to-School
7/14/17
8/2/17
8/28/17
Nov/Dec:
Conference Edition

EDUCAUSE 2017

9/8/17
9/27/17
10/23/17
Digital
Interested in online advertising? Check out our Digital Advertising page for a complete portfolio of online advertising opportunities designed to support your company's strategic direction and business development goals.