Microlearning Unit 3: Hiring and Onboarding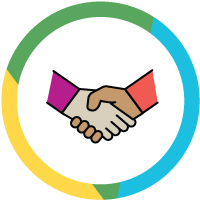 Unit Introduction
This unit focuses on inclusive practices and processes related to hiring and onboarding for professional positions within the higher education IT community. Once a candidate has been selected, the processes of negotiating compensation and onboarding the new hire are the employee's first formal experiences interacting with your organization. These steps are an important way to demonstrate the institution's commitment to the principles of DEI.
Unit Goals
Ensure Equitable Compensation between New and Existing Hires
Collaborate with the HR and payroll departments to offer an equitable compensation and benefits package that is consistent with what was posted in the job description.

Address pay equity issues:

Invest in a pay equity assessment to set baseline metrics.

Partner with institutional research team(s) to analyze trends in pay equity issues.
Make Onboarding a Welcoming and Inclusive Process
Communicate and collaborate with the team to ensure that new hires feel immediately welcomed and included:

Ask for pronouns and preferred names to introduce the individual.

Introduce the individual to all employee resource groups / affinity groups, even if you don't think they are interested in joining based on your perception of their identity. Do this over time, not just once. They might not have the bandwidth early on but might appreciate a reminder later.

Ensure that onboarding materials and training content are accessible and usable for all new hires such that they do not feel excluded or forced to self-advocate for equity and inclusion.

Ensure that the onboarding process provides access to new hires for resources and technology tools.

Provide opportunities for employees new to higher education to learn the ropes and network with key stakeholders, as well as to navigate the political landscape (e.g., in IT, campus politics, key stakeholders).

Consider creating onboarding resource checklists to share with new hires. Checklists might include the following resources:

Multicultural groups, groups for women, veterans groups, Employee Resource Groups (ERGs), or affinity groups

Mentorship programs or opportunities

Career and professional development opportunities
Provide local resources external to the organization focused on community and cultural guides for specialized services, including churches, cultural centers, haircare, schools, and community events.

Schedule 1-on-1 meetings with leaders during the onboarding cycle to give new hires the opportunity to know leaders as people.
Pre-schedule additional check-ins with leaders on a periodic basis, at least in the first 90 days of employment.