Microlearning Unit 4: Inclusivity, Retention, & Belonging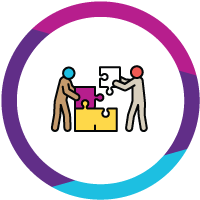 Unit Introduction
This unit focuses on inclusive practices and processes related to retention for professional positions within the higher education IT community. Retaining staff requires sustained attention to the cultural factors surrounding a sense of belonging and opportunities for professional growth and advancement. Ensuring that employees from all backgrounds are valued is a central part of maintaining a focus on DEI.
Unit Goals
Institutional Culture: Build an Inclusive Environment Where Staff Feel Valued
Building an inclusive environment is as important in retaining staff as are hiring and recruiting. When staff feel valued, comfortable, and safe in the workplace, they perform better as a team. Google's research on productive teams demonstrates that psychological safety—which describes when a team trusts each other and allows everyone to be themselves at work—is critical to building a healthy team. An inclusive environment can include using employees' preferred names and pronouns. Create space for teams to engage and learn about each other, whether those colleagues are in person, remote, or hybrid.
Professional Growth Pathways
Offer Mentorship and Professional Development Opportunities
Consider creating a mentorship program to support employee retention.
Stretch opportunities, training, and profession development should be available to all staff. Although some training might be specific to a team (such as security or networking) as part of a career pathway and/or development, professional development opportunities should be not only offered but encouraged.

Do not put an expectation on BIPOC and/or women employees to lead all diversity or gender training; this is known as "invisible work."" Leadership should compensate staff for leading affinity groups to ensure that certain staff are not doing all the work without being recognized.
Ensure Objective, Feasible Pathways to Promotion
Leaders/managers are responsible for providing opportunities (projects) that lead to promotions.

Consistent criteria and language should be used when evaluating staff for promotion. Criteria can include nontraditional experiences and/or training outside the organization. Leadership should ensure that all staff are measured against the same scales.