Digital Transformation: Technology Shifts
Various technology shifts signal the presence of and engagement in Dx at an institution. The Dx technology shifts identified below are being adopted at a plurality of responding institutions. It is important to note that nearly all trends and aspects of Dx have a sizable percentage of institutions currently moving forward…with others already lagging behind.
Institutions are supporting their technologies with evolving management and governance practices and lagging in their adoption of emerging technologies such as robotics, blockchain, and machine learning.
What Are Institutions Doing?
Institutions are consolidating services and standards across the institution and shifting or consolidating technology services to just a few platforms (see figure 16).

---
Institutions are developing their technology approaches to information security and evolving their general approaches to technology through project and service management (see figure 17).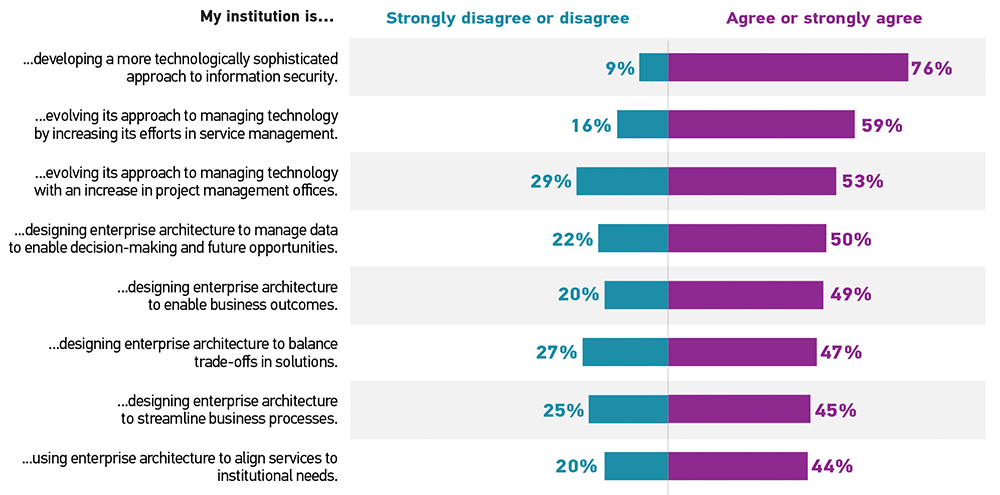 ---
Institutions are offering personalized approaches to IT support and services (see figure 18).

---
Institutions are advancing developments in research by using digital technologies to open up new opportunities (see figure 19).

---
What Areas Are Opportunities for Improvement?
Institutions are not consolidating services and standards across multiple institutions (see figure 20).

---
Institutions are not giving individuals (faculty, staff, students) the autonomy to make their own technology investments and decisions (see figure 21).
---
Institutions are not using emerging technologies such as blockchain and robotics to support their institutional mission (see figure 22).

---
Are the Necessary Supports in Place?
Institutions are engaging effectively in IT governance for decision-making, investments, and initiatives (see figure 23).

---
Institutions are not fully harnessing the power of data, analytics, AI, and machine learning (see figure 24).