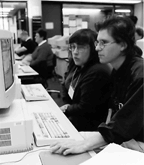 Northwestern University and Wake Forest University
On the cover: Northwestern University's Evanston campus stretches for nearly a mile along Lake Michigan. Wake Forest University, a private, liberal arts university, is located in Winston-Salem North Carolina. All Wake Forest photos courtesy of the Wake Forest News Service.
Above: (top) Northwestern's multimedia classrooms create new opportunities in teaching and learning by integrating computer, multimedia, and network technologies. Photo by Jim Ziv. (bottom) Wake Forest has adopted a ThinkPad Program, giving an IBM ThinkPad to each first-year student.

Readers Respond
Partnering for Faculty Development

The Challenge of the NLII
by Carole Barone, EDUCAUSE
Access Management for Networked Information Resources
by Clifford Lynch, Coalition for Networked Information

Special Section on the Information Technology Staff Crisis
IT Staff Shortage: A Crisis That Calls for Collaboration
by Susan Jurow, CUPA, and Brian L. Hawkins, EDUCAUSE

The Information Technology Staff Crisis: Plan for It!
by Ann West, Michigan Technological University

Savvy Strategies for Attracting and Keeping IT Workers
by William H. Wallace, Jr., Kennesaw State University

Resourceful Campus Solutions to IT Staff Challenges
Success stories from six campuses
Reengineering University Information Services: Yuan Ze University's Experience
by Chaucer Chaoyun Liang, Frank Cheng, and Eunice Hsaio-Hui Wang, Yuan Ze University

Building Your Own Web Course: The Case for Off-the-Shelf Component Software
by Howard Kaplan, University of Massachusetts, Lowell

The Expanded Grade Context Record at Indiana University
by Mark McConahay and Roland Coté, Indiana University Bloomington
Computing Survival Skills: Training the Workforce to Stay Abreast of Technology
by Lisa Harcourt Black, University of Virginia
Electronic Reserve Library: Moving from Paper to the Web
by Angela Vanessa Proctor and Dawn Ventress Kight, Southern University Agricultural and Mechanical College
UCSD's Automated Merit Processing System
by Robert Merryman, Judy R. Johnson, and Ron Block, University of California, San Diego