This paper was presented at the 1997 CAUSE annual conference and is part of the conference proceedings, "The Information Profession and the Information Professional," published online by CAUSE. The paper content is the intellectual property of the author. Permission to print out copies of this paper is granted provided that the copies are not made or distributed for commercial advantage and the source is acknowledged. To copy or disseminate otherwise, or to republish in any form, print or electronic, requires written permission from the author and CAUSE. For further information, contact CAUSE at 303-449-4430 or send e-mail to [email protected].
---
The Transformation of Higher Education
through Technology-Assisted Learning:
Arizona Learning Systems
Dr. Doreen Dailey
President
Yavapai College
Prescott, Arizona
&
Mr. Jim Farmer
Senior Research Analyst
Systems Research, Inc.
Washington, D.C.
Arizona Learning Systems (ALS) is an alliance of Arizona's urban and rural community colleges whose purpose is to provide learner-centered educational environments that build on the unique advantages technology affords the learning process. ALS is designed to expand and upgrade telecommunications infrastructure to connect learning sites throughout the state of Arizona through a contract with a private (common) carrier and to redesign a segment of higher education delivery practices to meet the emerging needs for all Arizonans for perpetual learning, and to develop, apply, and evaluate new, powerful technology-assisted learning strategies.

Arizona Learning Systems is governed by member colleges and functions as a virtual branch campus with limited staff. Students maintain their institutional affiliation with the local campus. Additional partners in the delivery strategy include public schools (K-12) and Arizona's universities.

The purposes of ALS, strategies for implementation, the politics of change, and a strategic model for cultural change are described.
Arizona Learning Systems (ALS) is an alliance of Arizona's urban and rural community colleges, whose purpose is to provide learner-centered educational opportunities that build on the unique advantages technology affords the learning process. The primary purposes of ALS are three: (1) the expansion and upgrade of telecommunications infrastructure to connect over 155 learning sites across the state through a contract with a private vendor; (2) the redesign of a segment of higher education delivery to meet the changing needs of Arizona's residents for user-convenient access to an expanded array of programs and continuing education; and (3) the development, application, and assessment of new and powerful technology-assisted learning strategies.
One of the unique features of ALS is its acknowledgment of the importance of local colleges and their connection to the community. Rather than create a new structure for a virtual college, ALS is designed to complement and enhance traditional classroom instruction, to build on the established market developed in local communities, and to improve cost efficiency by utilizing the local (in place) support structures for student services, libraries and other information resources, registration and financial systems. Local community connections also ensure access to relevant, on-going assessment of community needs and more immediate feedback on the effectiveness of course delivery.
ALS is also designed to act as a catalyst for the development of an innovative organizational culture at the local college level. Too often faculty and staff innovators exist as islands within their various departments, working in a context of minimal collegial support. By connecting these faculty and staff across institutional lines, a community of interest is formed to provide a forum for the sharing of technical information, discussion of the evaluation of learning strategies, and mutual support for experimentation and risk-taking.
History
Arizona Learning Systems evolved from an initiative by Arizona's community college presidents to share coursework across district boundaries. An approach to secure legislative funding for a feasibility study in the 1996 session resulted in an unprecedented response of funding for the feasibility study as well as additional implementation funds. Certainly one factor driving this very favorable response was the newly proposed Western Governors' (virtual) University (WGU). The WGU was seeking to address business and industry needs for a trained workforce with access to perpetual learning opportunities as well as to identify affordable alternatives to the capitalization required to build new campuses to meet projected demands for higher education. Furthermore, ALS proposed development of a statewide telecommunications infrastructure by common carriers, with the state's community colleges, public schools (K-12), and universities serving as anchor tenants through a multi-year purchasing contract. This approach was well received by a legislature which places value on privatization of government functions. This approach places risk and responsibility for anticipating technology change in the private sector, rather than with individual institutions. Arizona's 1997 legislature appropriated an additional $2.7 million dollars for implementation to be released early spring 1998 when a contract with a vendor has been signed to provide telecommunications connectivity.
The New Market for Higher Education
As the knowledge age emerges with a resulting "knowledge economy," job growth is occurring in those occupations that require college and university degrees. This suggests more people should be going to college. However, after a number of years where enrollments exceeded projections, college and university enrollments have remained almost constant when every factor, including population growth, suggest enrollments should have been increasing.

Explanations for the flat enrollment, such as the increasing cost of tuition, the stable economy, and overcrowded institutions, are not supported by the statistics. In 1990, private and public 4-year colleges and universities began to have enrollments less than projected while the community colleges had enrollments exceeding projections. But by 1993, all sectors of higher education were below projections. By 1994, the number of "no shows" exceeded 700,000 students. The private colleges that offered non-traditional programs or methods of instruction, such as the University of Phoenix in Arizona, often showed substantial enrollment increases. 1 As a whole, the private colleges reduced the "no shows" by 80,000 between 1993 and 1994 as these colleges and universities began to develop programs, methods of learning, and schedules that adapted to the needs of the new students.

One key to explaining the growth in the often more expensive private and non-traditional institutions may be the working student. Students have always worked; they just worked less than those who were not students. The past five years, however, suggest students are working for more hours than previously. Almost all part-time students work and almost one-half of the full-time students work (Figure 2). Additionally, new data suggests more students may be holding more than one part-time job, thus creating serious challenges to meeting the regular schedule requirements of a 15-week semester.

Although the historical statistics do not yet show the changes that are occurring, enrollments in distance learning, Internet courses, and other non-traditional course offerings appear to be rising sharply suggesting better educational opportunities for the working student in the knowledge age. For colleges and universities, it represents recognition of the way students learn and a demand for change in the way that instruction is delivered.

The new market is the working student who needs education at a time and place that is dictated by the student's work schedule or family obligations. Furthermore, industry demands continuous learning of employees to maintain a competitive edge. This creates strong market demand for continuing education which is customized with respect to content as well as convenient access for employees.
Arizona Learning Systems Design
To meet the demands of currently underserved constituencies as well as convenience demands of new markets, ALS sought to design a system which would capitalize on the asynchronous potential of technology-assisted learning while avoiding the creation of a new, free-standing entity which would appear to be in competition for existing colleges' students. The design of ALS coalesced around several core ideas, some of which are extensions of current colleges' efforts, and some of which are new and unique. Some highlights of the recommended design follow:
Organization
ALS will function as a virtual branch campus of every community college district in the state. This virtual branch campus will have limited staff and draw on faculty from each institution through Request for Proposals (RFP's) to institutions and private sector providers to supply the learning options or courses. Tuition and state reimbursement will be collected by the home institution with which the student is affiliated, with a portion being forwarded to ALS (for the first three years) to support coordination functions and reimburse the institution who originates the course.
Student Institutional Affiliation
Students will enroll in ALS courses through the community college associated with their geographic location. This ensures one transcript regardless of which college originates the course and allows a long-term advising/mentoring relationship to be established with the individual learner. This further establishes the framework for perpetual learning and builds on the inherent connections of community colleges within their communities.
Asynchronous Learning Options
Learners will be given a variety of options for achieving competence. These options remove time and place restriction, including desktop learning options at home or through local learning centers.
Integration of Pedagogy and Technology
Frequently the development of technology infrastructures has preceded readiness to change approaches to teaching and learning. ALS focuses first on desired learner impacts, second on how this can be supported with new applications of technology, and last on the hardware and software.

Course Standards

ALS focuses on the development of course standards to ensure that students have a quality experience in the technology-assisted learning environment. ALS course standards assume that content meets the rigor and general requirements set forth by regional accrediting bodies and Arizona Community College State Board rules for course criteria. In addition, ALS promotes the transformation of instructional practices through the following standards.
Courses should:
* Be student-centered, project-based and related to student interest, maximizing student self-direction in learning;
* Be flexible in design, with the ability to offer any given course in multiple formats, including some free of time and place restrictions;
* Build on the advantages of local resources, on expertise in addition to that of the faculty member, and on special student expertise;
* Build on what the student already knows, with multi-level, graduated assignments (early assessment required);
* Use the community as a laboratory whenever possible (learning in community settings as opposed to developing more simultaneous and campus-based labs), building increased levels of relevance in the learning experience and therefore increasing knowledge retention;
* Practice on-going assessment (self-assessment as well as assessment of other students) which is based on value-added or student growth (e.g. portfolios), not just traditional content exams;
* Be competency or outcomes-based, facilitating improved learning outcomes, movement to new models for articulation with other institutions of higher education, and the adoption of rigorous practices of credit for (and certification of) learning, regardless of its source;
* Use the best application of technology for the expected outcomes (for example, don't use expensive, interactive technology for lecturing);
* Demonstrate that content is current with latest research and practices; and
* Build critical thinking and ability to learn and work collaboratively, including use of such strategies as network scholarship, community-based projects, student study groups, etc.

What Success Looks Like

The community college mission focuses on both student learning and community building. To realize these two components of the mission, cost-effective business practices are a critical third component of the mission. Arizona Learning Systems creates synergy between the learning experience, business performance, and community building. The following graphics portray critical elements within each component.
Technology Development
Statewide Telecommunications Network

While not the primary focus of ALS, development of a telecommunications infrastructure has been a necessary component of the plan for technology-assisted learning. During the 1996 Legislative Session, ALS was charged with the design of a telecommunications network which would interconnect community colleges, universities, and public schools (K-12 throughout Arizona. In order to meet this challenge, ALS chose an anchor tenant strategy that would leverage education's collective buying power and promote development of the necessary telecommunications and information infrastructure by the private sector. In this respect, the role of the educational entities in Arizona becomes that of anchor tenants as opposed to owners of the network. In October 1996, ALS approached the private sector through a Request for Information (RFI) process to invite the private sector to provide information pertaining to the anchor tenant concept and relevant network technologies and architectures for the delivery of voice, video, and data statewide. ALS received an enthusiastic response from the vendor community.

In order to develop an RFP, ALS merged its RFI/RFP process with similar efforts in the state to create Project EAGLE (Education And Government Linking Electronically). EAGLE is a joint initiative of the community colleges, state courts, state executive branch agencies, and universities to develop an integrated state-wide telecommunications network that will increase access and lower costs. Such a network will also include other partners such as libraries, public schools (K-12), and local government. EAGLE issued a Request for Proposals (RFP) to the vendor community on May 5, 1997. The RFP specified that the resultant network should provide distance-insensitive rates for telecommunications across the state (to assist rural areas), provide advanced services to support distance learning such as ATM and Internet state-wide, and provide these services at a high level of quality and consistency.

In addition to statewide telecommunications infrastructure development, ALS has studied implementation issues at the local level by tracking local pilots. For example, a prototype ATM network based on ALS standards has been installed by Northland Pioneer College and is being used to provide Internet service, district telephone service, and interactive instructional video over leased T1 circuits. Central Arizona College implemented an all-digital IITV network and, in fall 1997, achieved enrollments exceeding their expectations at the two remote sites located in small Arizona towns.
Standards Development
Arizona Learning Systems, in cooperation with the University of Arizona, Arizona State University, and Northern Arizona University, continues to develop a set of standards for hardware, software, and services to ensure interoperability. This includes personal computers as courseware delivery stations, telecommunications, and video conferencing equipment. To use ALS funds, the colleges must follow the standards; most have used the standards to guide procurements for local instructional delivery. The standards not only ensure interoperability but move colleges away from an analog to a digital environment.
Effectiveness and Costs of Distance Learning
Distance learning instruction has been found to be as effective as, but no more effective than, classroom instruction. Research on interactive instructional television shows "…no significant difference among the students taking distance education courses…there really is no significant difference between the remote and non-remote groups." 2 In 1994, researchers reported that "…students learn equally well from lessons delivered with any medium, face-to-face or at a distance…there is no inherent significant difference in the educational effectiveness of media"3 and in 1995, "…there are generally no differences in achievement between students in traditional classes and those in distance-delivered classes, or between distance students at remote sites and those at origination sites where a teacher is present."4 Based on this data, focus can be centered on costs rather than differences of effectiveness of distance learning and classroom instruction.

Costs of Internet Delivery

Most Internet courses are being developed with faculty members serving as experts in the field. In addition, these faculty are still advising students on course selection, study practices, and career opportunities. With Internet courses, "teaching" becomes a series of direct communications between the student and faculty member via telephone, e-mail, and sometimes in-person. Providers of Internet courses interviewed have reported that the time estimates of direct communication with the students ranged from 30 minutes per student per week to 4 hours per student per week. 5 A typical faculty workload for a three semester- credit unit course with twenty students is given in Table 1. By providing additional support, it would be possible to transfer a portion of this workload, thus allowing faculty to direct their energies to teaching. With added support, faculty workload is projected to decline, as also shown in Table 1.

Because of the faculty workload associated with the Internet courses and the additional costs of maintaining a network, the costs of Internet courses are expected to be higher than the costs of traditional classroom instruction. The comparison is shown in Table 2 for Arizona community colleges. The figures do not include amortization of the cost of course development.

Costs of Interactive Instructional Television (IITV) Delivery

The Arizona community college districts have used interactive instructional television for more than a decade. The Arizona Learning Systems digital network and the use of digital video conferencing equipment will reduce costs as demonstrated in Figure 3.

The average class size for rural community colleges in Arizona is reported to be 16 to 20 students. The average class size for distance learning is 24 to 32 students at one to two remote sites. Districts that use the ALS network should be able to reduce costs if the combination of class sizes is at least six to ten students. The expected costs of education are shown in Table 3. The comparison of traditional classrooms and IITV costs are listed in Table 4. These costs include the cost of maintaining facilities, but not the cost of building the facilities. Costs would be significantly higher if class sizes do not meet historical and projected levels.

Strategies for Implementation of a Shared Virtual College
Arizona Learning Systems began its instructional implementation through the development of pilot courses. During spring 1997, three college districts in the state of Arizona delivered four courses across boundaries to one another to demonstrate the feasibility of shared course delivery using technology. The courses delivered included multiple modalities: interactive television, Internet, telephone access, and specially developed text materials. The courses selected for this demonstration project had to meet Arizona Learning System's standards for course development and delivery; for example, the courses had to be competency based, demonstrate best use of the technology available, provide students the opportunity for self-paced learning, and ensure that students had a high degree of interactivity with the faculty member, other students, and course content. The pilot project also assessed logistics of student registration, distribution of course related materials, and student satisfaction with all phases of course delivery. Students participating in the pilot courses were paid a stipend and asked to do in depth evaluation of all aspects of the learning experience from registration through receipt of grades. Based on the demonstrated feasibility of cooperative course delivery across district lines, expanded offerings will be delivered spring of 1998.

Preparation for spring 1998 delivery began in spring 1997 when participating faculty were selected and given training in the development of competency based instruction as well as the use of technology. Each participating district was given $37,000 from a legislative appropriation for courseware development. Emphasis was placed on movement towards multimedia-based instruction and increased levels of student interactivity built into each learning segment.

In implementing ALS pilot courses, a number of lessons are being learned. As colleges move into technology-assisted learning whether it is for distance delivery or enhancement of traditional on-campus learning activities, it is important that new standards focus on learning outcomes rather than on the process of delivery. Because of the increased front-end expenditures in courseware development for technology-assisted delivery, interesting advantages are afforded: the increased cost for development can be used to leverage better instructional design and therefore better learning outcomes. This emphasis is crucial because early attempts at distance delivery simply tried to "digitalize" the classroom rather than build on the strategic advantages of the technology.

Included in the strategies for implementation is a strong emphasis on faculty development. Traditional development of technology in support of education has focused on the hardware and software. As a result, adoption of new teaching and learning methodologies has been slow. Faculty development necessarily focuses on quality design of instruction whose purpose is to enhance human learning potential. Furthermore, our experience in faculty development in ALS, as well as within the individual colleges, has suggested that development of technical skills in faculty may reach a point of diminishing returns. Therefore, ALS recommends that faculty courseware developers work with technical assistants or a multimedia specialist who takes the faculty member's product and refines it to produce high quality, visually aesthetic and stimulating courseware.

In addition to basic faculty development in instructional design, it is critical for institutions to think of migration pathways for technology as paralleling migration pathways for instructional design. That is, the design work and the modalities that are chosen for instructional delivery should allow portions of the instruction to be easily re-purposed or developed into other formats as the technology evolves and makes new uses feasible such as web site access from the home that is fast enough to allow downloading of rich multi-media.
Policies and Politics
As technology allows the delivery of courseware virtually anywhere in the world, small and rural institutions will be challenged to evolve new roles to maintain their market share in a destabilized environment of competition. In a presentation to the Western Cooperative for Telecommunications in October 1997, consultant Don Norris suggested the emergence of new models of instructional delivery in which a single organization "may not own the entire value chain." As new organizations evolve, such as the Western Governors' University and other mega-universities (eg, the British Open University), many institutions may find a significant new role as that of a broker of educational opportunities and of assessment of learning. By maintaining strong relationships with local consumers, community colleges can establish a role as primary learning agents in long-term mentoring relationships with their constituents. This new brokering and assessment function could also have potentially positive impacts on rural economic development: small numbers of people distributed across vast regions may be able to create the critical mass to make program delivery economically viable. This could propel the location of high tech industries to rural locations.

A second critical change will be that of developing courses and courseware versus buying content from external providers. The simple economics of whether or not an institution will develop courses for delivery rather than buy courseware will necessarily address the size of market that is available for a particular content. For most institutions, it will not be economically feasible to develop courseware across the curriculum. Institutions will need to assess whether or not they have a niche (unique) program or special expertise in a traditional area which would give them a competitive advantage. In choosing to buy courseware, one of the organizational barriers that will need to be overcome is that of a culture which does not value anything "not invented here."

The purchase of high quality pre-produced materials has philosophical and political ramifications beyond the economic considerations just discussed. Purchasing materials is part of a trend toward the unbundling of course development from teaching and even from the assessment of the end products of learning. Institutions will be challenged to re-think the definitions of faculty and their role in awarding credentials.

Finally, the politics of working with universities, community colleges, and public schools (K-12) will shift as universities begin to recognize the loss of their state geographic franchises. Transfer and articulation issues will change: it may become easier for students to transfer to out-of-state institutions when that "transfer" may no longer require a physical move. Additionally, technology will afford a changed relationship with high schools. Traditional barriers of transportation and scheduling have made access to higher education difficult; however, with the advent of technology, students may be able to achieve a significant head start on their post-secondary degrees while still enrolled in high schools.
Strategies for Change
Many models of change in higher education have focused primarily on either development of individuals through helping them understand change process or they have focused on very narrowly defined training programs to teach people specific skills. The experience of ALS would suggest there are other key components in the arsenal of the strategic model for change. ALS has used a "skunk works" approach to bringing innovators together in a protected environment. Faculty working within traditional departments may be unconnected islands of excellence. Bringing the innovators together results in creative synergy as well as intellectual and emotional support. Furthermore, individuals are protected from criticism and doubt while they're in the process of creating new products. Within ALS, the "skunk works" model has been used both at individual colleges to bring together innovators in a think-tank atmosphere as well as through virtual connections across college structures.

Another critical issue in strategic models for change is that of instituting emergent planning processes. Higher education has been more comfortable with an intensive focus on planning. In the world of technology, market opportunities are changing rapidly and we are in early stages of learning about the potentials of technology-assisted learning. It becomes important, therefore, to achieve comfort in design-as-you-go environments. This may suggest recruitment of innovative faculty and project managers with skill sets different from those historically rewarded in higher education.

Institutions may want to explore alternative planning strategies as well. For example, scenario planning provides a powerful tool for teaching people to think broadly and be prepared for rapid response to changes in the higher education market. In scenario planning, faculty, staff and others are taught to look at multiple possible futures; to identify early indicators of which futures are more likely to emerge; and to design robust strategies for survival in the most probable futures. In addition to fostering creative responses, scenario planning removes the political burden from leaders of having to predict the future for which an institution must be prepared.

Finally, strategic models for change must address how we go about achieving the critical mass for organizational change. Rapidly changing environments may drive us to think about creating units within our institutions that respond quickly to change so that market advantage isn't lost while we are pursuing longer range strategies of organizational development.
In summary, the design, development, and implementation of Arizona Learning Systems has propelled our respective institutions into an exciting new era fraught with the risk and promise of any new enterprise. We are challenged to surface and analyze long-held assumptions about how humans learn, how we continue to democratize access to higher education, and how to be winners in times of turbulent change.
Appendices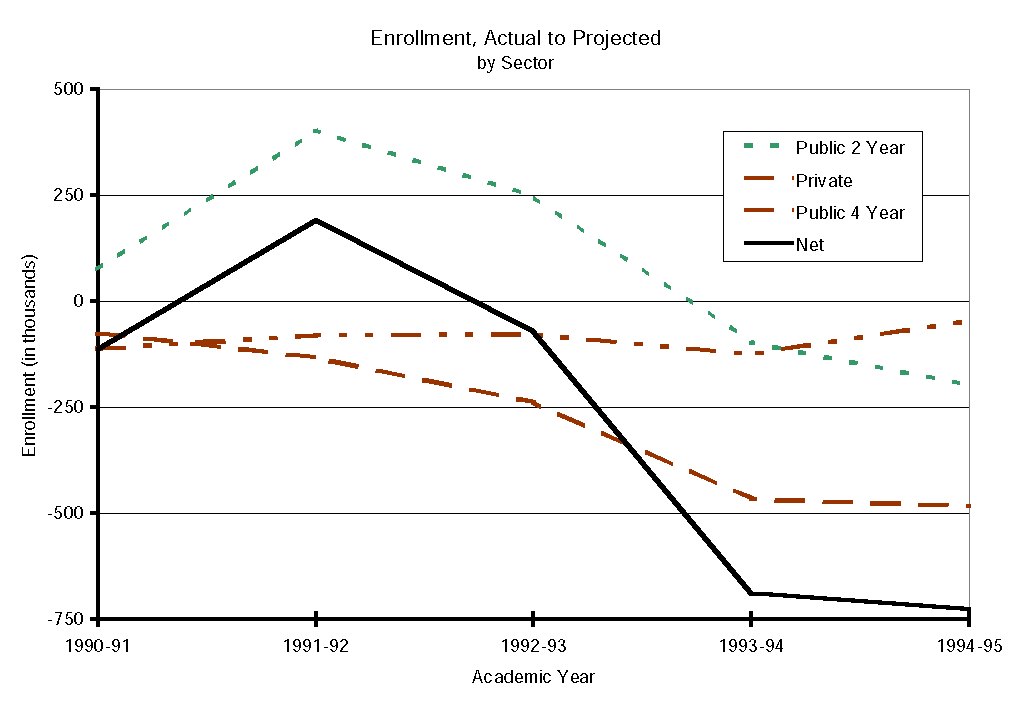 Figure 1 - Difference in Actual to Projected Enrollments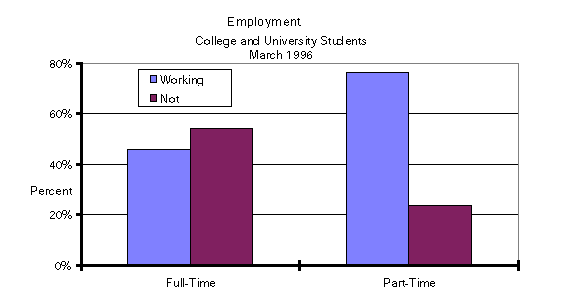 Figure 2 - Employment Status of College and University Students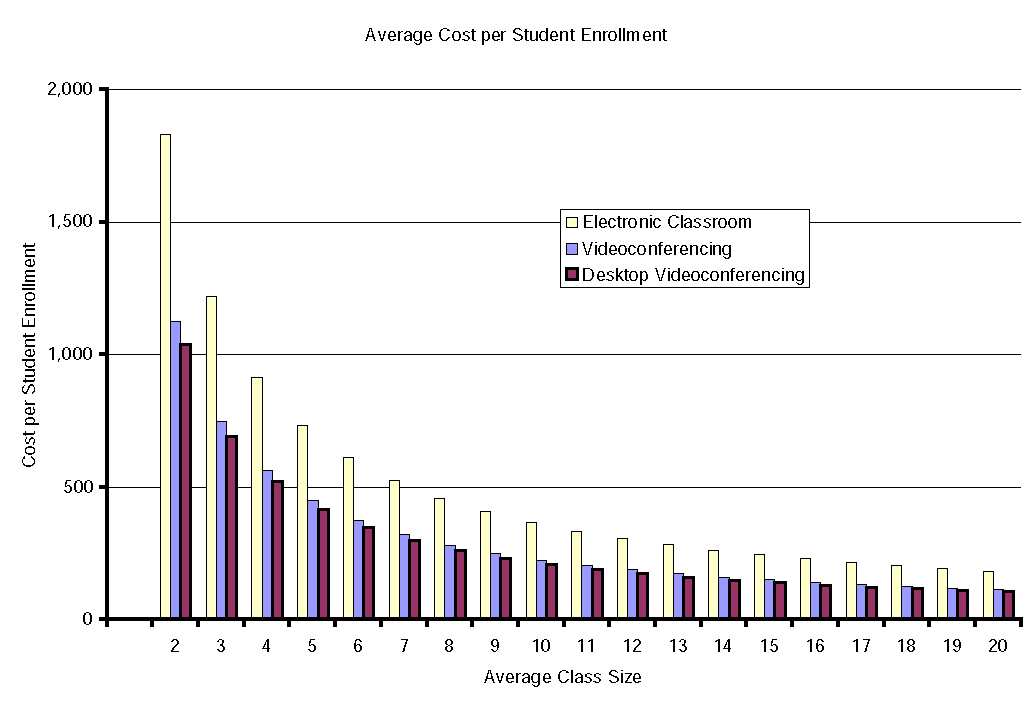 Figure 3 - Average Fully Allocated Cost of Instruction, Single Site
| | | |
| --- | --- | --- |
| | Current | Projected |
| Teaching | 8.0 | 7.0 |
| Advising | 1.3 | 0.6 |
| Class Administration | 2.0 | 0.5 |
| Network support | 2.0 | 0.0 |
| Total | 13.3 | 8.1 |
Table 1 - Current and Projected Faculty Workload per Student per Course
for a 3 Semester-Credit Course to 20 Students
Traditional

Classroom

Internet

Current

Instruction

230

305

Academic Support

50

95

Student Services

44

22

Institutional Support

83

83

Physical Plant

46

23

Total

$453

$528
Table 2 - Average Direct Cost of Education per Course Enrollment, Internet Enrollment (does not include amortization of the cost of course development)
| | | |
| --- | --- | --- |
| | Originating Site | Remote Site |
| Cost of Instruction | 307 | 249 |
| Academic Support | 50 | 50 |
| Student Services | 44 | 22 |
| Institutional Support | 83 | 83 |
| Physical Plant Operations | 46 | 23 |
| Total cost of education | 530 | 427 |
Table 3 - Fully Allocated Cost of Education per Student Enrollment in a Single Course
Traditional

Classroom

IITV

Cost of Instruction

230

280

Academic Support

50

50

Student Services

44

34

Institutional Support

83

83

Physical Plant Operations

46

35

Total

453

483
Table 4 - Comparative Cost per Course Enrollment
Endnotes

1Enrollment in Arizona as reported to the Arizona Private Postsecondary Education Commission. The Arizona community college enrollments are shown for comparison. The population growth during this period was 20.3% 2 McGreal, R. "Comparison of the attitudes of learners taking audiographic teleconferencing courses in secondary schools in Northern Ontario, "Interpersonal Computing & Technology: An Elecgtronic Journal for the 21st Century, 1994, pp. 11-23. 3 Schlosser, C.A. and Anderson, M. L., "Distance Education: Review of the Literature," Research Institute for Studies in Education, Iowa State University, 1994. 4Sorensen, C. K., "Evaluation of two-way interactive television for community college instruction," ACEC Conference, Ames, Iowa, 1995.Thomas L. Russell reports more than 248 research reports, summaries and papers that document the "No Significant Difference" Phenomenon in the Fourth Edition of his list published on the World Wide Web at North Carolina State University. 5The lower number appears to be consistent among community colleges. The higher number came from NASA's Classroom of the Future where high school teachers were studying environmental science.
---