CDS Portal
What Is the Portal?
The CDS Portal is the online tool you use to participate in the Core Data Service.
Go to CDS Portal
How You Participate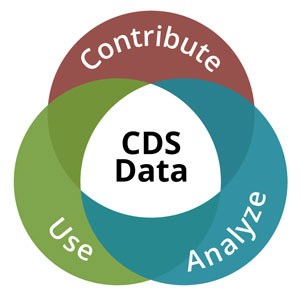 Contribute Data — Eligible institutions contribute data through the annual survey, which is organized by a set of IT domains.

Analyze Data — Once survey data is added to the CDS Portal, participants create custom peer groups and view identifiable data in various formats.

Use Data — All EDUCAUSE members have access to reports and data almanacs. Participants use the data to benchmark their organizations and compare to peers.
Steps You Complete
CDS Administrators: You will lead your institutional team through these steps during the annual cycle.
Contribute



Update your EDUCAUSE contact information and subscribe to CDS Update

In mid-July, EDUCAUSE primary representatives at eligible institutions receive invitations to complete the CDS survey. Review your EDUCAUSE profile to ensure your contact information is correct.

EDUCAUSE also sends e-mails with information on benchmarking, survey participation tips and resources, and analyses of CDS data. Log in to manage your subscriptions and opt-in to CDS Update.

Assign a CDS manager to coordinate your institution's participation

The point person may be the institution's EDUCAUSE Primary Representative, or the Primary Representative may assign a CDS manager in the CDS Portal.

Review topics and choose the modules your institution will complete

See 2017 module questions. When you've decided, indicate your intent to participate in each module by checking the "My institution plans to complete this survey" checkbox on the Add Data page within the CDS Portal.

Assign data entry roles

CDS Administrators (Primary Representatives and CDS managers) can assign the author role for specific modules to colleagues. If your institution participated in the 2016 survey, role assignments will be the same as in 2016 and can be changed at any time.

Prepare authors for data entry

Before they begin, share these resources:

Accept the Appropriate Use Policy

The Primary Representative or CDS manager must accept the Appropriate Use Policy (AUP) on behalf of the institution or system office before data entry can begin. Primary representatives and CDS managers will be prompted to review and accept the AUP when they log in for data entry.

Add data

Eligible institutions use the CDS portal to add data in the survey. The 2017 survey is open July 17 through October 13.

Create custom peer groups and invite peers to participate

Create peer groups (demographic, geographic, or aspirational) for CDS reports. Use the peer comparisons to know how other institutions manage services and staff their IT organizations. If you'd like to add an institution to your group that is not yet participating, send them a message.
| | |
| --- | --- |
| Analyze | |
| Assign data reviewer roles | Primary Representatives and CDS managers can assign the reviewer role to authorize an individual to view peer data for any modules your institution has completed. |
| Access data | View data for the modules your institution completed. Your CDS Portal options include: Data Download and Quick Stats. Digital Capabilities reports are available to CDS-participating EDUCAUSE member institutions. |