As Orr noted, there weren't many collegiate contemporaries to learn from, so the team reached out to number of NFL stadiums to learn more about what they do with networks. As a result, one of the most successful implementations of technology in the new stadium was the Wi-Fi network, designed and implemented by Extreme Networks. The robust Wi-Fi network provided the transport and ample bandwidth for a custom mobile application developed by YinzCam. The Baylor In-Game app is the first college athletics application to provide instant replays from multiple views, according to Baylor representatives.
"The Baylor In-Game app is a lot of fun," said Orr. "We've actually had over 28,000 downloads of our app, which we thought was terrific for that first year." The most popular feature, by far, is "At the game." Users can access an interactive site to get directions for parking, for example, or to find specific bricks in the stadium (thousands of bricks, with inscriptions from the contributors, were dedicated at the stadium's opening August 31, 2014).
Other app features that garnered fan approval include the video coverage. Six cameras provide different angles, with one supplying the big screen and five others covering various parts of the field. Instant replay proved popular as well, showing major plays like touchdowns or field goals. Orr particularly likes "Keepsakes," which lets fans take a photo of themselves, then add a digital image like a helmet or a jersey. At times like homecoming, fans can put a special frame around their photos and send them to friends or post them to social media.
To monitor the technologies throughout the stadium and facilitate security and crowd control, the Game Day Management Center keeps 30–40 people at a time on-site, said Hartland. The control center is managed by several key partners: Baylor Athletics, the Texas Department of Public Safety, The McLennan County Sheriff's Office, and the Baylor Department of Public Safety. Also involved are concessions, cleaning, and facilities services. As Hartland explained: "It's neat having everybody in that one center, so literally any question that might be called in, any issue that may be reported, all the expertise is there to jump on it quickly and deal with it efficiently."
Orr and Hartland mentioned the Wi-Fi coaching program as a key factor in making the technology implementation in the facility a successful experience for fans. The idea of using Management Information Systems students as coaches came up as the team approached the Wi-Fi rollout. MIS professor, Dr. Hope Koch, said that Orr and Becky King, associate vice president for IT and deputy CIO, contacted her because "they needed people with nice personalities [who] understood technology to work with the fans." Koch explained that MIS blends business and technology: "Our students know the technology, but they also know that you have to help people with the technology, and they're pretty people-focused.... Dean Orr contacted us … and said that she would like our students to become Wi-Fi coaches at the stadium."
Amanda Best and Jamison Venegas, two of the student Wi-Fi coaches, explained that their excitement about the coaching opportunity arose largely because no university had ever done something this before. Professional sports, yes, but university-wide sports, no. One of the restrictions was that the coaches weren't allowed to touch anyone's phones to fix problems for fans; they had to talk people through solutions. Venegas's concern about checking Wi-Fi access eased when he learned that a group made up of the Wi-Fi coaches and ITS staff would use WhatsApp Messenger as a communication platform, with the coaches reporting places in the stadium that had faulty Wi-Fi connections, and the ITS network managers fixing them in real time.
Best observed that during the first two football games of 2014, many of the people they helped simply didn't realize that Wi-Fi was available. The number of people at the first game challenged the new coaches, as did dead access points that the IT support staff in the control center had to reboot. The student section in particular suffered from connectivity issues because of the heavy use. By the second game, Best noted, more access points had been added. Two-person coaching teams walked the concourse to help people until the end of halftime at games. Halfway through the season, the IT staff released "Tweet your Wi-Fi coach" on Twitter and established a Wi-Fi support email account. Best observed, "[These] allowed us to go specifically to the seats where people were having issues." She particularly appreciated growing with her team: "I got to polish a lot of my skills."
After each football game, ITS debriefed the student coaches, explained Koch. "They talked about what went well and what didn't go well, so it was like an agile environment. Every week the students would try some new things to solve the problems that the fans had. It was a real partnership with information technology services."
Orr saw other benefits from using student coaches: "I think our students also learned a lot about how hard it is to support someone when they're unhappy that things just aren't working on their phone.... It was a great experience and a great way to connect a project that we would normally think of as strictly a sports entertainment project to the academic mission."
Venegas shared some statistics about the service, noting that in early games, his team of two coaches solved about 10–12 problems per game, a number that later dropped to 5–8. He said that on average, 14,000 people connect to the network and 10,000 people use the In-Game app, numbers they can track.
With so many people attending events at the stadium and using the network and app, how does Baylor balance the needs for privacy, security, and network performance in the stadium's integrated systems?
Orr noted that the Baylor team worked closely with all the vendors to be sure that everything would be secure on its network and that the vendors understood what needed to be set up for security. Doing so required diligence: "It was a lot of work."
Lessons Learned
Hartland felt that one of the biggest takeaways from the stadium project is the need to have good partners. Having good partners, he explained, allowed IT team members to offload many of the things they would otherwise have taken on themselves.
Scope creep, a particular concern, generated a discussion whenever it loomed. The team categorized what the stadium required for the first-game rollout and what could be phased in later if needed. This prioritization process helped the team stay on track.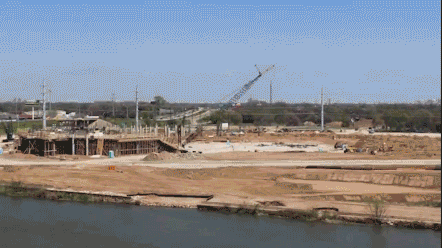 The number of attendees expected for events also raised issues. As Hartland noted: "We have large classrooms, but none of them seat 45,000 people." This high density posed unique problems, particularly for the Wi-Fi access points, which would experience loads and signal interference never seen on campus. They took lessons learned from the technology deployment at McLane stadium, said Hartland, and are now applying them to some of the larger classrooms on campus. That positive takeaway benefits the university's academic mission.
The high-density environment challenged the IT team, although Hartland said the sophisticated management system, trained personnel, and monitoring systems helped the team address multiple sectors at once. On the other hand, he admitted that team members encountered situations they had not anticipated. Recall the student coach's story about complaints from the student sector regarding connectivity during the opening game? "For the life of us, we just couldn't understand why they were not getting as good of coverage as we were seeing throughout the rest of the stadium," said Hartland. The IT staff deployed their "Wi-Fi SWAT Team" to go check the signal and determine the problem. "What we didn't anticipate was fans standing on their seats," literally blocking the signal, Hartland said. For the next game, they had to move the antennas serving that section to a higher elevation. The main benefit from that situation was the demonstration of IT's flexibility: "Our design was flexible enough to recover from something like that, but I would have to admit, I did not anticipate that issue coming up."
Student Wi-Fi coach Best had her own take: "Sometimes even if you don't have the right answer, just being there gives people that comfort. That was something that I learned that I can take on into the future, because I'm also one of those people … I'm going to find the answer for you."
Recommendations
Hartland had clear advice on what campuses need when tackling a large building project: "good partnerships, a well-defined goal and objective of what you want to do, determination, and a clear line of sight to what you're trying to achieve."
Koch expressed her satisfaction with the student coaches' excitement about taking on a new role and being part of a major university initiative: "They like what they got to learn and how it developed their skills." Her advice for other campuses using students in the design of Wi-Fi programs? "Giving the students special uniforms and letting them into the football games for free, that was a real bonus in terms of motivating them." She added that the skills they learned will serve them well when they move into their careers.
Orr found the help from other CIOs, in both the NFL and higher education, especially valuable: "We had a CIO support group." Those CIOs whose campuses were building or renovating stadiums talked regularly and shared their experiences. "The colleagues in our community have been very helpful."
Concluding Thoughts
Whether a campus builds a stadium, events center, library, or other large facility, technology has an important role in serving future users. At a minimum, Wi-Fi availability and a strong, reliable network provide a key tool to enrich and expand the user experience.
"At the end of the day, it's helping the fans, making sure that they get to experience the Wi-Fi and making sure that they leave happy after watching the game." ~ Jamison Venegas
The same could be said of student teams working in the campus library or faculty demonstrating molecular structures in a virtual reality theater. Given the investment of limited budget funds and staff time in these large projects, a major goal is to create a facility that serves the institution not just today but years into the future, at the highest level of quality the project can reasonably achieve.
A new stadium especially raises excitement in the campus community, with members anticipating their future uses of the facility. Getting to the opening requires staff and vendors to communicate well and frequently about assumptions and expectations, along the way addressing challenges that come from multiple directions. No single path leads to a successful project, however. In this tale of two university stadiums, CSU has chosen to add technology as feasible, whereas Baylor integrated technology from the earliest stages of the design. As different as the results may be, both universities have the satisfaction of scoring a win: building stadiums that will serve their stakeholders well, now and into the future.