Jodi Ito
Sleep doesn't come easily! We are already behind the curve in the "information security race." With the implementation of new technologies (without adequate risk assessment), outsourcing to the "cloud" (because it's cheaper, faster, better), and the increase in "attackers" (from novice script kiddies to sophisticated, well-funded nation states), it's a neverending battle.
We are always a hair trigger away from an attack and breach.
It is increasingly important to ensure that everyone understands the risks that accompany any gains in convenience and productivity. The threat landscape keeps expanding, as do the vulnerabilities and, by extension, the skills required to maintain the integrity of our digital infrastructure.
Kris Monroe
I like my caffeine as much as anyone, but I like it a lot less when it is accompanied by a late-night incident response.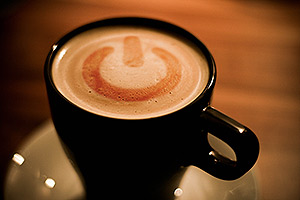 Ultimately, I think we've got to understand the risk we're willing to accept as an institution. For priority risk and compliance issues, we simply have to understand the timelines we're using to invest in the people, process, and technologies that can help us reduce our exposure.
Armed with an institutional understanding of our risks, we can all be caffeinated (or not) based on our own individual tastes.
Cathy Bates
You will not be facing the risks alone
You have to keep perspective — there are so many competing risks, and we have a finite pool of resources. This is why it is critical that security and IT risk are addressed at the C-level of the institution. If you maintain excellent relationships with your stakeholders, you will not be facing the risks alone.
Thomas Siu
The risk profile I've seen in higher education often requires us to take our lumps and carry on. In many cases, I'd relate our situation to canoeing in a wide river that is only knee deep. There is a lot of room to maneuver, and if you flip [your canoe], you can stand up, hang onto your paddle, and get back in.
Sol Berman
How do I sleep? (When a potentially major incident is not occurring anyway ...)
We have a layered, defense-in-depth approach that strives to protect those things most worth protecting.
I lived through what was then the largest breach in state government history, which provides perspective.
Breaches are inevitable, especially given the decentralized nature of higher ed and the ethos for open networks and data sharing.
Schools from every state have been affected in one form or another, and that's why organizations like HEISC (Higher Education Information Security Council) are so important. We can count on our colleagues to understand what's unique about higher education and share ideas, policies, and procedures.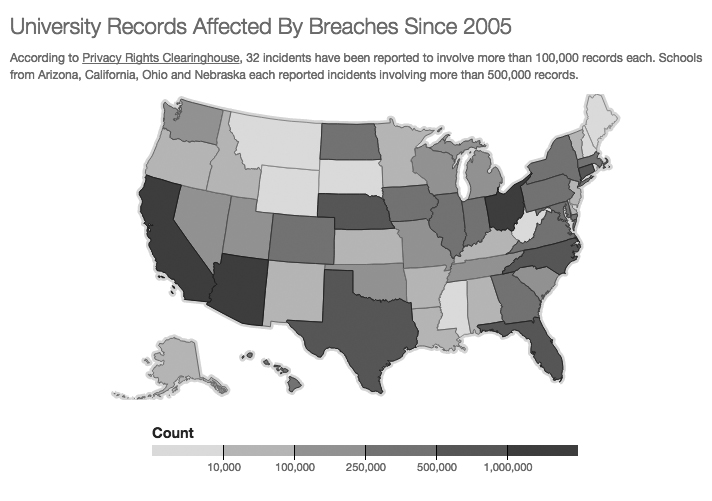 That said, when I look at the chart above, I am content to be "losing" this rendition of the Michigan-Ohio rivalry.;-)