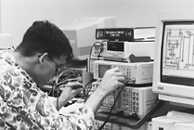 Cedarville College and Virginia Tech
Winners of the 1997 CAUSE Awards for Excellence in Campus Networking
Cover photo: (top) Completed in 1996, Cedarville College's Dixon Ministry Center houses the 3,400 seat Jeremiah Chapel, the Bolthouse Center for Music, and the Reese Center for Christian Ministries, as well as general classrooms. Cedarville photos by Scott Huck. (bottom) Burruss Hall is home to Virginia Tech's administrative and student services offices, a 2,990-seat auditorium, and an electronic carillon. The structure is names for Julian Ashby Burruss, eighth president of Virginia Tech (1919-1945). Virginia Tech photos by Bob Veltri.
Table of contents photos: (top) CedarNet offers 150 software programs that enhance learning opportunities. (bottom right) Specialized software benefits Virginia Tech's Veterinary Medicine program.

CNI Report
The 1997-98 CNI Program
by Richard P. West
Readers Respond
Computer Policy Violations

Current Issues for Higher Education Information Resources Management
a summary of issues identified by the 1998 CAUSE Current Issues Committee
Identifiers and Their Role in Networked Information Applications
by Clifford Lynch, CNI

Technology and Change: An Interview with John Gage
interviewed by Ken Klingenstein, University of Colorado/Boulder
Transforming the University to Serve the Digital Age
by James J. Duderstadt, University of Michigan/Ann Arbor
Information Technology as a Transformation Agent
by Charlie Tuller and Diana Oblinger, IBM
True Partnerships: The Key to Technology Infrastructure Challenges
by Bruce A. Metz, Tufts University
University of Colorado Acquisition Card Project: A Successful Partnership of Program, Process, and Systems
by Kathe D. Graham and Paula J. Vaughan, University of Colorado/Boulder

Revising Acceptable Use Policy to Account for Cultural Developments on the Net
by Rob Reilly, University of Massachusetts/Amherst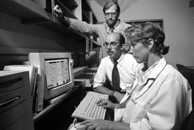 ---