Get Creative or Go Without
Students have limited options away from home for an internet connection, and even then they may need to get creative. When we asked respondents where they most typically go when they are struggling to find an internet connection to do their academic work, the most common response was home1 or a public space on campus (figure 3). Among the 8% of students who chose "other" for this question, the most common response was that they stayed where they were and instead connected via their mobile phones as personal hotspots. Other frequent responses to "other" included going to their place of work or where a family member works; some explained that they "don't have the option to go anywhere" else—they must "wait it out," and "do without until it comes back."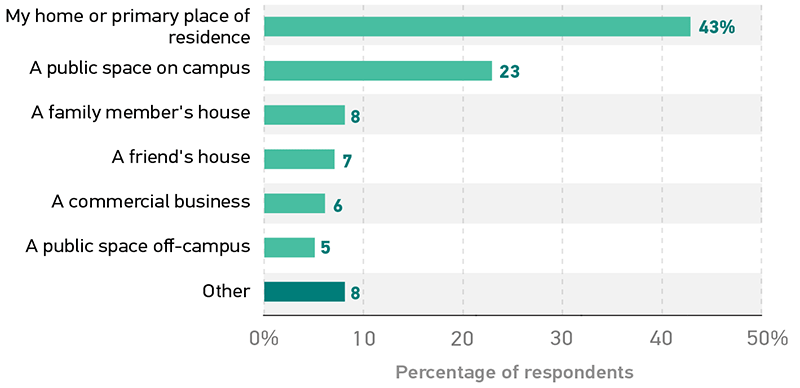 In their open responses, many students shared stories about the challenges of dealing with inadequate internet access that involved going to locations for Wi-Fi that were not optimal for learning and bearing added financial burdens to access the internet, and they described how these challenges impacted their feelings about being a student.
"Wi-Fi in my dorm and throughout campus is pretty spotty, and it chose to stop working right before I had a math assignment due. I don't have a car, so I am pretty limited as far as where I can go off campus for Wi-Fi. I barely managed to get the assignment in on time, and it was incredibly stressful. I feel like I am paying an insane amount of money for an education and that the school needs to ensure that that education is accessible to me especially since I have to live on campus my first two years."
"When my internet went out at my dad's house…I sought out my mom's house to get a connection. My step-dad is immunocompromised, so I sat in my car in their garage with an extension cord to stay plugged in. I stayed up all night doing that project. Reflecting on my experience as a student, it all just ties into making the ends meet somehow. It's not just about how much you've studied—you have to get creative sometimes."
"We don't have a good signal where I live, so I have to drive to a local coffee shop. In order for me to get the internet, I [have to] buy something. To me it was difficult to continue to buy something just so I can continue to use the internet. It is frustrating to drive and then to buy knowing you don't have the funds to be able to spend every day."
"In order to get a good connection, I must plan to leave the house early before coffee shops close…and schedule with a babysitter to take care of my child while I work or do schoolwork."
"On more than one occasion I have had the following experience: I get home from work late, and by the time I put my kids to bed, I am talking 10:00 p.m. before I can start to do my online schooling. I work until the early hours of the morning before submitting assignments and quizzes. One night I have finished my school work and I am ready to upload the assignment to Blackboard, only to find I have no internet access. My hotspot on my phone (my only internet access) is not receiving a signal for some reason. I waste half an hour trying to make it work before realizing I now have only 20 minutes before the deadline. I have no choice. I make the drive to my nearest 24-hour McDonald's to borrow their Wi-Fi. Because of COVID I sit in my car in the parking lot until I finish uploading my assignment while avoiding eye contact with the customers passing through the drive-thru."
These examples demonstrate some of the stressful life situations many students are trying to manage, the obstacles they must overcome, and their drive and determination to do their academic work during a time of great disruption.
Peers You Can Connect With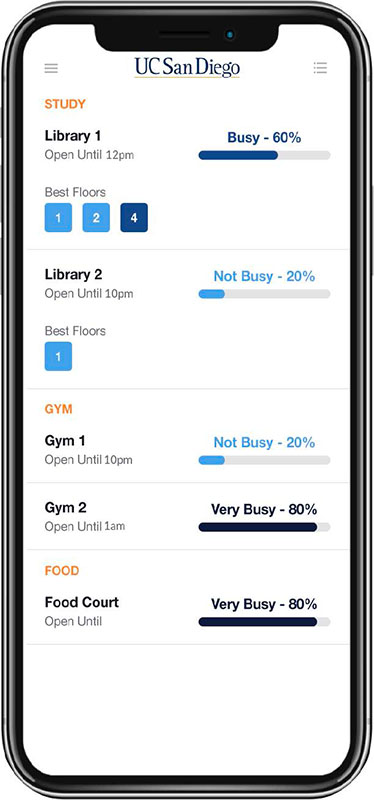 Intelligent Social Distancing
University of California San Diego
In 2018, the vice chancellor of Resource Management and Planning at the University of California San Diego partnered with campus stakeholders and space managers to pilot Occuspace, founded by UC San Diego alum Nic Halverson. The platform is used to monitor occupancy trends and was first used to help students find study space in the main campus library. Occuspace sensors scan for signal activity through Bluetooth and Wi-Fi and sense laptops, cell phones, wearables, and other connected device signals to estimate occupancy. The system, which is more than 90% accurate, is anonymous—it does not identify the users of the devices it detects. Members of the IT Services team integrated Occuspace with the UC San Diego mobile app so users could see high-traffic spaces on campus in real time. When the pandemic hit, this tool suddenly had a critical new use case to promote social distancing and help students make informed decisions. The Intelligent Density and Social Distancing Project, part of the university's Return to Learn initiative, was launched and the program expanded rapidly. Now, users can monitor nearly 2,000 spaces at UC San Diego, which helps them find safe places to access Wi-Fi and other resources needed to do their work.
Note
In the survey question we did not define "home or primary residence" for respondents. With this in mind, students responding to this question could have already been learning from their home/primary residence as a result of campus closures due to the pandemic.

↩︎