Discover Membership
Join EDUCAUSE
EDUCAUSE is a higher education technology association and the largest community of IT leaders and professionals committed to advancing higher education. EDUCAUSE supports those who lead, manage, deploy, and use information technology helping them to anticipate and adapt to change, and advancing strategic IT decision making at every level within higher education.
Who We Are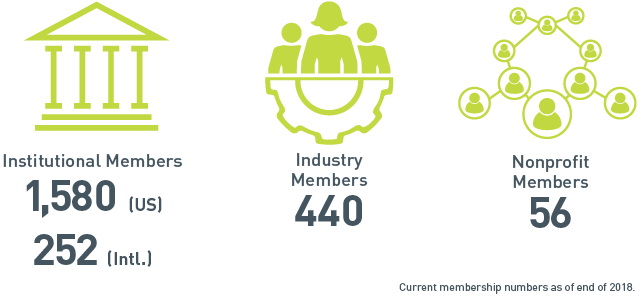 Learn more about our member demographics.
Membership is at an organizational level.
When you join, everyone at your organization gets access to EDUCAUSE's vast resources.
How We Can Help You
We are ever evolving and developing support systems, tools, resources, and communities to help you understand and solve the issues you face on campus and virtually with your distance learning community.

Stay Informed on Topics, Issues, and Trends in Higher Education
Predict, plan, and act on the latest trends by using our cutting-edge research, toolkits, and publications. Leverage the expertise shared in our content to keep ahead of the curve on your campus.

Advance Your Knowledge and Career
Your staff can turn to EDUCAUSE for all of their professional development needs. From memberships to volunteer opportunities that help you shape the profession to development opportunities designed for every level and interest area, EDUCAUSE will help your staff grow.

Make Informed Decisions
Streamline your strategic planning through our benchmarking tools by gaining insight into your peers' technology deployment, and evaluating your own maturity indices. Through EDUCAUSE's suite of tools and resources, you can simplify your procurement and implementation processes by leveraging the community's broad experience.

Build a Collaborative Network of Peers
Discuss your challenges and share best practices with your peers at our events, or work with other members to solve your most pressing issues and develop innovative solutions through our numerous virtual communities.

Get Special Pricing for Our Services
As a member you'll enjoy discounted pricing on all of our events, professional development offerings, job postings, sponsorships, exhibits, and advertising.
Want more details on the benefits of membership? Download our Membership Brochure.
Membership Types
With a thriving community of more than 85,000 individual participants in 45 countries, EDUCAUSE advances diversity in perspective, opinion, and representation. Together, EDUCAUSE member institutions serve over 16 million students. EDUCAUSE offers a variety of membership types to meet the community's diverse needs.
Estimate your dues with our dues tool.
US Institutional Membership
International Institutional Membership
Non-Profit, Association and K-12 Membership
Corporate Membership
Emerging Edtech Membership
Consultant Membership
Industry member? Learn more about how EDUCAUSE can help you on our Corporate Membership page