At EDUCAUSE, we are committed to enabling sustained growth in DEI, both internally as an association and for you, our community of IT and technology professionals. Diversity, equity, and inclusion (DEI) is vital to the success of the association and the community we serve. Long-term and lasting progress will require time, sustained effort, and the cumulative impact of incremental and individual actions.
For EDUCAUSE and higher education, the value of DEI is manifest in at least three interrelated dimensions:
Teams with diverse viewpoints outperform teams with members of similar backgrounds.

IT and academic technology organizations often do not reflect the diversity of the constituents their institutions serve.

Academic success depends on educational environments that are welcoming to all students, from all backgrounds.
We recognize that people and organizations are at different places on the DEI journey, that they will take different approaches to DEI, and that they will move forward at different speeds.
The resources on this page include action steps to put the principles of DEI into practice, as well as learning and engagement opportunities to deepen your understanding and continue your journey.
An Invitation to Advance Your Journey
Acknowledging that DEI is critical for higher education institutions and their students, faculty, and staff to thrive is the first step, but how do you get started? Where can you apply your time and energy to build and maintain momentum for DEI?
EDUCAUSE set up a DEI Task Force in 2018, which developed our CIO's Commitment on Diversity, Equity, and Inclusion that outlines six steps IT leaders can take to promote DEI. In our continued work with the help of members of our community, we broadened the application of these six commitments to create a resource for all technology leaders in higher education.
The commitment steps below include discrete activities that can guide and sustain your personal DEI journey, as well as that of your organization. The activities are organized into three starting points—Explore, Engage, and Transform—allowing you to tailor your approach based on your circumstances.
Explore: Exploring a new topic is a good way to better understand it. These activities offer a proactive beginning to DEI awareness.

Engage: Once you understand something new, it's time to get involved. These action items help you form and build relationships and will vary depending on your DEI journey and comfort level.

Transform: As you mature on your DEI journey, the value you bring to your organization changes. This step moves from participating in DEI initiatives to immersive involvement for sustainable change.
Use the steps to become more aware of and involved in DEI, moving from commitment to action.
The Steps: From Commitment to Action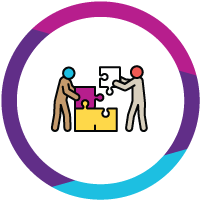 Advance Your DEI Hiring Strategies
Before, during, and after the recruitment process, leaders play a crucial role in creating and supporting a diverse workforce. In the EDUCAUSE Inclusive Hiring Kit, we take you through the inclusive practices you can implement in recruiting, screening and interviewing, hiring and onboarding, retention, and measuring and highlighting success.
Sign up for our 5-day microlearning email series to dive into the content one unit at a time. Log in or create a profile to select the microlearning series on your communication preferences page. The first email will reach your inbox the next business day!
Inclusive Language Guide
EDUCAUSE is committed to starting and sustaining a dialogue about the ways in which we can uncover and understand the harm that language can cause and to developing a common set of guidelines to help us use language inclusively. We have developed an official style guide for inclusive, bias-free, and equitable language that we welcome the community to use.
A Special Thank You
We'd like to thank the members of the EDUCAUSE DEI Advisory Committee and the founding members of the 2018 DEI Task Force who helped develop this content and continue to serve as the voice of the EDUCAUSE membership on DEI matters.
Share Your Feedback
The EDUCAUSE DEI Advisory Committee welcomes your feedback! If you have DEI resources, comments, or suggestions to share with our community, contact us at [email protected].