Dx: Digital Transformation of Higher Education
What Is Digital Transformation?
In the context of sweeping social, economic, technological, and demographic changes, digital transformation (Dx) is a series of deep and coordinated culture, workforce, and technology shifts that enable new educational and operating models and transform an institution's operations, strategic directions, and value proposition.
Is Your Institution Ready?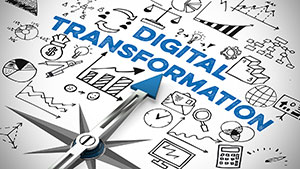 Getting Ready for Digital Transformation: Change Your Culture, Workforce, and Technology
The digital transformation of higher education is at hand. This article concisely explains the coming shifts and how leaders can support them.
The Dx Journey | A Roadmap
We've created this microsite to help you advance, no matter where your institution is on the road to digital transformation. Resources across this site help leaders understand, plan for, and implement Dx initiatives.
How Can You Learn More?
If you're an IT leader, it's important for you to understand the urgency and potential for Dx so you can guide your institution through planning and implementation of Dx-related initiatives. EDUCAUSE will continue to release resources to support you in this journey. In the meantime, use these resources to learn more.