Opinions About Faculty and IT Tools
Instructor Technology Experiences
Because the choices instructors make about using technology in their teaching shape students' overall technology experiences,1 we asked students how many of their instructors use technologies in various ways (see figure 6). For at least the third year in a row, we have obtained largely similar results in terms of both relative and absolute percentages. First, a majority (65%) of students told us that at least most of their instructors use technology adequately for instruction, use technology during class to make connections to the learning material or to enhance learning with additional materials (55%), and encourage students to use online collaboration tools to communicate/collaborate with the instructor or other students in or outside class (50%). Although there is a slight downward trend over the past three years for these three items,2 they have maintained their ranking relative to one another. At the bottom of the list of items for which we have longitudinal data are student responses about whether faculty encourage them to use their own devices to deepen learning; only 29% of students said that most to all of their instructors are embracing bring your own everything, or BYOE,3 to advance learning outcomes in 2017 compared with 34% in 2016 and 35% in 2015. Indeed, a majority of students said that few to none of their instructors ask students to use their own smartphones (58%) or tablets (65%) as learning tools in the classroom; a plurality of students said that most or all of their instructors ask students to use their own laptops (38%), about the same proportion who said that few to none of their instructors do this (34%).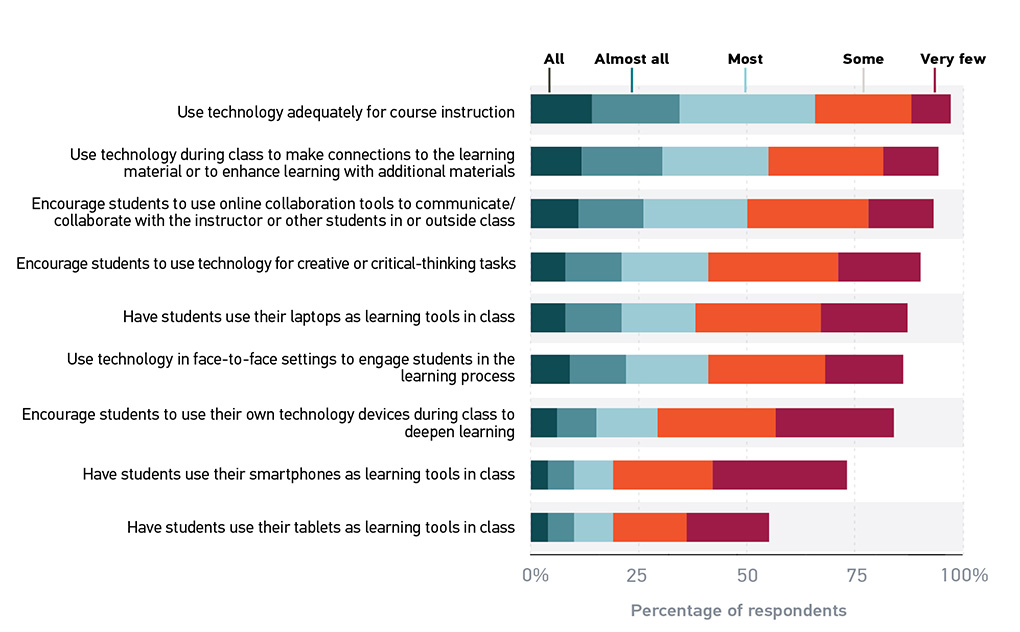 In addition to the relative stability of student reports of faculty use of technology over time, there is also a fairly clear difference between the kinds of things instructors are doing with technology. One group of practices tends to be focused on enhancing the instructors' abilities, their pedagogical approaches, and the purposeful use of technology to accomplish course-related tasks. The other group of technology experiences students have with their instructors is related to the use, or lack thereof, of their devices. Student and faculty reports of instructors banning or discouraging the use of devices are well documented4 and are tied both to concerns about digital distractions and control of the classroom.
Given recent data, the evidence suggests that it might be easier to teach an old dog a new trick than to convince faculty that pedagogically sound use of digital technologies can enhance student learning experiences. Certainly, we have evidence that many instructors are using technology for basic instructional purposes, but the lack of encouragement for students to use their own devices to deepen learning is a thorny problem for which there is no easy solution. If faculty say that evidence of the impact of technologies is what they need to change how they teach with them (and they do5), then it is incumbent on IT organizations and centers for teaching and learning to curate evidence for (and against) the use of different types of educational technologies. Furthermore, we also know that many faculty believe that incorporating technologies could make them better instructors if they knew how to better integrate them into their teaching.6 To help instructors embrace the changes to the learning environment that have been looming on the horizon, we recommend institutions do the following:
Provide instructors with opportunities for both technology training (IT units) and examples of good practices of teaching with technology (especially when they come from peers).
Adopt professional development models that encourage the thoughtful wedding of technology and pedagogy that can facilitate larger institutional changes. Such an approach would move beyond basic technology training models to feature good practices; offer learning communities; incorporate mentoring by experts; respond to various levels of skill, knowledge, and expertise; acknowledge that teaching is experimental and iterative; and evaluate outcomes.7
Change the institutional parameters of tenure, review, and promotion so that excellence in teaching and pedagogical innovation is rewarded.8
Student Success Tools
Being a college or university student is hard. Studying is hard. Time management is hard. Keeping track of your course requirements is hard. Remembering deadlines is hard. Getting answers to questions, seeking advice, and finding resources are hard. Doing your own laundry is hard (unless a parent/guardian/maid does it for you). Studying while holding down a job and/or caring for a family is really hard! Nearly a decade into the analytics revolution, we are beginning to see ways in which digital technologies are helping students succeed. True, there's no app to sort your lights from the darks or fold your shirts,9 but the host of student success tools available to many undergraduate students are considered at least moderately useful by four out of five students (see figure 7). The most useful student success technologies (with at least 60% of students saying they are very or extremely useful) are designed to facilitate students' management of their academic careers: degree audit tools that show the degree requirements completed, degree planning or mapping tools that identify courses needed for degree completion, and online self-service tools for conducting student-related business. Although students deem them slightly less useful, the remaining items in figure 7 appear to be related to more academic issues and resources at the course level (e.g., early-alert systems, course guidance, performance improvement) or the personal level (e.g., record-keeping, resource recommendations).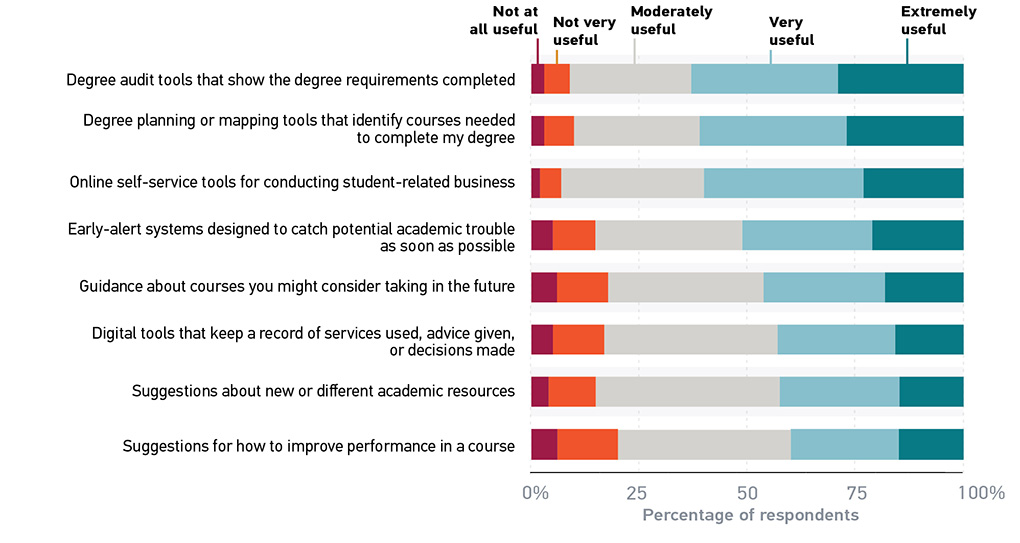 Clearly, student success technologies are seen as useful because they mitigate or moderate some of the things that make being a student difficult. That said, these technologies are more useful to some students than to others. Specifically, students who may possess structural (e.g., ethnicity, gender), socioeconomic (e.g., class), or other circumstantial (e.g., first-generation college student) disadvantages find student success tools more useful than students more advantaged in these areas. Women and students who are eligible for Pell grants (a measure of financial need) are slightly (but statistically significantly10) more likely to find all of the student success tools about which we asked more useful than do men or non-Pell-eligible students. First-generation and black or Hispanic students find all of the student success tools—except degree audit and planning tools—to be more useful than non-first-generation and white students. While student success tools appear to benefit nearly all students who have access to them, they also appear to give a leg up to those who may need them the most.
What steps can IT units take to make sure that students on their campuses have access to student success tools? Well, these tools—often referred to as integrated planning and advising for student success (iPASS)11 or student success management technologies—were named one of the top strategic technologies by EDUCAUSE for the first time in 2017. Driven by mandates for student success initiatives and data-driven decision making, iPASS technologies are fully deployed at only a handful of institutions, but larger numbers of institutions are beginning to track and learn about them. One thing we do know is that student success projects are not just IT projects—they are projects that require buy-in from stakeholders across the institution including, but not limited to, advising, student affairs, registrar's offices, institutional research, counseling, academic affairs, faculty, and, of course, students.12 Student success should be the goal of every institution of higher education. If student success technologies make earning a degree or credential easier (as students tell us they do), then deciding to provide them should not be a hard decision at all.