This is the fifth year that EDUCAUSE has tracked the influence of major trends on the IT strategy of colleges and universities. Some trends, such as the growing complexity of security threats and artificial intelligence (AI), are technology trends. But we also track environmental trends — such as diversity, equity, and inclusion (DEI) and lifelong learning — that can influence institutional priorities and, in turn, influence technology strategy. We assessed the trends presented in this report via an EDUCAUSE survey in the summer of 2018. The influence of the trends that we studied ranged widely (see figure 1), with some affecting as many as 4 in 5 institutions and others as few as 1 in 14. To help readers focus their attention, we divide the trends into four groupings, according to the impact they are having across institutions: most influential, taking hold, worth understanding, and limited impact.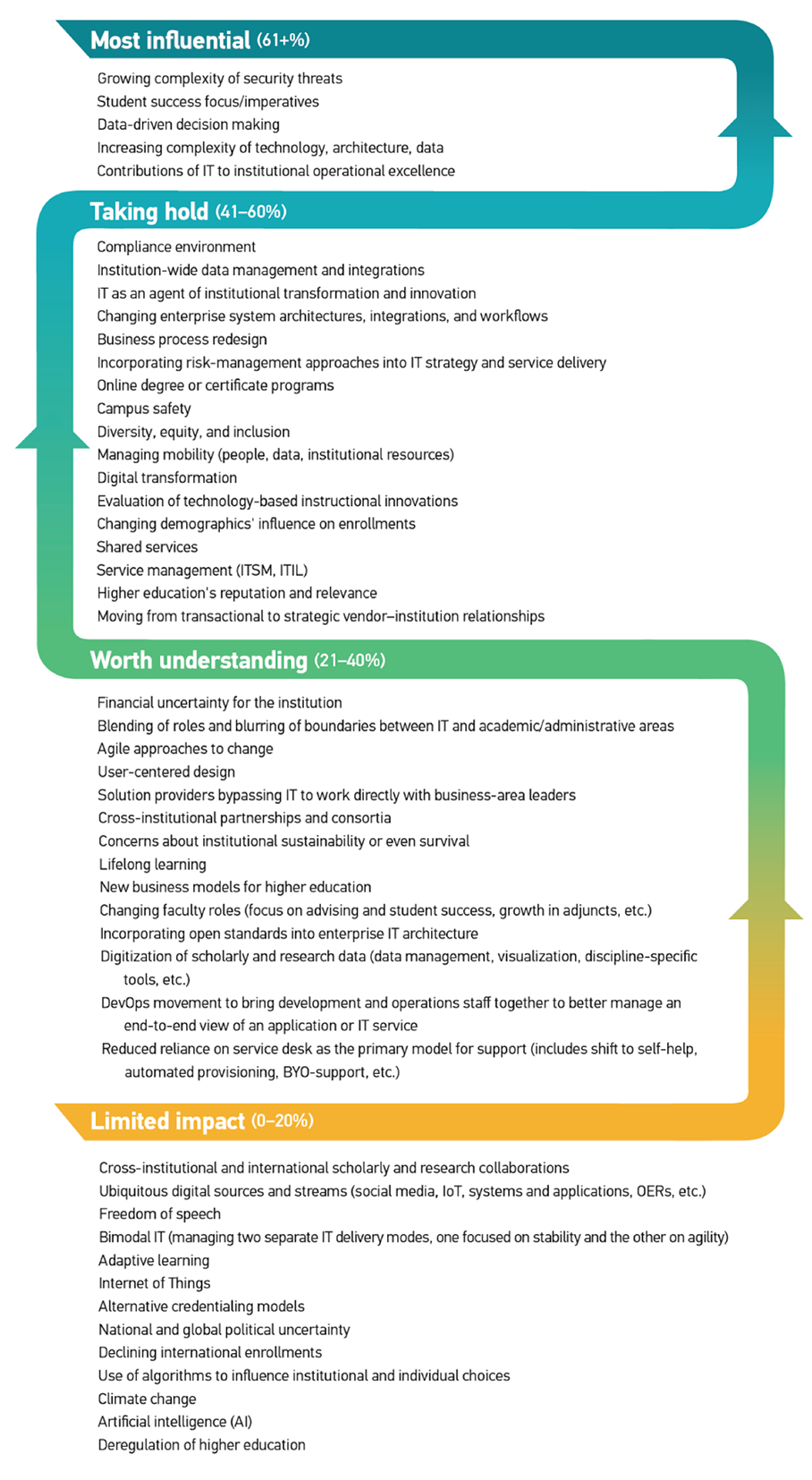 Understand how the most influential trends are affecting your institution.
Five trends are influential at 61% or more of colleges and universities (listed below from highest to lowest level of influence):
Growing complexity of security threats
Student success focus/imperatives
Data-driven decision-making
Increasing complexity of technology, architecture, data
Contributions of IT to institutional operational excellence
Review the trends that are taking hold and address them at your institution.
Seventeen trends are influential at 41–60% of institutions (listed below from highest to lowest level of influence):
Compliance environment
Institution-wide data management and integrations
IT as an agent of institutional transformation and innovation
Changing enterprise system architectures, integrations, and workflows
Business process redesign
Incorporating risk-management approaches into IT strategy and service delivery
Online degree or certificate programs
Campus safety
Diversity, equity, and inclusion
Managing mobility (people, data, institutional resources)
Digital transformation
Evaluation of technology-based instructional innovations
Changing demographics' influence on enrollments
Shared services
Service management (ITSM, ITIL)
Higher education's reputation and relevance
Moving from transactional to strategic vendor–institution relationships
Understand these trends, and consider their possible role at your institution.
The influence of 14 trends is limited to no more than 40% of institutions (listed below from highest to lowest level of influence):
Financial uncertainty for the institution
Blending of roles and blurring of boundaries between IT and academic/administrative areas
Agile approaches to change
User-centered design
Solution providers bypassing IT to work directly with business-area leaders
Cross-institutional partnerships and consortia
Concerns about institutional sustainability or even survival
Lifelong learning
New business models for higher education
Changing faculty roles (focus on advising and student success, growth in adjuncts, etc.)
Incorporating open standards into enterprise IT architecture
Digitization of scholarly and research data (data management, visualization, discipline-specific tools, etc.)
DevOps movement to bring development and operations staff together to better manage an end-to-end view of an application or IT service
Reduced reliance on service desk as the primary model for support (includes shift to self-help, automated BYO-support, etc.)
The remaining 13 trends were of limited impact in our research.
Cross-institutional and international scholarly and research collaborations
Ubiquitous digital sources and streams (social media, IoT, systems and applications, OERs, etc.)
Freedom of speech
Bimodal IT (managing two separate IT delivery modes, one focused on stability and the other on agility)
Adaptive learning
Internet of Things
Alternative credentialing models
National and global political uncertainty
Declining international enrollments
Use of algorithms to influence institutional and individual choices
Climate change
Artificial intelligence (AI)
Deregulation of higher education