Characteristics of Mentoring Relationships: Engaging with Differences and Similarities
When seeking a potential mentor or protégé, an individual may have a list of desired attributes. A potential mentee may want to identify a peer who is of the same gender, an executive of the same ethnicity, or an older senior manager who can impart to a protégé lessons gained from experience.1 Having a mentor of the same gender who is similar in age or ethnicity establishes a basis for understanding experiences or challenges in the workplace specific to the mentee. Women may want to find a senior female mentor who can offer insight into how she advanced in a predominantly male workforce, for example. Nevertheless, being in a mentoring relationship with someone who has a different ethnicity or gender can also be beneficial. Such a relationship can offer opportunities for career advancement for women and non-whites in predominantly male or white workplaces.2 Different-gender mentoring may also be beneficial because it offers both parties a learning opportunity to understand similar—or different—experiences and perspectives in the workplace.3 To better understand how these mentoring relationships are structured, we asked mentors and mentees to characterize their relationships on the basis of gender, ethnicity, workplace status (peer or manager), and stage in career (figure 4).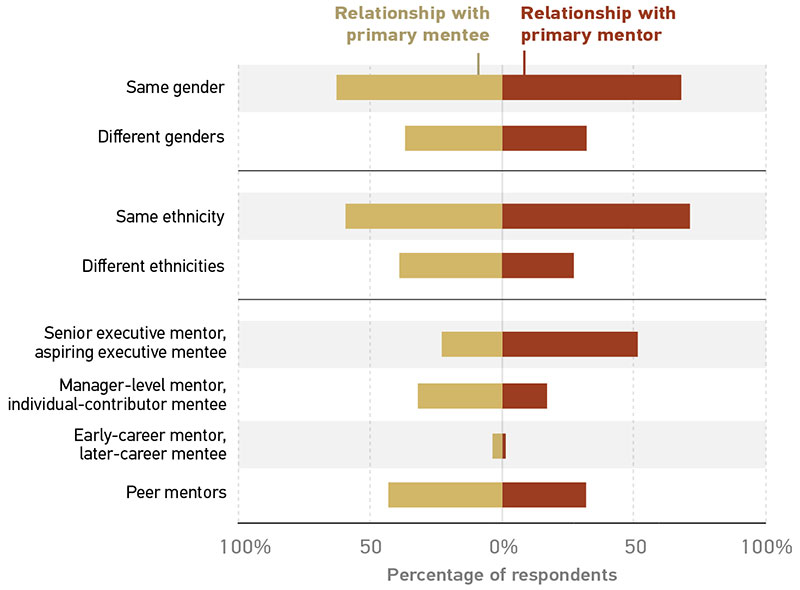 When looking at mentoring relationships based on career stages and whether one is a mentor or a mentee (lower half of figure 4), the characteristics reflect what we'd typically consider a classic mentoring relationship. Mentors (31%) were often engaged in a traditional relationship, i.e., manager to mentee (individual contributor). Half (51%) of protégés were aspiring executives with senior executive mentors. This confirms that protégés perceive career benefits from such an arrangement. These perceptions are well founded, given that those who have a mentor may be more likely to experience gains in salary or career development.4
We also found the peer mentoring model to be prominent, accounting for 44% of mentors' relationships.5 By "ditching the hierarchy," individuals may be on more equal footing in the relationship, since they are likely in the same stage of their career.6 They might collaborate to share networking contacts, get professional development experience, or simply support each other's career path choices.7 Senior staff may need a peer to offer specific feedback and support as they address challenges in the latter half of their career.8 This is good news for both organizations and individuals. Peer mentoring can increase collaboration, address individual needs for support, and boost sharing of institutional knowledge, which could be particularly useful for institutions that are shifting administrative structures or undergoing system change.9 Moreover, having a peer mentor may contribute substantially to career development, particularly for women who aspire to executive positions at their institution.10
Significantly more ethnic minority mentors (37%) participated in early-career peer mentoring relationships than white mentors (17%). This is encouraging for ethnic minorities in higher education IT because early-career mentoring has been associated with career development and being fast-tracked into executive positions.11 Additionally, mentoring of underrepresented ethnic minorities can improve retention in predominantly white institutions via connections with mentors who understand the career struggles specific to their mentees.12 Whites and ethnic minorities engaged in identical rates (52%) of mentoring relationships consisting of an aspiring executive and an executive mentor. This is also encouraging, since some studies suggest that ethnic minority managers' mentors invested in them as potential managers.13
Overall, mentoring relationships tend to involve members of the same gender (64%). These findings may reflect the fact that protégés, who frequently initiate relationships, are seeking mentors of the same gender.14 For women, having a female mentor can be important for role modeling: if a female employee "can see it, she can be it"—meaning that female executive mentors can provide a roadmap and guidance for a successful career.15 Although having a strong female mentor can be of benefit to aspiring women employees, being mentored by a man may also be beneficial not only to the mentee but also the organization. Our findings are encouraging in that more than a third of mentoring relationships involve a male–female dynamic.
Engaging in mixed-gender mentoring relationships can contribute to gender inclusiveness, which involves "both men and women in advancing women's leadership," especially for women working in male-majority industries.16