E Is for Everybody: Diversity and Inclusion in Esports
Institutions can take many different approaches to improving their inclusion practices. Officials at Montgomery County Community College (MC3) in Pennsylvania take inclusion very seriously, and they work to make sure that the "e" in "esports" stands for everybody. They know it's an uphill battle, especially for women in gaming, but in their esports program they have a female athletic director and two female faculty advisors, working to build an environment friendly to new female gamers (see figure 4). They also have students sign an inclusivity pledge (see sidebar) when they join the organization and make sure to address the issues of toxicity and harassment during their annual orientations for players.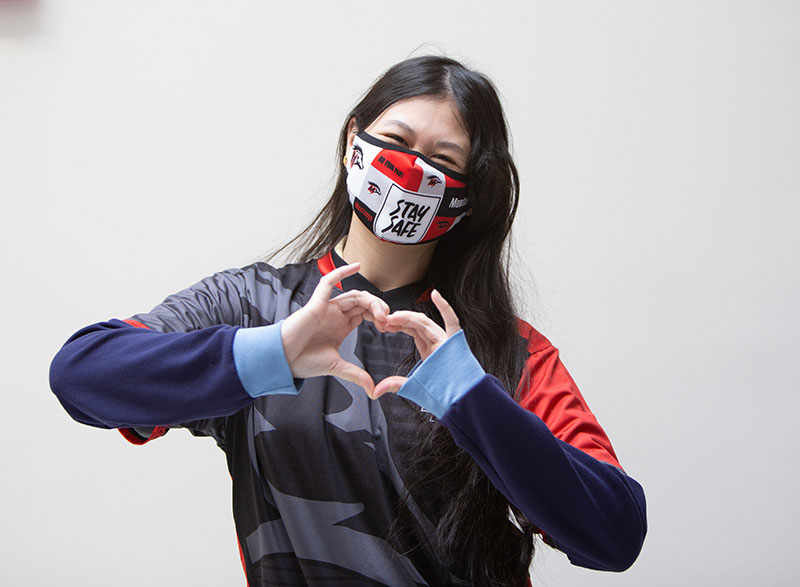 Montgomery County Community College Inclusivity Pledge
To foster an inclusive community that treats every person with dignity and respect.

To refrain from making negative, profane, racist, sexist, homophobic or other verbally abusive comments during, or outside, practices and competitions.

To refrain from all forms of harassment, including, but not limited to, sexual harassment and cyber bullying.

To report any violations of our commitment to inclusivity to a coach, administrator, or other person of responsibility.
As they design and choose a location for their esports community areas and arenas, institutional officials are also taking measures to ensure that students feel welcome and safe. Several interviewees noted that one of their goals when considering where to place their communal esports areas was to ensure it was in a centrally located, highly trafficked, and visible building on campus, such as the student union or library, to guarantee ease of access for any interested student (see figure 5). These types of buildings are open and used by a multitude of students, and the central location helps avoid the stigma of a dark and dank gaming basement where some people might not feel welcome.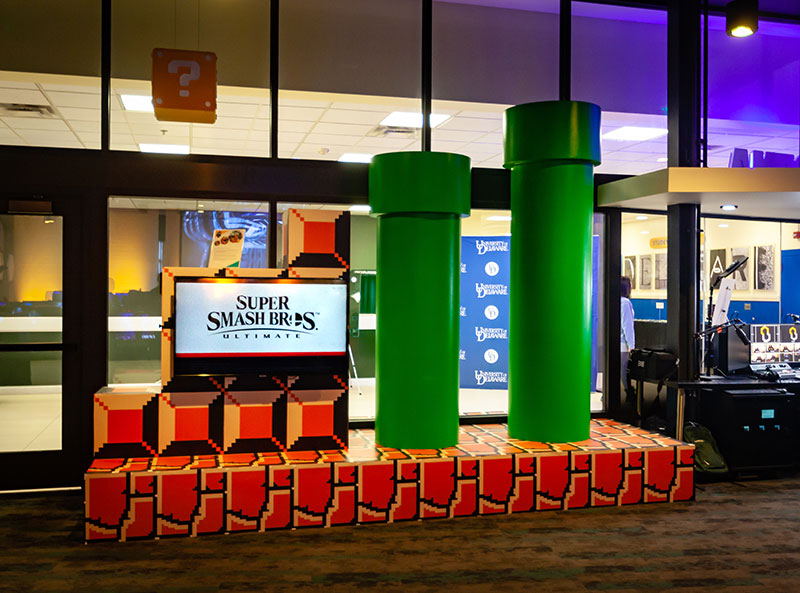 Device access can also be a barrier to inclusion, as gaming computers capable of running the newest and most graphically intensive games can cost well over $1,000, something some students are not able to afford before or during their college experience. Ensuring that students can use a communal gaming facility at no cost helps guarantee more equitable access for students from all socioeconomic backgrounds, which was a barrier to entry into esports many of our interviewees spoke about.
Lastly, our interviewees recommended several other ways to improve inclusivity practices in esports programs. Engaging with organizations such as the National Association of Esports Coaches and Directors (NAECAD), for example, may provide important professional development opportunities for coaches and directors, while faculty in departments such as information technology and computer science might be able offer additional advising, mentoring, and professional development support for players and coaches. Interviewees also recommended creating and supporting outreach events and programs within the institution—as well as at local high schools—as effective approaches to help start conversations with potential new (and more diverse) players.
Institutions must acknowledge and confront toxic gaming behavior. While most online multiplayer gamers do not exhibit toxic behavior, the Anti-Defamation League (ADL) has reported that many online gamers have experienced or witnessed toxic behavior and harassment. Examples of toxic behavior found in gaming include sexism (which really started to gain media attention with 2014's Gamergate), racism, homophobia, and other types of harassment. The games that most commonly prompted these problems are also commonly played by varsity teams and clubs at higher education institutions, including League of Legends, DOTA 2, Counter Strike: Global Offensive, Valorant, and Rocket League.
As more institutions create esports programs and teams, more opportunities arise for toxic behavior to slip through the cracks. Interviewees for this study recommended that when going through the process of creating a program, acknowledging and confronting the realities of toxicity in online gaming is key to ensuring that all students can feel comfortable participating. Lee Webster at Georgia State University spoke about his approach to building an inclusive esports program:
It makes a difference if that's your goal from day one—if you look at the creation of a program through the lens of inclusivity. Inclusion and equity can be a problem at every level when creating a program, and you have to tackle it at every level. You have to create conditions that are comfortable and safe and work to squelch any hint of toxic behavior. You have to create an inviting space for all types of people if you expect them to show up. It takes work. It takes intention. It takes the willingness to make sure the toxic elements in the gaming community cannot be found in your esports team.
Despite the presence of toxic behavior in gaming culture, there's good news, too. The ADL reported that 95% of players have had positive social experiences playing online multiplayer games, which can help foster cooperation and nurture relationships and feelings of belonging. These are the types of behaviors that institutions can encourage to help create and grow a successful program.