Institutions can grow engagement in many ways. At most institutions, student interest in gaming and esports is significant, and building an esports program can engage a different group of students than a traditional sports program. Interviewees reported using many different methods to "meet students where they are," with some of the most successful described below.
Live-streaming broadcasts of esports games provides a wide-reaching method for institutions to build engagement, as well as an opportunity for students, family, and friends to connect with and support the players and team from afar. Teams or players that live-stream are simultaneously recording and broadcasting content to live audiences online through a platform such as Twitch. Typically the audience can engage with each other during the live-stream through text-based chat as they watch the live gameplay. During tournaments or events, shoutcasters (see figure 2) can cover the play-by-play action during games on stream, and they can work with analysts between games to break down team strategies and potential outcomes for the audience.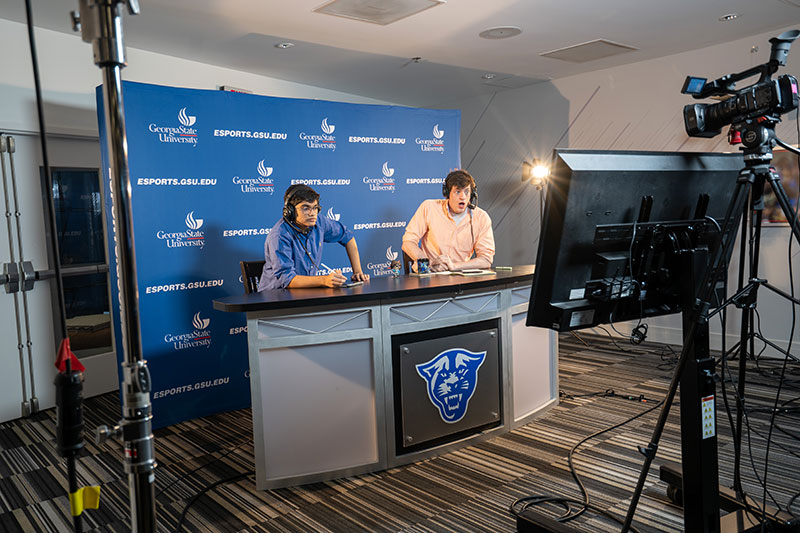 The technology to run a broadcast is continuing to evolve and is much more lightweight in terms of both cost and production than it was even just a few years ago. Interviewees reported that they were able to run an esports broadcast with only two or three people at one-fifth the cost compared to previous years. Computer software like OBS can capture local computer gameplay, and newer cameras can plug into a computer and send their video to a streaming service alongside the local video capture for dual-output broadcasting (see figure 3).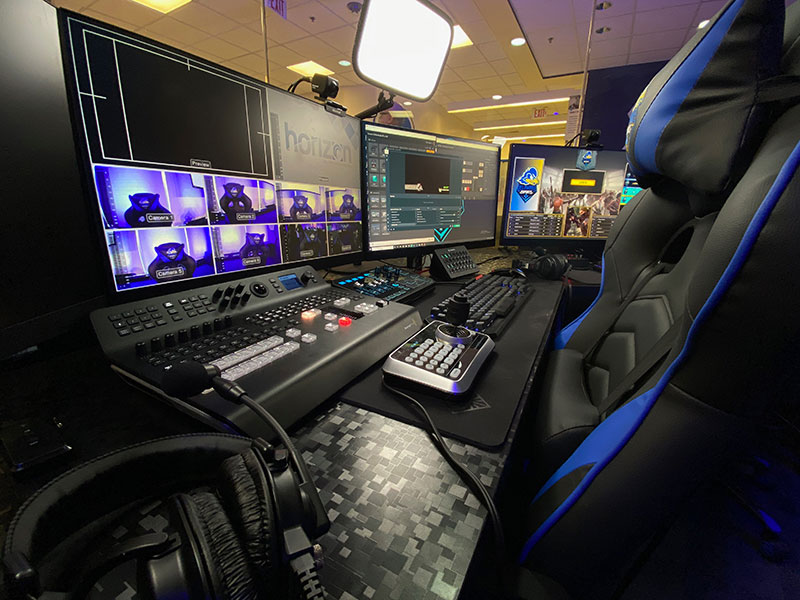 Social media posting can be another method to reach audiences and grow engagement with an esports team. Building accounts on all the common social media platforms for the esports program can help promote events, content creation, streaming, and more. The creation and running of these accounts can help marketing students gain experience while growing awareness and engagement with esports.
Communities grow around esports. Similar to traditional sports, the growth and success of a team leads to growing communities of support. Each gaming title brings appeal to different types of gamers, from computer-based real-time-strategy games such as StarCraft II or team-based games such as League of Legends or Overwatch, to console-based sports games such as Madden or FIFA and one-on-one fighting games such as Super Smash Brothers or Street Fighter. Fans of different genres will follow and support their games, teams, and players through streaming services, social media, local events and tournaments, virtual content channels, and more.
Discord (or similar service) servers are another way that institutions promote their teams and build communities surrounding esports. Institutions reported that the creation of these types of servers has arisen organically, generally with each server focused on a specific game of interest. At other institutions, the creation of these servers is more purposeful, with esports clubs and teams creating and managing Discord servers as a method to organize and communicate with their players. Especially during the pandemic, Discord was an invaluable tool to keep teams connected and communicating through the season while students were playing and interacting remotely. The servers can also be used as a method to identify new potential recruits for the teams by announcing tryouts and events directly to subscribed, interested students.