Microlearning Unit 1: Planning and Recruiting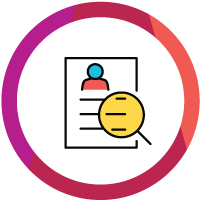 Unit Introduction
This unit focuses on inclusive practices and processes related to planning and recruitment for professional positions within the higher education IT community. Although a majority of the recommendations may seem geared toward hiring committees, unit or organization leaders are responsible for determining the inclusivity of an organization and should play an active role in all aspects of recruitment, hiring, and retention.
Unit Goals
Preparation and Pre-Recruitment
Engage in Awareness- and Capacity-Building around DEI Best Practices
Watch educational videos on diversity, equity, and inclusion (DEI).

Select a search committee with representation in mind:

Map out all the places where your systems use names and gender markers.

Candidates need to be able to enter and edit their preferred names, pronouns, and disability status, and your organization's internal systems (HR information systems, IT systems) need to be able to support that.

Review your department's and overarching institution's website(s) to determine how inclusive they are to potential hires and how effectively they demonstrate DEI support.

What story are you sharing?

Do photos feature only one type of employee?

Are the language and graphics representative of whom you want to hire?

What does the organization's leadership team look like?

Where are women and Black, Indigenous, and people of color (BIPOC) in the organizational charts?

Conduct a market survey by collaborating with HR and payroll departments to offer an equitable compensation and benefits package.
Craft Position Descriptions and Advertisements through a DEI Lens
Recruiting starts when a new position is created or when an existing position becomes available. A prudent step in the process is to thoughtfully review job descriptions before posting or reposting a position in order to intentionally invest in the diversity and inclusivity of the organization.

Evaluate and recraft minimum qualifications to avoid inadvertently making the position or institution less attractive to diverse candidates.

Focus on technical prerequisites rather than academic prerequisites.

Emphasize critical soft skills and attributes for success.

Consider using resources like the Better Allies: Approach to Hiring book.

Consider using tools that support the use of inclusive and bias-free language in your job posting and marketing materials.

Include salary scales or ranges with job postings so that candidates have a realistic understanding of the pay scale and intended range. If this is not shared, applicants have to guess the range and may ask for lower compensation due to lack of knowledge, which creates inequity early in the process.

Help candidates understand that they are indeed qualified for positions.

Candidates might have cultural or gender-based misconceptions of worth or experience.

Use tools to ensure inclusive language and bias-free communication.

Ensure that your job posting and application interface/processes are accessible.

Proactively request a diversity statement from applicants.

A diversity statement may be any length (a short paragraph, a page, etc.) describing experiences, contributions, and/or commitments related to DEI.
Outreach
Market Internally to Students, Interns, and Staff
Partner or pilot DEI-focused recruiting through internal units such as HR, DEI offices, multicultural groups, student life offices, veterans resources, and career services.

Offer professional pathways for current student workers through internships, mentoring, and shadowing opportunities.

Commit to creating professional pathways and growth opportunities for internal/existing staff who represent marginalized communities.
Market Externally via DEI-Focused Job Boards
Facilitate a more diverse applicant pool by posting openings on job boards that specifically target marginalized communities (e.g., your local chamber of commerce, the NAACP, your campus ROTC).

Better advertise benefits to increase job acceptance by diverse candidates (e.g., flex time, floating holidays, maternity/paternity leave)

Information on what is included in medical plans can be a key factor for candidates with disabilities, transgender candidates, and others.

If the organization decides to use an external agency or search firm, the firm's values and processes should reflect the desire to be inclusive and follow the hiring organization's lead for gathering a pool of diverse candidates.

Ensure that any marketing or publicity related to job postings clearly demonstrates diversity, equity, inclusion, belonging, and justice, as well as a culture that would be attractive to women and BIPOC candidates.
Additional Resources
Educational Videos
Implicit Bias Training
Diversity Advocate Program
Inclusive and Bias-Free Language
Job Boards and Recruiting Tools
Free Opportunities
Paid Opportunities