Faculty satisfaction declines, but IT support is valued.
When was the last time IT support staff heard, "I appreciate you"? Without the support they need, faculty's technology experiences may be a continual headache, regardless of whether they have the most up-to-date hardware or seamless network connectivity. But hey, no pressure, IT help desk staff. There are, in fact, clear ways to ensure that services are provided effectively—for example, by training IT staff at all stages in their career.1 The good news is that faculty are appreciating the support services they receive, and the quick fixes and deep dives IT support provides are paying dividends for institutions.
This year we found that an institution's support services play a significant role in faculty's campus technology experiences. Overall, a majority (64%) of faculty told us that their technology experiences at their institution were good or excellent, but this is a slight decline from faculty's 2017 ratings (71%).2 And 19% rated their experiences as poor or fair, reflecting similar rates of negative experiences from 2017 (16%) and 2014 (21%).3 The majority of faculty reported using their institution's help desk (56%). These help desk users more often rated their overall technology experience as good to excellent compared with their colleagues who didn't contact their help desk for assistance. IT units could leverage faculty user rates into deepening the relationships with other IT service providers, such as instructional designers. If faculty know that their IT department has their back, this could increase their interest in implementing new technologies in their classroom or using classrooms equipped with technology. This may suggest that classroom technologies have to support a diverse set of faculty needs—and provide for these needs rapidly, maybe even right before a class begins. Because IT tries to be everything to everyone, the overall classroom tech experience draws a resounding "meh" among faculty. This may also reflect a lack of faculty training; without appropriate guidance on how to leverage these technologies, faculty may be dissatisfied with what is available in their classrooms.4
When looking at specific services on campus, a majority of faculty rated communication technologies good or excellent (figure 3). However, ratings for remote access to commercial software were less positive than for other technologies. These levels of dissatisfaction may be driven by software platforms that need frequent updates, which can increase barriers to effective and rapid access for faculty.5 A change to a clientless remote access solution, for example, decreased help desk calls by 90% on one campus.6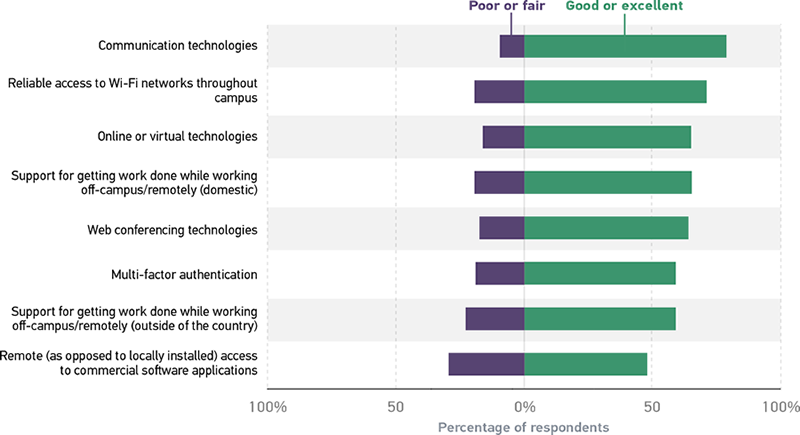 Although faculty training is important to effectively implementing these technologies in the classroom, faculty still rely on IT support services to make this magic happen in the classroom. We found that 67% who reported good or excellent technology support also reported that they were satisfied with their classroom technologies. This indicates that IT support is a linchpin in faculty technology experiences and satisfaction. What this also tells us is that IT support, when effectively addressing faculty needs, is positively correlated with overall and specific satisfaction with faculty's campus technology. You have faculty who appreciate the work you do, and it's making a difference in their technology experiences.