Digital Transformation: Culture Shifts
Various culture shifts signal the presence of and engagement in Dx at an institution. The Dx culture shifts identified below are being adopted at a plurality of responding institutions. It is important to note that nearly all trends and aspects of Dx have a sizable percentage of institutions currently moving forward…with others already lagging behind.
Institutions are emphasizing innovation and coordination, though data-driven transformation has yet to take hold in institutions' deeper administrative, academic, and business structures.
What Are Institutions Doing?
Campus leaders are emphasizing coordination and alignment on institutional goals; leaders are also effectively embedding IT into institutional priorities and promoting a culture of trust supported by data (see figure 1).

---
Institutions are demonstrating agility and flexibility in their use of technology and in their institutional directions (see figure 2).

---
Institutions are relying on data and analytics for tracking progress on goals, making institutional course adjustments, and driving business management and decisions (see figure 3).

---
What Areas Are Opportunities for Improvement?
Campus leadership is struggling to rapidly respond to changing circumstances and new opportunities and to enable a seamless student experience (see figure 4).

---
Institutions are sluggish when it comes to investing in human resources. Many colleges and universities eschew data-driven business and funding models, continuing instead to deploy traditional business processes that are rigid and unresponsive (see figure 5).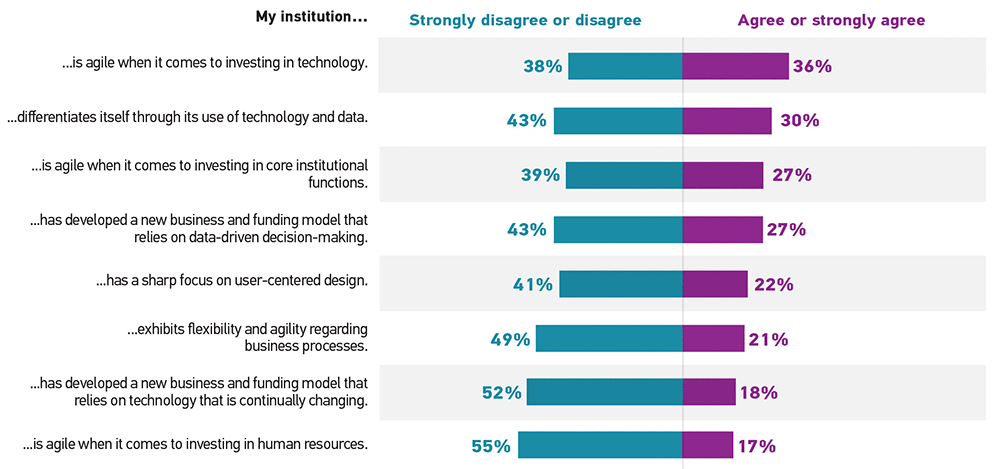 ---
Institutions are lagging in their employment of data platforms, specifically in the areas of administrative tasks, student well-being, and student achievement (see figure 6).

---
Are the Necessary Supports in Place?
Higher education institutions are:
Advancing new strategies to effectively meet 21st-century challenges and opportunities,
Actively innovating through institution-wide goals and ambitions, and
Moving away from risk aversion and toward change and risk management (see figure 7).