EDUCAUSE Board of Directors Nominations
The application and nomination period for the 2023 EDUCAUSE Board of Directors is now closed. Thank you to all who applied or nominated a colleague! The call for 2024 nominations will open in January 2024.
EDUCAUSE board members work together to advance EDUCAUSE and higher education, serving as the voice of community members in EDUCAUSE governance and ensuring that the association is responsive to the needs of our diverse community.
The board takes on difficult issues and exciting opportunities at the intersection of higher education and technology innovation, always working together in a collegial spirit focused on service. No group better represents the EDUCAUSE notion of "inspiring the transformation of higher education in service to a greater good" than this group of extraordinary professionals.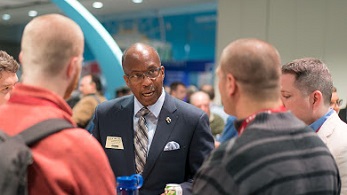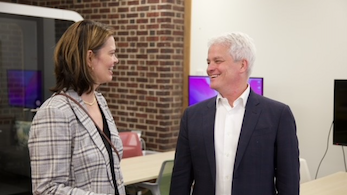 Nomination Process
The Nominations and Leadership Development Committee invites a diverse range of candidates who will bring wisdom, effectiveness, candor, and creative thinking to apply for the board. The committee also encourages the nomination of candidates who have an active interest in advancing diversity, equity, and inclusion in higher education.
Individuals at EDUCAUSE member institutions may self-nominate or be nominated by a colleague.
The nominations process culminates with four candidates sitting for election for two open positions.
For more information about the role and responsibilities of an EDUCAUSE board member and the qualifications and experiences that the Nominations and Leadership Development Committee looks for in candidates when developing the election slate, visit the board member position description.
The Board Manual, which is provided to each board member at orientation and updated regularly, as well as the board meeting minutes are great resources for anyone wanting to know more about the EDUCAUSE board and the work it does on behalf of our community.
Members of the Nominations and Leadership Development Committee are available to answer any questions you may have and the current EDUCAUSE Board of Directors are always happy to hear from those interested in service to EDUCAUSE. Feel free to reach out to any on these lists. If you are unsure who to contact, or your question may be better suited for EDUCAUSE staff, please reach out to [email protected] for assistance.
Learn More About Becoming an EDUCAUSE Board Member
Recorded Webinar
Interested in learning more about EDUCAUSE Board service and how you might serve on the board during your career? Members of the Nominations and Leadership Development Committee and past and present board members share information on the selection process and what it's like to serve on the EDUCAUSE Board of Directors in this recorded webinar.
What Board Members Say...
"The ultimate level of service is serving on the board of directors. You have a seat at the table to positively impact the future of higher education information technology. You also help guide our association to ensure its continued viability and importance. What an honor and privilege! I have enjoyed getting to know the staff and seeing their dedication to our members. Lastly, you also learn from other board members who are passionate, dedicated, and possess a wealth of knowledge."
—Keith McIntosh, Vice President and Chief Information Officer, University of Richmond
"I realized how energizing it was to serve on the board. And I felt like the group was making a difference in a really critical part of higher education."
—Diane Graves, University Librarian Emerita, Trinity University