EDUCAUSE Corporate Membership
Gain insights and connections—become an EDUCAUSE corporate member.
Corporations and other related associations and organizations that serve the higher education technology market play a meaningful role in helping higher education advance.
We're here to help you learn more about the unique needs of higher ed, make strategic connections, and showcase your brand and industry knowledge to our thriving community of more than 100,000 individuals at member organizations from around the world. Become an EDUCAUSE corporate member for access to insights and connections that can help you reach these individuals and be recognized for supporting the mission of the higher ed community.
If your organization is ready to join or if you would like additional information about how you and your entire organization can benefit from membership, contact us.
Not sure if your organization is already a member? Visit our Member Directory to find out and then create an EDUCAUSE Profile to begin accessing member benefits.
---
Be part of the largest community of technology leaders and professionals.
Membership in EDUCAUSE is at an organizational level. We have programs and services that can help you get direct access to higher ed decision makers, provide insight into your customers' most important issues, and maximize your reach and visibility.
2,100+


Member Organizations

100,000+


Individual Members

$9 Million


Median IT Spending Per Member Institution*
*Source: 2021 EDUCAUSE Core Data Service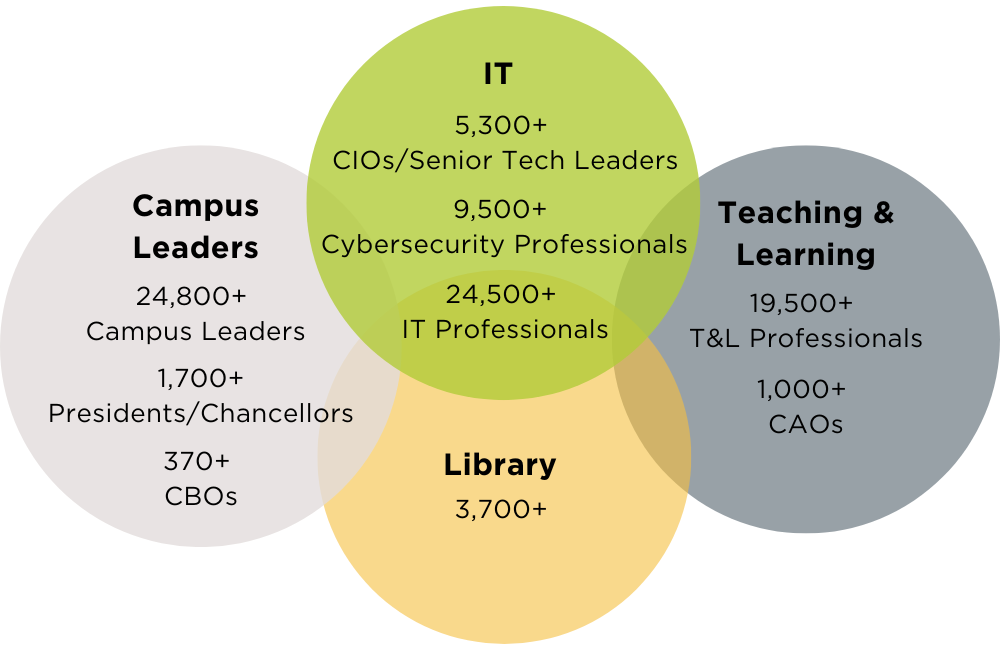 Everyone at your organization can benefit.
Whether it's your product development or sales team, marketing department, or organizational leadership, everyone who is interested in making an impact on higher education can turn to EDUCAUSE for the knowledge and resources to do so.
Membership is at an organizational level. When you join, everyone at your organization gets access to our vast collection of resources, as well as special pricing on our programs and services.
---
EDUCAUSE membership helps your organization advance.
When your organization becomes an EDUCAUSE member, we can help you and your colleagues:
---
Membership Types and Dues for 2023–24
We offer a variety of membership types to meet the community's diverse needs, including:

Corporate Membership
Available to all organizations serving higher education that are not emerging or individual as per below. $3,439.00

Emerging Edtech Membership
Available to early-stage emerging edtech companies that have been in business five years or less and employ fewer than 25 staff members, with revenue under $1M. This membership can be held for a maximum of three years. $856.00

Consultant Membership
Available to independent consultants or consulting firms with no more than two total employees. $578.00
Membership runs for one year from July 1 through June 30. Organizations are welcome to join at any point during the year at a prorated dues amount.
EDUCAUSE is a qualified 501(c)(3) organization under the Internal Revenue Code. Corporate members may be able to deduct 100% of their membership dues as a regular business expense. Members with questions should consult with their tax advisor.
---
Achieve Partner Status
The EDUCAUSE Corporate Partner Program enables you to maximize brand awareness and show your significant support of the higher education community. Over the course of each year, the extent to which you participate in EDUCAUSE opportunities determines your annual placement in one of the program's four levels.
---
Have Questions or Ready to Join?
Our membership team is happy to discuss how your organization can benefit by becoming a member. Contact us if your organization is ready to join or if you would like to learn more about how we can help.
Need a resource to help you make the case for EDUCAUSE membership? Download and share our EDUCAUSE Corporate Membership overview.