Membership
Corporations serving the higher education information technology market, and other related associations and organizations are invited to become corporate members. By joining EDUCAUSE, your organization will connect with over 85,000 higher education professionals from colleges and universities in 45 countries, serving over 16 million students. And you'll be recognized for supporting the mission of the higher education community.
Who We Are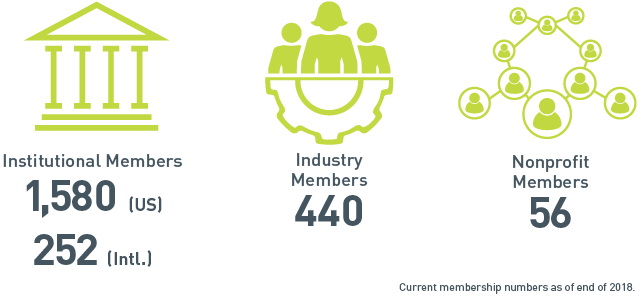 Learn more about our member demographics.
Membership Benefits
EDUCAUSE membership brings value to your corporation through interaction with higher education decision makers, access to programs and conferences that provide insight into your customers' most important issues, and the opportunity to take advantage of an expanding array of marketing options designed to maximize customer reach and visibility.
Stay informed on topics, trends, and issues in higher education
Network with our specialized communities
Share your thought leadership
Build your brand

Obtain discounts for EDUCAUSE services and events including:
Achieve Partner Status
The EDUCAUSE Corporate Partner Program enables you to maximize brand awareness and show your significant support of the higher education community. Over the course of each year, the extent to which you participate in EDUCAUSE opportunities determines your annual placement in one of the program's four levels.
Learn more about the EDUCAUSE Partner Program.
Membership Dues
The corporate membership period runs from July 1 to June 30. Companies are welcome to join throughout the year at a pro-rated rate. 2017/2018 dues are noted below.

Corporate Membership
Available to all organizations serving higher education that are not emerging or individual as per below. $3,000.00

Emerging Edtech Membership (new)
Available to early stage emerging edtech companies with revenue under $1M. This membership can be held for three years maximum. $750.00

Consultant Membership (new)
Available to independent consultants or consulting firms with under three total employees. $500.00
EDUCAUSE is a qualified 501(c)(3) organization under the Internal Revenue Code. Corporate members may be able to deduct 100% of their membership dues as a regular business expense. Members with questions should consult with their tax advisor.
Designating Representatives
To get the most out of your corporate membership, companies that join will need to designate one primary representative and up to 20 additional participating representatives. Participating representatives receive a complimentary subscription to EDUCAUSE Review.
The role of the primary representative includes:
Questions?
For more information or assistance in applying for membership, contact our Membership team.

(303) 449-4430
membership@educause.edu