Corporate Professional Learning
Understand and Connect with Your Target Market
EDUCAUSE offers resources and professional learning designed specifically for our corporate community to support you in working effectively with professionals across higher education IT. Explore our variety of professional learning opportunities to help you better connect with your target market.
Online Learning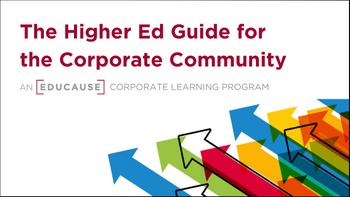 The Higher Ed Guide for the Corporate Community
July 11–29 or August 15–September 2
If you're new to working with higher education institutions, EDUCAUSE is here to help you develop the skills you need to be successful in navigating and interacting with higher ed.
Join us July 11–29 or August 15–September 2 for this new online program led by senior higher education leaders and experts to learn about and discuss:
Higher Education Organizational Structures
Develop an understanding of the unique structures of various higher education institutions, including their governance structures, and how they influence and shape your work with them.
Stakeholders and Influencers of Technology Decisions
Examine the overall framework of roles and responsibilities at higher education institutions and how they affect the way technology investments are made, and learn strategies for building relationships with stakeholders and other influencers.
Technology Planning and Funding
Review varying types of strategic planning efforts used across a higher education institution and how they impact technology investments, and discover customized approaches for securing engagements that support an institution's strategic plan.
The Procurement Process
Build an understanding of the procurement process, how to navigate funding models, the sales cycle's impact on technology budgets, and how governance affects procurement funding.
Take a step toward learning more about your customers, improving your outreach efforts, and cultivating long-term business partners. Choose a program date that works best for you and register today.
The Higher Ed Guide for the Corporate Community was developed in consultation with EDUCAUSE members, Tracy Schroeder, Vice President, Information Services and Technology, Boston University and Mark Roman, Managing Partner, Info-Tech Research Group, who provided subject matter expertise and content.
Have Colleagues or Staff Who Could Benefit?
This is an excellent opportunity to help your colleagues and staff grow their knowledge and skills. Share with those who could benefit to support their work with the higher education community.
---
Publications & Multimedia
HEAR FROM YOUR PEERS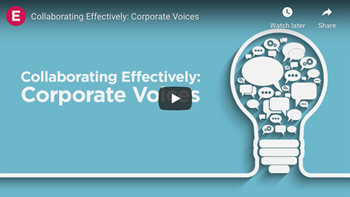 Corporate Voices
Get advice and ideas from EDUCAUSE corporate members on key topics and issues in higher ed IT, such as advancing an institution's analytics maturity, improving business systems and processes, effective collaboration, developing technology sourcing strategies, and more via our articles and videos.