Corporate Professional Learning
Understand and Connect with Your Target Market
EDUCAUSE offers resources and professional learning designed specifically for our corporate community to support you in working effectively with professionals across higher education IT. Explore our variety of professional learning opportunities to help you better connect with your target market.
Online Learning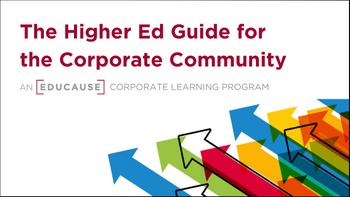 The Higher Ed Guide for the Corporate Community
Colleges and universities have unique cultures, structures, and governance. The Higher Ed Guide for the Corporate Community is a three-week online program, led by senior higher education leaders and experts, that can help corporate professionals who are new to working with higher ed (or who may need a refresher) navigate this unique market.
Take a step toward learning more about your customers, improving your outreach efforts, and cultivating long-term business partners. Explore available program dates and register today.
"I cannot speak highly enough about this course and how helpful it has been to me. The reason it has been so helpful is it has made me take a step back from what I think I know and shows me the reality from the eyes of higher education professionals."
—2022 Program Participant
Have Colleagues or Staff Who Could Benefit?
This is an excellent opportunity to help your colleagues and staff grow their knowledge and skills. Share with those who could benefit to support their work with the higher education community.
---
Publications & Multimedia
HEAR FROM YOUR PEERS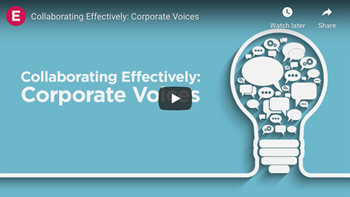 Corporate Voices
Get advice and ideas from EDUCAUSE corporate members on key topics and issues in higher ed IT, such as advancing an institution's analytics maturity, improving business systems and processes, effective collaboration, developing technology sourcing strategies, and more via our articles and videos.