All-in-One Membership
Your EDUCAUSE membership is about to get even better.
Beginning July 2017, EDUCAUSE membership will include access to ECAR research and the ELI teaching and learning community, no longer requiring separate subscriptions.

A Quick Orientation
How Can EDUCAUSE Support You and Your Campus?
Watch our two-minute video to learn how EDUCAUSE can help you solve cross-organizational challenges through the efficient and effective use of IT.
Who on Your Campus Can Benefit?
EDUCAUSE serves a wide variety of individuals across campus, including IT and academic technology professionals, but increasingly the success of IT depends on strong connections with other campus leaders.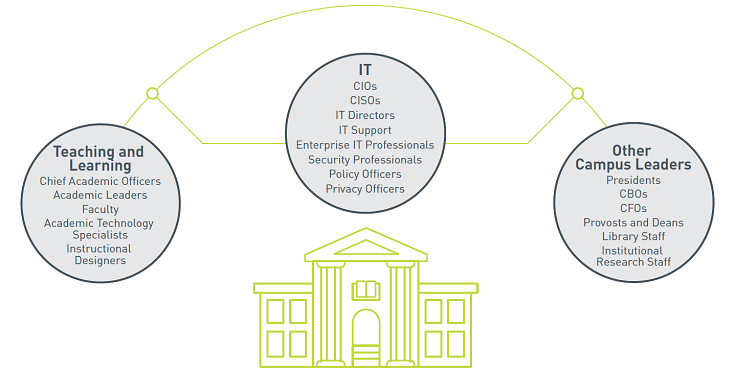 Membership is at an organizational level. When you join EDUCAUSE, everyone at your organization gets access to our vast collection of resources.
Four Ways We Can Help You
We provide support systems, tools, resources, and communities to help you understand and solve the issues you face on campus.



Want to Learn More?
Get your team engaged in EDUCAUSE. Share these resources with your colleagues.
Stay Connected
Sign Up for Our E-Mail Newsletters
Get notified when new resources, research, and events are available. Subscribe or log in to update your preferences >
Join or Renew
Renewal invoices for the 2017–2018 membership year will be sent to primary representatives on May 1. You can also join or renew now by contacting our membership team at membership@educause.edu and get immediate access to all of our resources.
Look up your organization's membership dues >
We're Here to Help
Contact our membership team to learn more about EDUCAUSE at membership@educause.edu.