2020 Community Leadership Award Recipient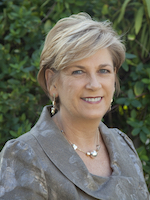 Hilary J. Baker
For demonstrating innovative and exceptional thought leadership in and across higher education institutions; for modeling the values of inclusiveness, integrity, and personal commitment in service to the community and the profession; for fostering collaborative and supportive environments and mentorship among IT professionals to develop the potential of future leaders in higher education
The 2020 EDUCAUSE Community Leadership Award recognizes Hilary J. Baker, Vice President for Information Technology and CIO Emeritus at California State University, Northridge (CSUN), for her tireless and unwavering commitment to building community and advancing the higher ed IT profession through her exceptional leadership, mentorship, and dedicated service.
Throughout her career, Hilary has been a champion in helping IT organizations to implement sound planning and innovative service models to support their campus communities. As Senior Director of IT Services at the California State University Office of the Chancellor, she effectively worked across boundaries to lead system-wide planning, design, and implementation of an ERP administrative systems project for the system's 23 campuses—the largest project of its kind in higher education at that time. Later, at CSUN, she was responsible for shaping the overall direction and vision for information technology at the university, including implementing CSUN Technology Vision 2022, a university-wide strategic plan to leverage technology and create a more digitally enabled institution in support of student success. During her tenure at CSUN, she also led several innovative and award-winning technology projects, including student competitions with virtual/augmented reality and artificial intelligence themes, a student/faculty tablet initiative, and an AI-powered CSUN chatbot.
In addition to furthering higher education by exploring and implementing new technology initiatives, Hilary also has a natural ability to identify future leaders and to foster talent by providing a positive learning environment in which people can grow professionally. She not only generously supported and mentored emerging leaders but also challenged her direct reports to help identify organizational staff with the aptitude and potential to grow their responsibilities.
At the time of her retirement in December 2019, Hilary was a member of the EDUCAUSE Board of Directors, having served in that role since 2017. During her service on the board, Hilary and EDUCAUSE President and CEO John O'Brien spearheaded the work of the International Task Force to facilitate opportunities for collaboration, increase interaction and sharing, and learn how EDUCAUSE could best serve the association's non-US members. Hilary served on the EDUCAUSE Annual Conference Program Committee several times, including acting as Chair in 2004. She participated as a member of the Recognition Committee, and she has served as a faculty member for several EDUCAUSE Institute programs. Beyond her committee and faculty service, she has been a frequent presenter on leadership and a variety of other topics at EDUCAUSE conferences.
Hilary also served as Vice Chair of the Los Angeles Chamber of Commerce Innovation and Technology Council and has been a member of the Oracle Education & Research Industry Strategy Council and the Salesforce Higher Education CIO Council. She previously served on the PeopleSoft Higher Education User Group Board and the Northridge Hospital Community Board and is an alum of the 2004 Leadership California Program for California women executives. In 2017, she was the recognized with an Outstanding Executive in Technology Award from the Advancing Women in Technology organization.
Hilary embodies the community leadership qualities most valued in the higher ed IT profession. The impact she had on those fortunate enough to have worked with her is unparalleled. Her ability to create environments that encourage professional growth and potential and her dedication to the success and advancement of others, particularly women in the IT field, have made Hilary J. Baker an empowering force for all those she has helped and inspired in their own professional journeys.
This EDUCAUSE Award is sponsored by Moran Technology Consulting, Gold Partner.