Cybersecurity Initiative
12 Months of Ready-Made Communications You Can Use in 2016
The Cybersecurity Initiative is led by the Higher Education Information Security Council (HEISC) whose mission is to support higher education institutions as they improve information security governance, compliance, data protection, and privacy programs. Learn more >
December 6 Webinar Resources Now Available!
The webinar recording, slides, and chat transcript are now available for the 12/6/16 webinar with Jim Williamson (UCLA) and Jim Phillips (UCSC) discussing the University of California Learning Data Privacy Principles and Recommended Practices. Learn More >
Programs and Resources
Information Security Guide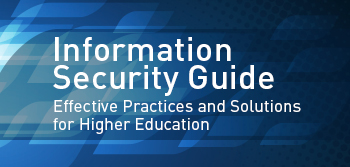 Information Security Guide: Effective Practices and Solutions for Higher Education is a key publication for the higher education security community, maintained by volunteers.
Information Security Program Assessment Tool
Evaluate the maturity of your information security program using this assessment tool created by HEISC volunteers.
New to the CISO Role?
The Toolkit for New CISOs provides recommended resources for those new to their role in higher education.
---
News and Events
---
Security Professionals Conference
The annual Security Professionals Conference is the premier forum for connecting information security professionals, security analysts, IT staff, privacy officers, C-level executives, and others from across the higher education community. Plan to join us in May 1–3, 2017, at the Denver Marriott City Center in Denver, Colorado. Learn More >
September 29 Virtual Coffee Chat: NIST 800-171 with Ron Ross
Now available! A recording of the 9/29/16 virtual "coffee chat" with Ron Ross about NIST Special Publication 800-171, Controlled Unclassified Information (CUI), and how this will impact higher education institutions. The chat transcript and presentation slides are also available to download.
Get Involved with HEISC
Volunteer to write an article or guest blog, serve on a working group, or join the program committee. We're always searching for innovative practices and projects from the community, so please share your ideas with us. Consider connecting with the HEISC community today and make an impact within your profession. Learn More >