2024 EDUCAUSE Top 10
2024 EDUCAUSE Top 10: Institutional Resilience
The pandemic has left us with a changed world, and we can no longer assume that business as usual is punctuated by only the occasional unforeseen bad event. Anomaly is the new normal.
As a result, today's leadership agenda must expand beyond growth and innovation to address risk and to prepare for what may be ahead. In 2024, higher education will focus on developing institutional resilience.
The 2024 EDUCAUSE Top 10 describes the contributions that technology, data, and the workforce will play to advance three dimensions of institutional resilience: Mission Resilience, Operational Resilience, and Financial Resilience.
New this year: Get QuickTakes on how you can make progress on the Top 10 and examples of how your peers are tackling the Top 10 at their institutions.
---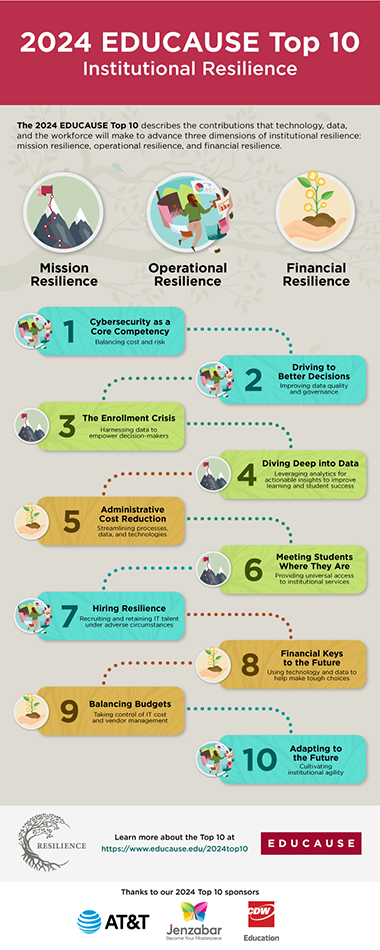 Infographic: Institutional Resilience
Mission Resilience
An institution's missions – most commonly education, research, and service –are enduring, but their expression and advancement must adapt to the needs and opportunities of the times. Education is the focal point of mission resilience for the 2024 Top 10.
Operational Resilience
Operational resilience extends to the institution's assets and workforce and to its planning, risk management, and decision-making processes.
Financial Resilience
While expansion of technology adds costs, it can also be an efficiency driver and value enabler. Add the decision-support affordances of data, and technology leaders become powerful partners in improving financial resilience.
---
A Quick Visual Tour
View the video summary before taking a deeper dive into the other resources available.
---
Additional Resources
2024 Higher Education Trend Watch report (coming in January)
EDUCAUSE 2023 General Session (PPT) (coming soon)
---
How the Top 10 Are Selected
Once a year, members of the EDUCAUSE Top 10 Panel select a slate of 15–20 topics they believe will be the most important technology issues facing higher education institutions. EDUCAUSE members receive a survey with those topics and are asked to prioritize them. The 10 issues with the highest-priority scores become the EDUCAUSE Top 10.