2023 Top 10 IT Issues
2023 Top 10 IT Issues: Foundation Models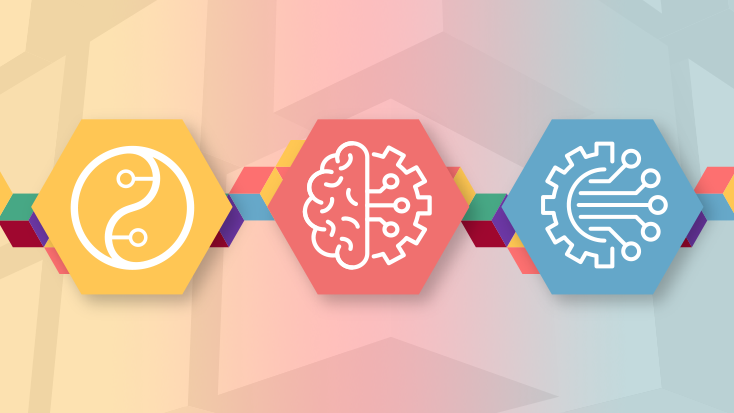 Recent times have brought about a Great Rethink that is upending previous models of management and working. Higher education is no exception. In 2023, institutional and technology leaders are ready for a new approach.
The EDUCAUSE 2023 Top 10 IT Issues help describe the foundation models that colleges and universities will develop next year and beyond, acting on what was learned in the pandemic and framed by the three building blocks of leadership, data, and work and learning.
See where things are headed in 2023 and beyond.
---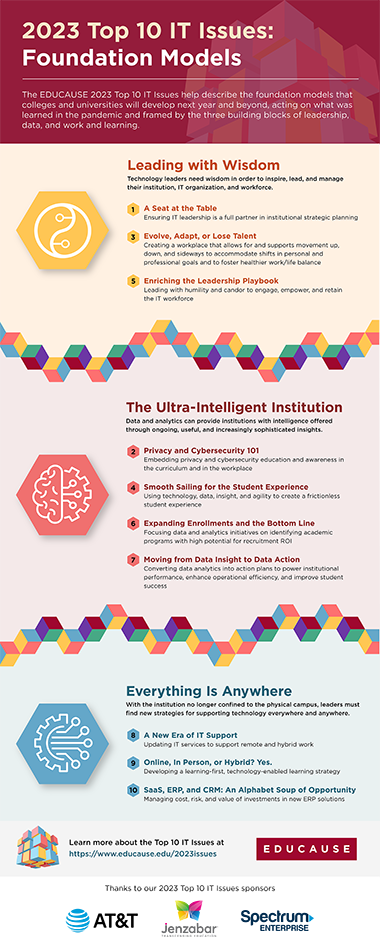 Infographic
Leading with Wisdom
Technology leaders need wisdom in order to inspire, lead, and manage their institutions, IT organization, and workforce.
The Ultra-Intelligent Institution
Data and analytics can provide institutions with intelligence offered through ongoing, useful, and increasingly sophisticated insights.
Everything Is Anywhere
With the institution no longer confined to the physical campus, leaders must find new strategies for supporting technology everywhere and anywhere.
---
Additional Resources
Check out the full EDUCAUSE Review Special Report on the 2023 Top 10 IT Issues to see the video, read perspectives on the report from multiple angles, and more.
You may also enjoy:
EDUCAUSE 2022 General Session (PPT) (coming soon)
---
How the Top 10 IT Issues Are Selected
Once a year, members of the EDUCAUSE IT Issues Panel select a slate of 15–20 topics they believe will be the most important IT-related issues facing higher education institutions. EDUCAUSE members receive a survey with those issues and are asked to prioritize them. The 10 issues with the highest-priority scores become the Top 10 IT Issues.