EDUCAUSE Welcomes Newly Appointed Board Member Sandeep Sidhu
For Release:
November 15, 2022

Contact:
Marc Stith
Director of Marketing & Media Relations
EDUCAUSE
[email protected]
---
EDUCAUSE, higher education's premiere technology association, has announced a new board member who has been appointed to serve the association's membership. Joining the board will be Sandeep Sidhu, chief information officer at Emily Carr University of Art + Design, located in Vancouver, British Columbia. Sidhu will serve a four-year term starting in December 2022.
"We're thrilled to welcome Sandeep Sidhu to the EDUCAUSE Board," said John O'Brien, EDUCAUSE president and CEO. "Through her service on the EDUCAUSE Young Professionals Advisory Committee, Sandeep has stood out as a creative thinker and energetic leader. I know she will bring a fresh perspective and sense of commitment to her board service."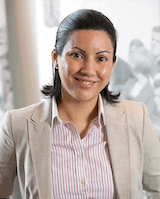 With nearly 20 years of active leadership in the technology space, Sandeep Sidhu currently serves as chief information officer at Emily Carr University of Art + Design (www.ecuad.ca) in Vancouver, British Columbia, where she is advancing the university's digital transformation strategy by developing effective organizational capabilities (people with technology) and leveraging digitalization. She is an innovative, collaborative leader with deep ties to higher education and provides strategic connections between the university community and its technology teams. Her passion for higher ed continues beyond the CIO role as a visiting professor at Beedie School of Business at Simon Fraser University. Prior to her position at Emily Carr University, Sidhu led the client services portfolio at Simon Fraser University from 2015 to 2020 and at Capilano University from 2011 to 2015 and had previously worked for several years as a consultant in the private sector. She has been an active volunteer in the BCNET and Canadian University Council of Chief Information Officers (CUCCIO) communities, with a wide range of leadership activities and committee appointments. Within EDUCAUSE she has promoted the voice of younger professionals through her service on the Young Professionals Advisory Committee and led the introduction of mentorship programs for young professionals and aspiring CIOs. Sidhu holds a master's degree in information systems from Western Sydney University and a master's degree in applied research from the University of Canberra. Sidhu hopes to live up to her leadership credo, "I will leave this world a little better than I found it," as she humbly accepts this role.
Visit the EDUCAUSE Board of Directors web page for more information.
About EDUCAUSE
EDUCAUSE is a nonprofit association and the foremost community of technology leaders and professionals committed to advancing higher education. EDUCAUSE programs and services are focused on analysis, advocacy, community building, professional development, and knowledge creation. Upholding the belief that technology innovation plays a transformative role in higher education, EDUCAUSE supports those who lead, manage, and use information technology through a comprehensive range of resources and activities.