Presenter Concierge
When you are accepted to present for the EDUCAUSE community, face-to-face or online, your presentation will likely be viewed (synchronously or asynchronously) by hundreds of higher education professionals. Whether your session is 15 minutes or a full day, preparation is the single most important part of making a successful presentation.
Delivering an Engaging Learning Experience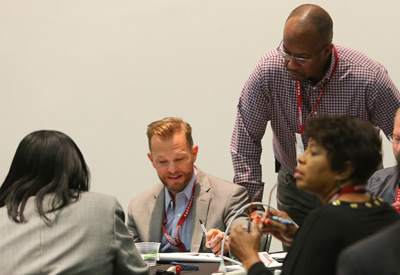 As a presenter at an EDUCAUSE event, you're providing valuable information, advice and direction to your peers. With that responsibility comes certain expectations about the professional manner in which those items will be shared. We've created these "concierge" materials to assist in your presentation preparation.
The micro-learning module series below will help you to create an outstanding presentation by focusing on the practices adopted by the most effective speakers, presenters, and facilitators. Expect to spend approximately 30 minutes with the entire 6-part series, but each module is less than 5 minutes. The content below also includes machine-readable PDF versions supporting user choice and greater accessibility.
Presenter Support Modules
(All resources mentioned in the modules can be found on the resources tab.)