Game Changers: Education and Information Technologies
Game Changers: Education and Information Technologies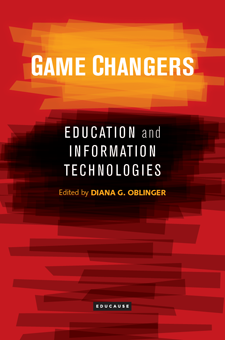 Diana G. Oblinger, Editor

©2012 EDUCAUSE ISBN 978-1-933046-00-6
How can we reach more learners, more effectively, and with greater impact?
Education changes lives and societies, but can we sustain the current model? New models and new technologies allow us to rethink many of the premises of education—location and time, credits and credentials, knowledge creation and sharing.
Game Changers: Education and Information Technologies is a collection of chapters and case studies contributed by college and university presidents, provosts, faculty, and other stakeholders. Institutions are finding new ways of achieving higher education's mission without being crippled by constraints or overpowered by greater expectations.
Find out who is changing the game and what we can learn from their different approaches in Game Changers. Download the entire book or individual chapters and case studies below.
Catalyze Discussion on Your Campus
"I met with our provost and deans and shared some observations from the book. They were interested in downloading particular components that connect with our future plans. The brief case studies are a particular benefit because we can contact colleagues at those institutions for more information should we wish to pursue ideas they share."
─ Linda L. M. Bennett, President, University of Southern Indiana
Everyone's talking about MOOCs. How do MOOCs fit into your institution's e-learning strategy? Use What Campus Leaders Need to Know About MOOCs, an EDUCAUSE executive briefing, to inform discussions. View More >
Table of Contents
Foreword
Molly Corbett Broad
PDF | HTML
Chapters
The Knowledge Economy: Challenges and Opportunities for American Higher Education
Paul E. Lingenfelter
PDF | HTML
The Questions We Need to Ask First: Setting Priorities for Higher Education in Our Technology-Rich World
Debra Humphreys
PDF | HTML
IT as a Game Changer
Diana G. Oblinger
PDF | HTML
From Metrics to Analytics, Reporting to Action: Analytics' Role in Changing the Learning Environment
Linda Baer and John Campbell
PDF | HTML
IT Innovations and the Nontraditional Learner
Pamela Tate and Rebecca Klein-Collins
PDF | HTML
Why Openness in Education?
David Wiley and Cable Green
PDF | HTML
Early Days of a Growing Trend: Nonprofit/For-Profit Academic Partnerships in Higher Education
Daniel Pianko and Josh Jarrett
PDF | HTML
Scaling Up: Four Ideas to Increase College Completion
Vernon C. Smith
PDF | HTML
Western Governors University
Robert W. Mendenhall
PDF | HTML
University of Phoenix
William (Bill) Pepicello
PDF | HTML
SUNY Empire State College: A Game Changer in Open Learning
Meg Benke, Alan Davis, and Nan L. Travers
PDF | HTML
Athabasca University: Canada's Open University
Dietmar Kennepohl, Cindy Ives, and Brian Stewart
PDF | HTML
Providing Quality Higher Education for Adults
Susan C. Aldridge
PDF | HTML
University of the People
Shai Reshef
PDF | HTML
The Open Learning Initiative: Enacting Instruction Online
Ross Strader and Candace Thille
PDF | HTML
The Postmodality Era: How "Online Learning" Is Becoming "Learning"
Thomas B. Cavanagh
PDF | HTML
Going the Distance: Outsourcing Online Learning
Susan E. Metros and Joan Falkenberg Getman
PDF | HTML
Introduction
Diana G. Oblinger
PDF | HTML
Case Studies
Royal Roads University: Using Synchronous Web Conferencing to Maintain Community at a Distance
Mary Burgess
PDF | HTML
The Open Course Library of the Washington State Colleges
Tom Caswell
PDF | HTML
Austin Peay State University: Degree Compass
Tristan Denley
PDF | HTML
Yakima Valley Community College: Using Near-Real-Time Data to Increase Student Success
Wilma Dulin, Sheila Delquadri, and Nicole M. Melander
PDF | HTML
Ball State University
Jo Ann Gora
PDF | HTML
Mozilla Open Badges
Erin Knight and Carla Casilli
PDF | HTML
STAR: Using Technology to Enhance the Academic Journey
Erika Lacro and Gary Rodwell
PDF | HTML
OpenCourseWare
Mary Lou Forward
PDF | HTML
The Open University of Hong Kong: The i-Counseling System
Chun Ming Leung and Eva Tsang
PDF | HTML
Central Piedmont Community College: Online Student Profile Learning System
Clint McElroy
PDF | HTML
The CHANCE Program in China: Transforming Students into "Global-Minded" Scientific Investigators and Citizens
Jacqueline McLaughlin
PDF | HTML
Georgetown University: Web Conferencing—A Critical Skill for the Connected World
Pablo G. Molina
PDF | HTML
Blended Learning and New Education Logistics in Northern Sweden
Anders Norberg
PDF | HTML
Valencia College: LifeMap and Atlas—Planning for Success
Joyce C. Romano and Bill White
PDF | HTML
The Saylor.org Model
Jennifer Shoop
PDF | HTML
Penn State World Campus: Ensuring Success, Not Just Access
Wayne Smutz and Craig D. Weidemann
PDF | HTML
Stories in Our Classrooms: A Faculty Community of Practice as an Agent of Change
Beverly Bickel, William Shewbridge, and Jack Suess
PDF | HTML
Kansas State University: Creating a Virtual Faculty Consortium
Elizabeth A. Unger
PDF | HTML
CS50 at Harvard: "The Most Rewarding Class I Have Taken . . . Ever!"
Katie Vale
PDF | HTML
Transforming Education with Research That Makes a Difference
J. D. Walker, Charles D. Dziuban, and Patsy D. Moskal
PDF | HTML
Shaping the Path to Digital: The Indiana University eTexts Initiative
Brad Wheeler and Nik Osborne
PDF | HTML
Want more? Check out additional resources on the future of higher education in the EDUCAUSE Library.
Order print copies:
Outside the U.S.: Please contact EDUCAUSE Member Services, [email protected]
Published with generous support from
"Ellucian is proud to sponsor this book and support ongoing efforts to help higher education meet the challenges of today and those of tomorrow."
—John F. Speer III, President and CEO, Ellucian
EDUCAUSE President and CEO, Diana Oblinger, talks about Game Changers.
Rethink the Rules
Education changes lives and societies, but can we sustain the current model?
Changing the Game in Higher Ed IT, which debuted at the EDUCAUSE Annual Conference 2012, explores how new models and new technologies allow us to rethink many of the premises of education.