Chapter 16. Denison University: MIX Lab
Chapter 16. MIX Lab
The MIX Lab is a technologically rich space for multimedia supporting the fine and performing arts at Denison University, a small liberal arts college of 2,100 students in Granville, Ohio. The lab contains 15 Macintosh workstations, each configured with three dozen basic and advanced multimedia applications; 10 other Macintosh workstations have a basic suite of applications.
The lab, created in 2003 at a cost of $340,000, occupies a former dining hall (44 × 24 feet) in Mulberry House, a satellite residence for students—hence the name, Mulberry Inter-media eXperimental (MIX) Lab. The lab is at once a classroom, a lab, a studio, and a resource for independent work; it is a hub for new media creation and exploration. Virtually all the furnishings and technologies are mobile, allowing for both short- and long-term rearrangement of the space. Figure 1 shows one of many possible floor layouts for the MIX Lab.
Figure 1. A Possible Layout for the MIX Lab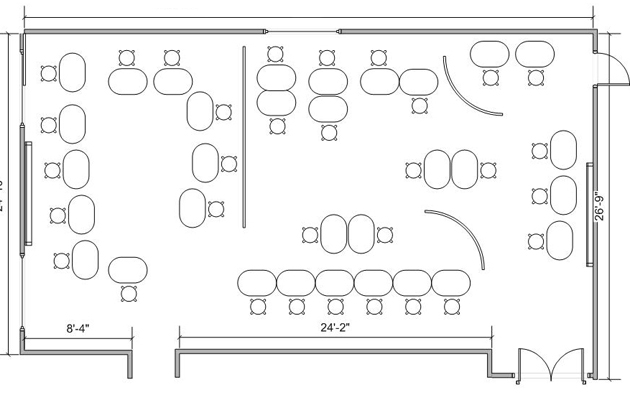 There is far more to the story of Denison's MIX Lab than the facts. From inception and funding through implementation and use, the lab's design has been innovative, collaborative, and transformative, driven by principles of learning space design.
Innovative Vision Yields Innovative Outcomes
At a meeting in 2003, instructional technologists and the chairpersons of Denison's fine and performing arts departments (Studio Art and Art History, Cinema, Dance, Music, and Theatre) focused on digitizing the disciplines. Convinced of the importance of "creative computing" (the analog to research computing for the arts), the chairs and staff developed a proposal1 with an innovative vision to "blur distinctions among disciplines and build bridges among our departments for both students and faculty." The goal was to create new synergies among the five fine arts departments.
The faculty's innovative vision was for curricular synergy—a focus on a single, technologically-rich space to foster collaboration, learning, and interdisciplinary work for both students and faculty. Our institutional leaders committed space and funds to make the vision a reality. The instructional technologists carefully integrated a large array of hardware and software tools to meet the faculty's interdisciplinary goals. More than 50 applications are accessible in the MIX Lab, making possible a full range of interdisciplinary multimedia work with audio, video, 3D modeling, composition, presentation, and more. Each workstation (see Figure 2) includes all input and output devices to support a broad range of creative work and collaboration.
Figure 2. MIX Lab Workstation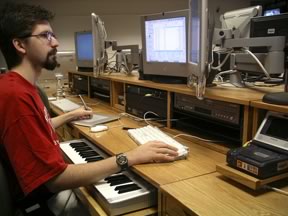 Collaboration in Planning and Use
Collaborative planning involving all five departments was essential for this learning space to succeed. The MIX Lab plan was guided by Denison's "Checklist for Improving Your Learning Spaces" [http://www.denison.edu/learningspaces/checkl.pdf]:
Gather all stakeholders
Define precisely how a space should support learning
Review the attributes of the space that will affect learning
Gather resources to implement and sustain the plan
Instructional technology staff provided technical and logistical support for planning and marketing, including public presentations to the campus.
Collaboration among the fine arts faculty and students continues in the daily operation of the MIX Lab. Working from a service level agreement, a faculty management committee manages lab access, student assistants, supplies, and communication with instructional technology staff who provide hardware and software support, training, upgrades, and replacements.
Faculty-directed student teams work together on joint projects and generate new work processes and relationships among the traditionally separated disciplines. Faculty also benefit from each other's experiences, talents, and skills. Throughout the day, faculty members from all five disciplines hold classes in the lab and give students hands-on opportunities to experiment with the new tools and equipment. When the lab is not being used for instruction, students, faculty, and staff from across the university can use the space for their own projects. The open design of the space invites individuals to work together comfortably on joint projects.
Transformed Space That Transforms the Curriculum
Marginal improvements to a space rarely change the teaching and learning practices that take place there. Transformational changes may change practices, but such broad, sweeping changes require a strong, shared vision and an institutional commitment to potentially high-risk projects. We often lower risks by working incrementally toward a shared vision, but incremental improvements (such as better seating or room color) neither alter our teaching practices and learning outcomes nor expand our thinking about what might be possible. Converting a nonacademic space into a learning space provides a unique opportunity to discover authentic learning outcomes that arise from learning space transformations.
The MIX Lab, a transformed space, has in turn transformed the fine arts curriculum. Interest in creative computing runs high, and faculty members have adopted collaboration as a best practice. New courses integrate the visual arts with music in new ways, while dance and theater performances showcase the products and processes derived from the MIX Lab. Ever more ambitious student projects require collaboration for success. Based on the MIX Lab model, the fine arts are planning a "Center for Collaboration in the Arts."
A Learning Space Driven by Design Principles
The design and management of the MIX Lab is driven by eight principles of learning space design developed in 2002 as part of Denison's Learning Spaces Project [http://www.denison.edu/learningspaces/]:
Learning spaces should support a diversity of learning styles. The space accommodates lectures and demonstrations, artistic exploration and production, small group projects and individual work.
Learning spaces must be versatile. Raised flooring with a very high density network as well as power distribution (one network and electrical outlet every three feet) and wheeled furniture provide on-the-fly flexibility and an impressive array of possible room configurations. (See Figure 3.)
Figure 3. Raised Floor with Network and Electrical Outlets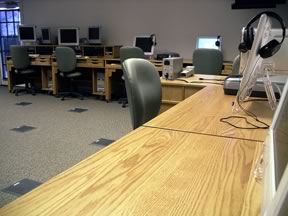 Learning spaces must be comfortable and attractive. Seating, custom-designed ergonomic desks, and appropriate lighting were all important design elements. Solid-oak custom-designed multimedia workstations (see Figure 4) organize the equipment for each student, including a CPU, two monitors, audio and video inputs, switcher, scanner, MIDI keyboard, and more.
Figure 4. Multimedia Workstation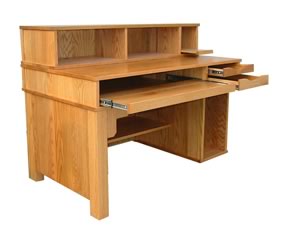 Learning spaces are technologically rich and supported. An instructional technologist who is also an accomplished artist supports wireless and high-speed networking and an array of hardware and software options.
Learning spaces must be maintained continuously. A capital budget supports a regular replacement cycle for equipment; an operating budget covers student salaries and supplies.
Leaning spaces should be ubiquitous in space and time. The MIX Lab is accessible 24 hours a day through "one-card" access for students and faculty. Closed circuit television monitoring ensures security.
Learning spaces should be used effectively. The popularity and high functionality of the MIX Lab has resulted in very high use levels and the need for careful scheduling. Outstanding documentation [http://www.denison.edu/computing/academic/news/mixguide.pdf] for the facility ensures effective use.
Learning spaces must be allocated sufficient resources. Technologically rich and well-supported learning spaces depend on the allocation of sufficient resources—financial, human, and technical.
The MIX Lab is both the cause and effect of innovation, a transformed space that has transformed the curriculum. More than any other learning space at Denison, it has changed the way students and artists work and learn. The interdepartmental vision of a shared space has produced a successful technological learning space that has spawned greater aspirations for collaboration. The MIX Lab provides a unique example of how technology can break down barriers, promote new approaches to teaching and learning, and foster broad curricular transformation.
Endnote
For a copy of the proposal, see <http://www.denison.edu/learningspaces/fa/proposal.html>.
About the Author
Scott Siddall is assistant provost and director of instructional technology at Denison University.