Chapter 18. Eckerd College: Peter H. Armacost Library
Chapter 18. Peter H. Armacost Library
What Is It?
Located on the waterfront of St. Petersburg, Florida, Eckerd College is a private, coeducational college of liberal arts and sciences with an enrollment of 1,800 students. Eckerd College is the only national private liberal arts college in Florida and is one of only 40 liberal arts colleges profiled in Loren Pope's Colleges That Change Lives.
The new Peter H. Armacost Library (see Figure 1) at Eckerd College, designed by Ayers/Saint/Gross, presents a vision for the library of the 21st century through the integration of books and information technology as well as by providing unique and inviting spaces that encourage collaborative learning.
Figure 1. Peter H. Armacost Library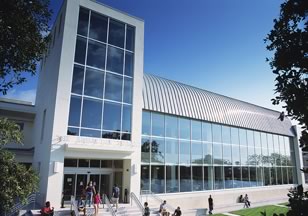 What Happens Here?
The Armacost Library facilitates research, collaborative learning, individual learning, informal gatherings, videoconferencing, multimedia instruction, and computing through a variety of services and technologies.
For research, library users can access 250,000 volumes on site as well as electronic catalogues, databases, subject guides, encyclopedias, dictionaries, and an e-book collection. (See Figure 2.)
Figure 2. Reference Area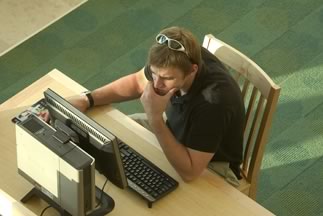 Seventeen group study rooms furnished either with tablet arm lounge seating or tables and chairs create a variety of learning and collaborative environments. (See Figure 3.)
Figure 3. Group Study Area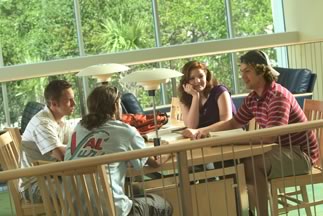 To support individual learning, 72 custom-designed study carrels are wired with power and data connections; 8 have multimedia stations for electronic access to audio and video collections. Several open lounges, including an outdoor lanai (screened patio), provide casual settings for individuals or groups to study.
A 28-seat meeting room permits users to connect with remote sites throughout the world, while a 30-person multimedia instruction lab provides multimedia training to augment instruction, research, and writing. The campus computing center is strategically placed in the facility to let librarians, programmers, and network specialists collaborate in creating state-of-the-art information storage and retrieval systems.
How Is Technology Used?
Users can access information in any setting, even from the lawn areas outside the building, thanks to the wireless access provided. Wired access points, available throughout the building, provide reliable high-speed network connections. Videoconferencing services support collaboration with people on campus and around the world, and reference materials are easily available digitally using online research tools.
The technology center houses the campus servers and network maintenance facilities. IT staff are colocated, enabling collaboration between IT specialists and librarians.
What Makes the Space Successful?
Books and information technology are everywhere—and they are integrated. The library is wired and wireless, as is the space around it. Integration of the physical and the digital ensures easy access to resources, no matter what the format. (See Figure 4.)
Figure 4. Books and Technology Are Integrated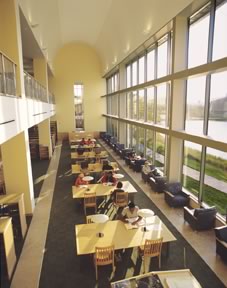 The library promotes collaborative learning through the provision of small and large study rooms, large tables, and lounge space. Students can choose the space that best meets their needs. (See Figure 5.)
Figure 5. A Variety of Spaces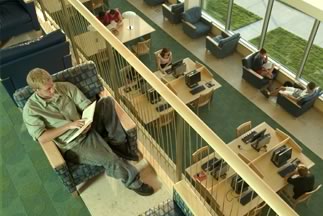 The library responds to and respects the way students like to study, with ubiquitous Internet access, soft furniture, lounges, abundant windows, various sizes of study spaces, and bright, warm, visually inviting colors. The Armacost Library serves as a nexus of student residential life, academic and student life facilities, student programs, and staff offices.
The library's unique location and outdoor spaces take advantage of the surrounding Florida landscape and natural environment.
What Principles Were Behind the Design?
The Armacost Library design focused on integration with the master plan and encouraged stakeholder input. Goals for the final design included an open plan, variety, accessibility, and sustainability.
A collaborative design effort between master planners and building designers resulted in identifying a building site that best suited the project. The design team then sought feedback from the building users to design custom solutions that met the unique needs of Eckerd College. Sight lines and views were carefully considered, not only to provide natural light and interesting views from all areas of the building but also to allow a flexible approach to library staffing.
Various study environments allow everything from lively collaboration to contemplative study, while the broad concept of accessibility encompasses easy access to the building by the campus community as well as access to information in all its forms. Natural lighting, solar shading, high-performance glazing, energy efficient lighting, and low-flow plumbing fixtures throughout the facility reduce the demand on energy and natural resources.
What Is Unique or Noteworthy?
The Armacost Library is noteworthy for integrating the design with the university's master plan and for taking advantage of the Florida environment. The building was shaped through a unique collaboration between the master planning and design teams. Its orientation, form, materials, and landscape design were developed to seamlessly integrate with the existing context, including the surrounding Florida environment, and future campus projects. Abundant natural light, water views, and a temperate climate were leveraged in this unique design. (See Figure 6.)
Figure 6. Taking Advantage of the Environment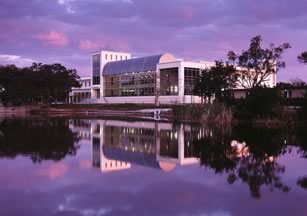 As Eckerd College President Donald R. Eastman, III, said during the library's dedication ceremony,1 "We believe we have built a library that enhances and enriches what Eckerd College has always done—which is provide the finest possible personal environment for learning."
Endnotes
Donald R. Eastman, III, president, Eckerd College, Peter H. Armacost Library dedication ceremony, February 18, 2005, <http://eckerd.edu/librarydedication/index.php?f=president>.
About the Author
J. Michael Barber is a senior associate with Ayers/Saint/Gross, Architects + Planners.