Chapter 28. North Carolina State University: Flyspace
Chapter 28. Flyspace
What Is It?
Flyspace [http://www.ncsu.edu/flyspace/] is a simple design for a meeting space for five to six students. It is intended to be inexpensive, modular, and compact. Keeping room sizes small fosters an intimate area for collaboration and makes it more likely that other rooms can be built around a campus with chronic space shortages.
Dot-com startups inspired Flyspace. These companies grew so quickly that they couldn't house all their employees, sometimes replacing offices with laptops and an open room with lots of flat work spaces. Offices with doors were converted into scheduled spaces for client meetings, brainstorming, or simply a quiet space to work. This nontraditional use of space fostered creativity and collaboration among employees.
Flyspace offers just enough technology to foster collaboration; technology is not the main feature of these rooms. The emphasis is on flat work areas, including extensive use of whiteboards along all walls.
The basic technology infrastructure is inexpensive to build and expand. Flyspace uses a basic design consisting of two computers with displays mounted on articulated arms and connectivity (data, video, and audio) for four laptops. A large flat-panel display allows users to share their desktops with others. A centralized pod contains all data and power connectors for equipment in the room, making it easy to connect equipment and minimizing the cost of running conduit for data, media, and power. Wireless networking is also available. Students can make on-campus calls or report problems by phone, and the speakerphone makes it possible for off-campus students and faculty to participate in Flyspace meetings. Perhaps the most important feature of Flyspace is an open scheduling system that lets any registered student schedule a space for a meeting or group project. (See Figure 1.)
Figure 1. Room Scheduling Puts Students in Charge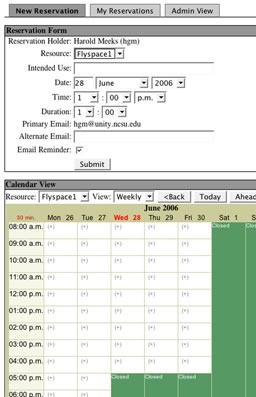 Beyond some basic assumptions about group dynamics and collaboration, Flyspace is pedagogically neutral-faculty and students determine how best to use these spaces for learning. The Flyspace project at North Carolina State University will study how faculty and students use this space for academic projects, resulting in a better understanding of the value of group projects that will shape future versions of Flyspace.
North Carolina State University is North Carolina's largest public university, with more than 7,000 full-time employees, 30,000 students, and degrees in 100 fields of study. Located in Raleigh, North Carolina, NC State is a land-grant university with extension offices in all 100 counties and the Cherokee Reservation. NC State's Centennial Campus serves as a national model of university-business collaboration and incubation.
What Happens Here?
Flyspace supports coursework, meetings, basic computing, and nonacademic activities.
Faculty who require their students to work in groups suggest Flyspace as a place to have their meetings. Students can schedule time in the rooms as needed. Because of Flyspace's open scheduling policy and a chronic shortage of meeting space, staff have begun to use Flyspace rooms for their own meetings. Centrally located on campus in the Student Center, the spaces are convenient for everyone.
The two computers in each of the Flyspace rooms replicate the standard campus software environment with immediate access to networked file space. Students can check e-mail, look up information on the Web, use high-end applications, or just relax. The 32-inch LCD display makes Flyspace a great place for students to get together to watch a movie. The central location makes it easy for students to buy snacks, meet after working out in the gym, or stop by between classes. The rooms are open a large part of the day and into the evening.
How Is Technology Used?
Flyspace facilitates collaboration, brainstorming, and various pursuits unlimited by rules on the rooms' use. An open, Web-based scheduling system lets users see if the space is available immediately, without having to authenticate, and they can schedule space without having to ask permission. Because every user in the room has access to the room-control system from his or her computer, seamless switching between participants is possible. No one person controls who has access to the screen; it is truly a collaborative experience. Moreover, the large amount of whiteboard space and markers allow students to brainstorm-with or without technology.
Flyspace rooms are "neutral territory"-they are not owned by a single academic unit on campus. Everyone can participate, and there are no restrictions on how the rooms are used. Students can use them for coursework, meetings for student groups, or simply to watch a movie. Staff can use them as spontaneous meeting spaces when their own departmental meeting rooms are unavailable. Because staff experience the same environment as students, they can appreciate the value of the space.
What Makes the Space Successful?
Flyspace succeeds because it works the way students want it to work. It does not require them to use technology they would not normally access, such as high-end equipment they can't afford. The support model is heavily oriented toward self-service. Rooms use common, familiar technology. No staff or technical experts are needed nearby to assist students; they can do it themselves. The scheduling for the rooms is simple enough that students can reserve one on a moment's notice. Since scheduling for Flyspace is via the Web, students can schedule meetings spontaneously.
The focus has been on the bare essentials that students would need, while using as much functionality as possible with the equipment furnished. Originally, the rooms were furnished with DVD/VCR units, but the PCs themselves offered DVD playback, and it was not apparent that students wanted or needed the ability to play back VHS tapes, so they were later removed.
Flyspace's success has opened a campus dialogue about learning and public computer spaces. As the number of commuting students increases, the need for computing labs has changed, since they require space to work, connect, and meet. Flyspace has shown that other options exist beyond computer labs for our learning and public computing spaces. The model has already been copied by others-another sign of success.
What Principles Were Behind the Design?
The Flyspace design relied on
simplicity,
a commodity perspective,
affordability,
leveraging the existing technology infrastructure, and
simplified support and room controls.
It makes no sense to design a space that is so expensive it cannot be easily replicated in several locations on campus. Many pieces of technology included in the initial Flyspace plans were thrown away, leaving what was essential for collaborative student work. Stripping Flyspace of equipment that could only be used for one activity resulted in an affordable, expandable, and replicable space. Students immediately know how to use the equipment provided. (See Figure 2.) The rooms are designed as the antithesis of high-end conferencing rooms. Flyspace is intended to be a commodity resource that can emerge all over campus and be used by anyone.
Figure 2. Simple Design with Whiteboards Everywhere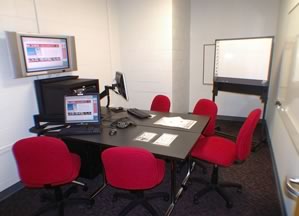 A central piece of Flyspace is not the room itself but an open scheduling system that uses the campus's investment in Oracle Calendar. Flyspace rooms show up as a campus resource that can be scheduled by anyone, whether student, staff, or faculty. Instead of using expensive videoconferencing hardware, Flyspace uses Web-based conferencing tools, which require less technology and align better with the ways students collaborate. An echo-canceling microphone connected to one computer allows everyone in the room to be heard; no expensive, dedicated videoconferencing equipment is needed.
Student employees provide room support. They also maintain the technology-enhanced classrooms. Problems reported are remedied in an hour or less. Also, the rooms are checked on a daily basis for unreported equipment malfunctions.
Room-control systems add not only to the cost but also to the complexity of the room itself. Flyspace has a unique Web-based control system that uses the computers in the room itself, allowing everyone in the room, including laptop users, to control equipment.
What Is Unique or Noteworthy?
Flyspace benefits from open scheduling, a unique funding model, and HTML-based room control.
The rooms are for use by anyone on campus. This is not a technology innovation; it is a policy innovation. By using Oracle Calendar as the back end for scheduling, users only need a valid campus user ID; they do not even need an Oracle Calendar account to schedule a room.
Flyspace was initially funded as a collaborative effort of the Student Center, which provided the space and money for renovation, a campus-wide learning technology project fund [http://litre.ncsu.edu/], and money and personnel from the campus information technology department. The experimental space allowed us to discover space-management problems, determine the critical mix of technology, and determine how to use technology in ways truly useful to students.
Room-control systems are typically expensive and proprietary. Much of the labor cost of Flyspace went to the back-end programming required to create an inexpensive Web-based room-control system. With that initial investment, we could build room-control interfaces with Macromedia Dreamweaver, which helped us economize on that cost. (See Figure 3.)
Figure 3. Room Control in a Web Browser


About the Author
Hal Meeks is a computer consultant at North Carolina State University.