Chapter 31. Ohio State University: Digital Union
Chapter 31. The Digital Union
What Is It?
The Digital Union was established in 2004 at The Ohio State University as a partnership between the Office of the CIO and the University Libraries. The leaders of these organizations envisioned a centrally located space that would serve as a test bed for multidisciplinary, experimental projects involving technology in teaching and learning, as well as creative and scholarly activities. The underlying premise is that experimentation in a dynamic environment is necessary for the university to prepare for tomorrow's technologies. In addition, the academic community needs a place to conduct low-risk trials and evaluate emerging technologies to make informed decisions. The Digital Union provides a place to test-drive emerging technologies prior to making large resource and financial investments.
Centrally located on campus in 2,000 square feet of space in the Science and Engineering Library, the Digital Union (see Figure 1) is dedicated to investigating technology solutions, providing access to new media technology, showcasing emerging technologies, building academic collaborations, and fostering interdisciplinary partnerships among researchers. Plans are being made to expand its size and add additional staff and services. The Digital Union engages the university community and its leadership in the exploration of technology in academic environments and in society as a whole.
Figure 1. The Digital Union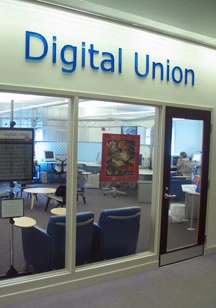 Organizationally, the Digital Union staff report to the deputy CIO, who oversees the Technology Enhanced Learning and Research unit [http://telr.osu.edu/]. Formal collaborations exist between the Digital Union, WOSU Public Media, and the Americans with Disabilities Act (ADA) Coordinator's Office. The Digital Union receives input from advisory panels representing users, technology, research, and external partners.
The Digital Union provides students, staff, and faculty with:
Consultation with professionally trained instructional designers and technologists; technical advisors; usability, videoconferencing, and media production experts; graphic and Web designers; Web programmers; grant writers; and library specialists
Space for technology-rich experimentation and new media production
Videoconferencing delivery and support
Collaborative work areas
Demonstrations of multifunctional and ergonomically correct work spaces including stations with assistive and adaptive technologies
Support for communities of practice on distance education, knowledge management, programming, and visual communication
Workshops and one-on-one tutoring for software and hardware innovations in new media technologies
Educational presentations and demonstrations on emerging technologies and practices
For a tour of the Digital Union, visit <http://digitalunion.osu.edu/Resources/DUVirtualTour/>.
Ohio State's main campus is in Columbus, Ohio, the state capital and one of the fastest growing cities in the Midwest. The Ohio State University system includes four regional campuses and the Agricultural Technical Institute. Ohio State is a Research I land-grant institution with an enrollment of 58,000 students; 3,400 regular, clinical, and research faculty; and 14,000 professional staff.
What Happens Here?
The Digital Union supports research, project development, and videoconferencing. In addition, Digital Union staff consult on a wide variety of implementations, provide support for faculty using multimedia in their research, and offer technology training workshops. The space is also used for demonstrations, conferences, and working sessions.
Research: The Digital Union supports undergraduate, graduate, and faculty research, as well as creative and scholarly activities through classes, events, technology support, and grants. Examples include open source initiatives such as Open Source Portfolio Initiative (OSPI) and Pachyderm (a suite of authoring tools), cross-disciplinary projects on Web accessibility and digital storytelling, and numerous teaching with technology grant projects (funded externally or internally).
Consulting: Digital Union staff consult with Ohio State personnel on a diverse range of technology implementations such as how to use information technologies to enhance the classroom experience. Staff members are available to answer questions concerning electronic theses and dissertations, online library research, podcasts, clickers, course lecture streaming, and so forth.
Project development workspace: Faculty and students use the space for team meetings and production work. Spread throughout the many reconfigurable workspaces are 15 desktop workstations that support single and multiple users. In addition, users can borrow laptops and other mobile devices or use their own. Digital Union staff provide additional training to students working on academic projects.
Faculty support: The Digital Union supports faculty who use multimedia in research and teaching. Faculty have access to technology tools and information, server space for pilot projects, technology components required for grants, and training for research teams.
Course support: Faculty can schedule the Digital Union's flexible meeting space when the course's learning outcomes rely on student familiarity with technology tools, collaboration, or videoconferencing. The Digital Union staff develop and deliver educational programs for students who need specific skills for coursework.
Technology workshops: Faculty, staff, and students from across the five campuses participate in workshops, seminars, and classes on a variety of topics including multimedia applications, video, audio, and photography; using the course management system or learning object repository; improving library research techniques; understanding computer and laboratory ergonomics; and incorporating educational technologies into teaching. Staff also train clients to use specialized, discipline-specific software.
Showcases, demonstrations, conferences, and working sessions: As a centrally funded experimental facility, the Digital Union is positioned to bring stakeholders together to address issues related to the use of new and emerging technologies in education. The Digital Union meets the needs of both administrative and academic units by offering both online and in-person showcases, demonstrations, and conferences featuring academic and corporate experts in specific topical areas. The Digital Union also serves as a gathering place for formal and informal communities of practice.
Videoconferencing: Faculty and staff can use the Digital Union's videoconferencing suite to host or participate in professional meetings, have a guest or instructor join a class remotely, or conduct grant application, graduate admissions, and search committee interviews. Students also use the facilities to defend dissertations. Portable videoconferencing units are available on loan to faculty traveling or working off site.
How Is Technology Used?
The Digital Union offers technology for experimentation and practical applications such as videoconferencing.
Experimentation: Proof-of-concept projects are undertaken in a low-risk environment that provides a safety net of technical support. The Digital Union has its own server and storage as well as system administration staff that understand the need for managing a short-term use, nonproduction, "sandbox" environment.
Equipment for loan and evaluation: The Digital Union maintains more than 50 laptops for loan to groups or individuals to enable technology projects. Digital cameras (still and video) and small peripheral equipment such as iPods, PDAs, Tablet PCs, and digital audio recorders are available for short- or long-term loan for evaluation and/or project work (see Figure 2). Thanks to the generosity of corporate sponsors, the Digital Union can cycle in beta software and just-released products, providing clients a place to test-drive new and emerging technologies prior to making large resource and financial investments.
Figure 2. Equipment Available for Loan and Evaluation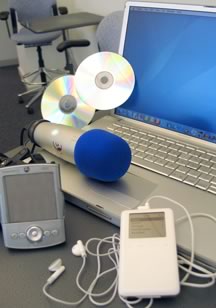 Videoconferencing: Videoconferencing capabilities allow users to connect with others around the globe using desktop video resources and H.323.
Wireless: The entire facility is supported with wireless high-speed Internet access. Digital Union researchers serve on the university's wireless implementation team to explore the pedagogical implications of wireless in the university's informal and formal learning spaces.
Digital conversion: Equipment for digitizing analog materials such as slides, text, or video is available along with staff guidance to enable faculty and students to convert materials.
What Makes the Space Successful?
Several factors contribute to the success of the Digital Union, from collaboration and innovation to support and assessment.
Collaborative design: The development of the Digital Union brought together multiple stakeholders and fostered collaboration among several university offices-the University Libraries, Office of the CIO, WOSU Public Media, ADA Coordinator's Office, and Department of Industrial, Interior, and Visual Communication Design-and the university architect, as well as local and national hardware, software, and furniture companies.
Interdisciplinary leadership: The Digital Union is a centrally administered facility governed by an interdisciplinary leadership team comprising the director of libraries and the CIO, with advisory panels of students, faculty, staff, and external partners who represent a wide variety of emerging technology interests. Active participation by advisory panels representing a wide constituency inside and outside the university guides projects and planning.
Innovative student programs: Two student programs are run out of the Digital Union. The first, Research on Research: Student-Faculty ePartnerships, responds to the president's leadership agenda goal to support undergraduate research. This innovative, interdisciplinary summer program pairs faculty and undergraduates to work on a research project. The deliverable is a publicly accessible, multimedia-rich, online portfolio chronicling the research effort. Projects include everything from researching cancer to discovering fossils to studying violence in online gaming. (See http://digitalunion.osu.edu/Research/CurrentProjects/).
The second program, Technology Education and Multimedia Skills (TEAMS), builds technology skills among undergraduate and graduate students. In addition to the hands-on, skill-based courses, students gain knowledge about intellectual property, universal design and accessibility, and the pedagogical uses of technology.
Technology and instructional support: The Digital Union is part of a larger central unit, Technology Enhanced Learning and Research, whose mission is to enhance teaching and learning through the thoughtful integration of innovative instructional technologies. E-learning course consultants are available to work with faculty. Student assistants trained at the Digital Union provide project or long-term technical assistance for building online course content and components. A partnership with the Office of Faculty and Teaching Assistant Development focuses on the efficient and effective use of technology in the classroom.
Assessment: The Digital Union conducts focus sessions, usability testing, and surveys to determine how best to design services to respond to changing campus needs. Evidence-based management encourages innovation and provides opportunities to experiment, and assess technologies and techniques in a low-risk environment.
What Principles Were Behind the Design?
Initial concepts for the facility were derived from the academic plan's call for Ohio State to become a national leader in integrating information technology into learning, discovery, outreach, and collaboration. The planners envisioned interior architecture and environments that were reconfigurable to accommodate multiple uses in a fixed space. Tables can be set up in conference or theater style (see Figure 3), and equipment such as video-conversion stations on rolling carts provide mobility. Comfort, safety, and efficiency were foremost in the design and selection of the furnishings and equipment. Beyond seating, desk height, and equipment placement, the planners considered appropriate lighting as well as climate and sound control.
Figure 3. Ergonomic, Reconfigurable Furniture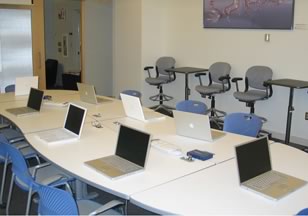 The Digital Union succeeds largely because of the proximity of expert staff and students to the users. Staff offices and student help stations are integrated into the main area of the facility, allowing users to seek help from their workspaces and encouraging open communication and problem solving among users and staff. The environment benefits everyone, including people with disabilities and different learning styles, as showcased through the use of touch-screen monitors, closed captioning equipment, and ergonomic, accessible furniture.
What Is Unique or Noteworthy?
If you visit the Digital Union, you will see students working on wireless laptops, taking advantage of the comfortable furnishings. Teams gather around production workstations, building media rich Web sites and producing digital movies. Faculty consult with Digital Union staff or student interns to decide, for example, what technologies might best engage learners.
Digital Union visitors may participate in a vendor-led product showcase or join a hands-on workshop on topics ranging from podcasting to making course content accessible to students with special needs. Also, visitors will find a state-of-the-art videoconferencing suite where students in Palestine, Israel, and Ohio State debate-virtually and in real time-their cultural similarities and differences.
Above all, you will see the excitement on the faces of students, staff, and faculty as they experience the "Aha!" moment when they achieve something new and learn more about themselves at the same time. The Digital Union is the promise of technology fulfilled.
About the Authors
Victoria Getis is the interim director of the Digital Union at The Ohio State University.
Catherine Gynn is the CIO at The Ohio State University Newark and Central Ohio Technical College.
Susan E. Metros is the deputy CIO, the executive director for eLearning, and a professor of design technology at The Ohio State University.