Chapter 32. Olin College of Engineering: Academic and Olin Centers
Chapter 32. Academic and Olin Centers
About Olin
Olin College is a four-year, independent, undergraduate engineering institution that provides full-tuition scholarships for all students. The curriculum takes an interdisciplinary, project-based approach emphasizing entrepreneurship, liberal arts, and rigorous science and engineering fundamentals. Olin College prepares future leaders through an innovative engineering education that bridges science and technology, enterprise, and society. Skilled in independent learning and the art of design, Olin graduates are prepared to make a positive difference in the world. The college currently enrolls 300 resident undergraduate students and graduated its first class in May 2006.
Olin College had the unique opportunity to create a new campus from scratch, a rare occurrence in today's academic environment. (See Figures 1 and 2.) Even so, the slate was not 100 percent clean. The Olin Foundation (founder of the college) had hired program planners and consultants to provide initial campus designs prior to staffing the college. General building space, classroom, and lab sizes were already determined; moreover, local building codes and restrictions regarding use and height were already taken into consideration.
Figure 1. Aerial View of Olin College of Engineering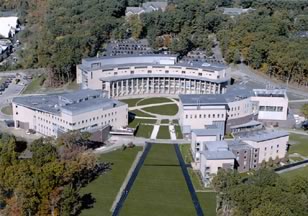 ©Mark C. Flannery
Figure 2. View of Olin College from the Great Lawn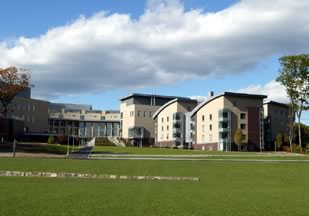 ©Mark C. Flannery
As an engineering institution, the college required a robust technological infrastructure that allowed for 24 x 7 student access as well as production and experimentation environments. Olin College runs a fully converged network. Voice, video, data, building security, and building controls all run over a strictly IP network. The college also provides a ubiquitous campus-wide wireless overlay that supports 802.11b and 802.11g Wi-Fi.
Classrooms, labs, and research spaces are equipped with power and wired data to every seat. In the case of labs, many of the connections are supplied through ceiling-mounted towers. All spaces are also outfitted with single- and multimode fiber for future use.
All classrooms were designed with motorized screens and the ability to transmit or receive signals to and from any space on campus. They are prewired for an audiovisual control station with speakers and lighting controls, eliminating the need to cut into floors and walls when the construction was completed, since the A/V infrastructure was phased in to accommodate changing technologies and the requirements to support the curriculum. The A/V stations include
Crestron control panels,
DVD players,
multiformat VCRs,
audio connections,
laptop connections, and
other peripheral connections for document cameras.
All A/V equipment can be controlled from the stations, handheld devices such as iPAQs, and Web pages based on access controls. E-Crestron controls (Ethernet based) allow for remote control including shutoff and help desk support. Training sessions familiarize all faculty, staff, and students with the equipment, and IT staff are cross-trained in providing A/V service support.
A key consideration of the campus design is mobility. Ubiquitous connectivity is required because virtually all classrooms contain mobile furniture to accommodate diverse teaching styles. Comfortable lounge chairs with reversible tablet arms, knife tables (see Figure 3), puzzle tables, oval tables, and folding shopping-cart chairs populate these spaces. The majority of classroom spaces have whiteboards (and a few blackboards) on two or four walls along with moveable whiteboards. Classrooms and labs are used for projects, collaborative team work, collaborative design, presentations, seminars, research, and student work space as well as scheduled internal and external meetings. Figure 4 shows a project lab.
Figure 3. Mobile Classroom Design with Knife Tables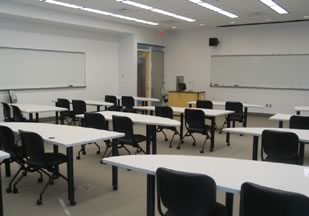 Figure 4. Reconfigurable Project Lab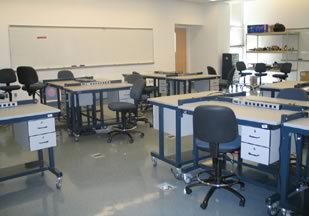 Type of Learning Spaces
Olin College encompasses tiered (step-down) classrooms, an auditorium, a computer lab, and the library/knowledge lab.
Tiered classrooms: Tiered classrooms are designed so that students can work on projects on the front portion of the desk space and work on their computers on the back desk space when they turn around. (See Figure 5.) The instructor can then be aware of what the students are working on. These spaces are used for collaborative design and projects, lectures, presentations, and seminars as well as internal and external group meetings.
Figure 5. Tiered Classroom Desks Support Project and Computer Work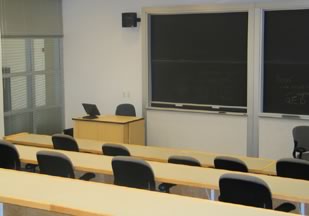 Auditorium: The auditorium is the largest teaching space on campus. A theater-like, two-story room, it features an A/V production booth in the rear for managed events and a fully outfitted podium (the same design as the classroom podiums for ease of use and instruction) at the front of the room for self-service events. (See Figure 6.) The room is equipped with IP-based videoconferencing and the ability to simulcast events to a mezzanine for in-building overflow or to any of the classrooms, labs, or dining halls for out-of-building overflow. The space hosts speaker panels, theater productions, vocal and instrumental presentations, assemblies, student events such as viewing the presidential debates, student elections, seminars, and just about anything else requiring a large space.
Figure 6. Auditorium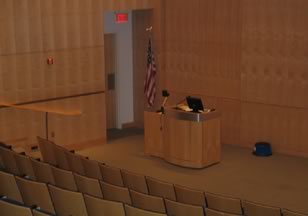 Computer lab: The computer lab has 24 x 7 access for community members and contains high-end equipment, which is possible because the students have a mandatory laptop program. The lab contains a Ricoh color copier/printer, HP Design Jet plotter, AVID video editing workstation, ProTools Audio editing workstation, scanning workstation, and 10 high-end workstations capable of supporting graphically intensive applications such as 3D modeling. The lab also contains at least one of each laptop currently in use for faculty testing to ensure compatibility.
The computer lab is used for education and training, project work space, video and audio production, collaborative team work, seminars, poster development, and printing. Internal and external group meetings and research are also conducted here. (See Figure 7).
Figure 7. Computer Lab

Library/knowledge lab: The Olin library/knowledge lab space includes 5 group study rooms, 22 study carrels, tables and computer seating for 21, and lounge seating for 24. Four public workstations augment the college laptop program. Network drops and wireless access points are available throughout the space.
Innovation and creativity are critical factors in the school's curriculum and mission. The laptop program frees the library from the necessity of housing large numbers of computers in its physical space. This freedom has created the opportunity to rethink physical space in an academic setting and to emphasize support for discovery.
Because of Olin's emphasis on design and hands-on learning, collections emphasize creativity, design, and pedagogy in addition to curriculum and research. One collection includes building toys, modeling clay, drawing pads, pencils, drafting kits, chess, magnetic poetry, puzzles, and LEGO Mindstorms. These objects serve as tools for inspiration, brainstorming, and distraction. The library/knowledge lab space is used for group study, team work, individual quiet work space, research, and demonstrations. (See Figure 8.)
Figure 8. Comfortable Group Work/Meeting Space in the Library/Knowledge Lab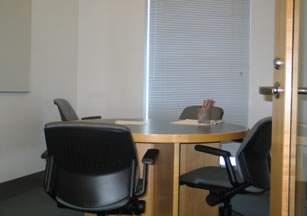 Success
The success of the learning spaces is evidenced by the fact that the demand for fully media-equipped classrooms has increased; faculty and students now advocate outfitting additional facilities. Increased use of all facilities as measured through statistics from the scheduling system as well as greater staff and student use of A/V support services provide additional indicators of success.
Principles
Mobility, interchangeability (flexibility), accessibility (anytime, anywhere, any way), technological sophistication, and usability are the driving factors in the design and use of the academic facilities at the college. All spaces strive to demonstrate Olin's philosophy of continual improvement by leveraging emerging technologies, space-design practices, and ongoing feedback to serve Olin and the broader learning community. Learning spaces are designed to offer students, faculty, and staff comfortable choices. Multiple configurations support the hands-on, project-oriented, "do-learn," collaborative, team-oriented curriculum.
About the Author
Joanne Kossuth is the associate vice president of development and CIO at the Olin College of Engineering.