Chapter 34. St. Lawrence University: Center for Teaching and Learning
Chapter 34. Center for Teaching and Learning
What Is It?
The Center for Teaching and Learning (CTL) is a resource center serving 180 faculty at St. Lawrence University, a private, liberal arts institution founded in 1856. Located in Canton, New York, this rural, residential campus for 2,100 students is bordered by the St. Lawrence River to the north and the Adirondack foothills to the south. St. Lawrence University is the oldest continuously coeducational institution of higher learning in New York State.
St. Lawrence faculty are respected scholars in their fields and known for their love of teaching. The CTL is designed to meet the pedagogical and technological needs of faculty at all stages of their careers. The first multipurpose space on campus to become wireless, the center includes a laptop training lab, a small project lab, a large conference room, two administrative offices, and a small kitchen on the ground floor of a student residence. (See Figure 1.) For a virtual tour of the CTL, visit <http://www.stlawu.edu/ctl/>.
What Happens Here?
The CTL's mission is to provide ongoing faculty development that promotes innovative teaching practices and course design. To achieve that mission, CTL hosts a rich variety of programs such as the yearlong new faculty orientation. Eight follow-up sessions throughout the remainder of the year help new faculty prepare for upcoming pedagogical responsibilities. The CTL also hosts a mentor program that supports first- and second-year faculty. Mentors are colleagues who have successfully struck a balance among their teaching, scholarship, and service responsibilities and who can offer a sounding board to newer faculty.
Figure 1. CTL Renovation Drawings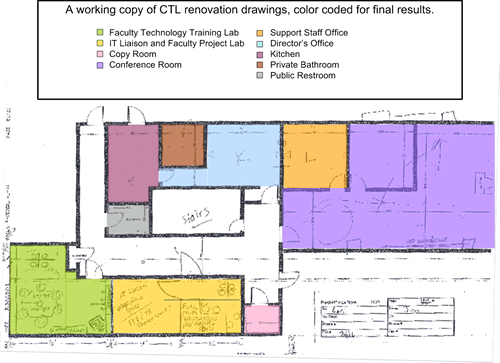 Click image for a larger view
The IT division plans all faculty technology development programming in close coordination with the CTL. Ongoing educational technology offerings include an annual four-day faculty technology festival and a two-day back-to-basics event.
Throughout the year, educational technologists provide one-on-one consultation and training through liaison hours typically held in the project lab. (See Figure 2.) Often, faculty learn or refresh their working knowledge of a particular technology. Conversations during liaison hours are often a precursor to a CTL technology grant application; the CTL provides grant funding for innovative teaching practices and for the integration of technology into teaching and learning.
Figure 2. Floorplan for CTL Faculty Training and Project Labs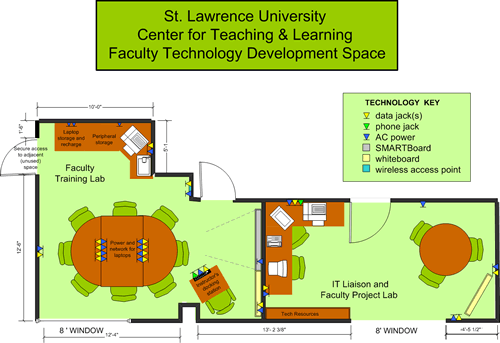 Click image for a larger view
How Is Technology Used?
The entire facility is equipped for wired or wireless networking and Internet access. The conference room is a favorite location for formal presentations and meetings and is also used for faculty social gatherings. (See Figure 3.)
Figure 3. Conference Room for (a) Informal Gatherings and (b) Formal Meetings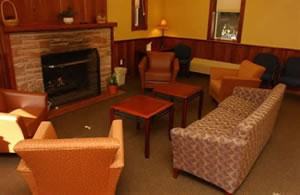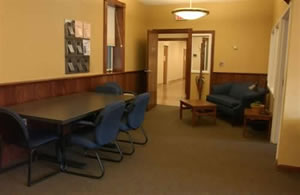 A mobile presentation cart (data/video projector, laptop docking station, VHS player, and speaker) and a portable projection screen are frequently used. Workshops or training for groups larger than eight use this space; laptops from the training lab or elsewhere are easily deployed. (See Table 1 on the Web.)
The training lab, which mimics our standard smart classroom, features a SMART Board with wall-mounted speakers installed on either side; a ceiling-mounted data/video projector; an instructor's podium with laptop docking station, VHS player, and network, Internet, and cable TV connectivity; a wireless mouse and keyboard; and a networked printer. (See Figure 4.) A small conference table is hardwired for network/Internet connectivity and AC power for eight laptops. Laptops are stored securely and continuously recharged, enclosed in a glass and steel cabinet. Peripheral equipment (power cables, network cables, mice, a variety of storage media, digital and video camera equipment, and an Elmo presentation device) are shelved nearby.(See Table 2 on the Web.)
Figure 4. Faculty Training Lab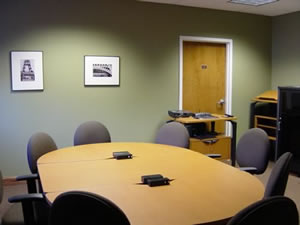 Faculty have unlimited access to the adjacent project lab through an ID card security system. The project lab features a high-end computer, a variety of software (Adobe Photoshop, InDesign, ImageReady, Illustrator, GoLive; Macromedia Flash, Freehand, Fireworks; QuickTime Pro), a flat-panel display, and peripherals not often available in faculty offices (for example, a document/object camera, flatbed scanner, and color networked printer).
What Makes the Space Successful?
Upon entering the CTL for the first time, faculty express pleasant surprise at the welcoming environment. A warm color palette, rich woodwork, nicely appointed furnishings (including a gas fireplace in the conference room), and tastefully selected patterns and textures enrich the space. Student and alumni artwork, professionally matted and framed, adorn each room.
Each room within the space serves multiple purposes. The conference room is used by faculty and administrative staff for a variety of meetings, and the training and project labs routinely double as small meeting rooms or breakout rooms during workshops. The kitchen simplifies the ability to serve food?anything from coffee and cookies to catered dinners.
Faculty feel valued in this space, and they value the resources available to them here. The space is clearly understood by the campus community to be dedicated faculty space. Faculty may access the building and enter the project lab at their convenience. Conference room and training lab space may be reserved for almost any faculty event, with preference for events supported and coordinated by the CTL. (See Table 3 on the Web.)
What Principles Were Behind the Design?
Throughout the project, we were cognizant of the faculty preference for small group interactions; face-to-face contact is critical to the culture of teaching and learning at St. Lawrence University. We were also aware of the fairly widespread reluctance to integrate technology, complicated by historical barriers in faculty-IT working relationships. The CTL was designed to bridge the gap between IT and academic affairs, a neutral space used to reset institutional memory.
At the outset, the educational technologies unit established a low faculty-to-trainer ratio (maximum 10:1, ideally 6:1) and designed technology training spaces that would hold us accountable to that standard. A long, narrow room was divided into two small spaces with distinctly different purposes. One-half became the training lab, the primary space where small groups of faculty meet with IT staff. We purchased comfortable office-style chairs on casters and well-proportioned tables and equipped the space with technology to mimic the typical smart classroom experience. The other half became the project lab, a space where faculty meet one-on-one with IT staff, work independently, or collaborate with colleagues while accessing a range of technology. Tables and chairs are easily repurposed or repositioned throughout the facility, allowing flexible combinations and multifunctional capabilities.
What Is Unique or Noteworthy?
Many projects are launched with a "build it and they will come" philosophy, designing space to meet anticipated needs. The CTL is unique in that CTL programming preceded CTL space. Faculty were consulted broadly via focus groups about the vision of the center, and programming evolved before space allocations or renovations occurred.
Another unique feature is the interdisciplinary nature of the space. The CTL is the only space on campus truly dedicated to the faculty, and the only space where faculty from the full range of academic disciplines routinely interact, engaging colleagues in pursuit of excellence in teaching.
A third unique feature of the space is unhindered access to professional educational technologies staff. Small group workshops and one-on-one interactions during liaison hours have helped change the nature of faculty-IT working relationships. Historical barriers have disintegrated as faculty have found instructional technologists ready, willing, and available to help.
Also noteworthy is the manner in which the mission of the CTL aligns with university goals: "The university is committed to the goal of fostering excellent teaching in its faculty and to assisting its members to realize their full potential as teachers."1 CTL programming is highly collaborative and not perceived as remedial. All workshops reflect the landscape of higher education and the local culture. Faculty attend CTL events at any stage in their teaching career at their own discretion, as they pursue teaching excellence.
Endnote
St. Lawrence University Faculty Handbook (revised August 2005), p. 9, <http://www.stlawu.edu/acadaffairs/handbookrevisedaug2005.pdf>.
About the Authors
Sondra Smith is the director of educational technologies and co-CIO for information technology at St. Lawrence University.
Kim Mooney is the director of the Center for Teaching and Learning and an associate professor of psychology at St. Lawrence University.