Chapter 35. Stanford University: GroupSpaces
Chapter 35. GroupSpaces
What Is It?
Stanford University is located on the San Francisco peninsula midway between San Francisco and San Jose on 8,200 acres. It is a private research institution serving about 6,500 undergraduates and 8,000 graduate students. Nearly all undergraduates and a majority of graduate students live on campus.
GroupSpace [http://groupspace.stanford.edu/] is the name for several group collaboration spaces deployed at Stanford. The physical spaces consist of one or more large computer displays, custom furnishings, and nearby whiteboards for two to six people doing group work. Installed on a host server(s) in each location is TeamSpot collaboration software from Tidebreak, Inc. TeamSpot facilitates team work for walk-up laptop users by allowing them to alternate or share control of the large display(s), share files or copy and paste text and images among the connected users, annotate the shared display screen, and record a log of session activities.
Stanford currently has three public GroupSpace installations:
Meyer Library GroupSpace: Located in the 24-hour lobby of Meyer Library, a computer-enhanced study and teaching facility in the heart of campus, Meyer GroupSpace seats up to six at angled "teardrop" tables. (See Figure 1.) It is adjacent to other study spaces, kiosks, and computer stations. The GroupSpace is defined by banners and a 6 x 10-foot rolling whiteboard.
Figure 1. GroupSpace at Meyer Library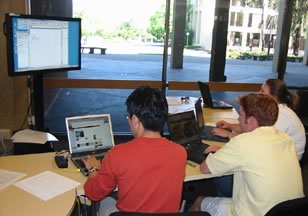 Toyon Hall GroupSpace: This GroupSpace is located in a dedicated group study and multimedia room in Toyon Hall, an all-sophomore undergraduate residence for 200 students. The GroupSpace is available 24 hours for Toyon residents and their guests. Seating handles up to three at a custom-designed quarter-round table. (See Figure 2.) The group study room is also equipped with an analog-digital conversion station, LCD projector for presentation rehearsal, and soft seating with tablet arms.
Figure 2. GroupSpace at Toyon Hall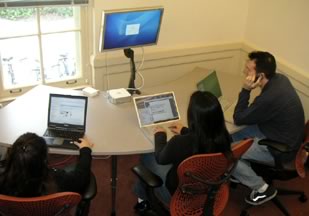 Freshman-Sophomore College (FroSoCo) GroupSpace: The third GroupSpace location is in the residence computer cluster of FroSoCo, home of 185 freshmen and sophomores interested in broad intellectual exploration of the liberal arts and sciences. The space is available 24 hours for FroSoCo residents and their guests. Seating for up to three is available in the same configuration as the Toyon GroupSpace. It is integrated into the existing computer cluster, which is equipped with eight PCs and Macs, a laser printer, a scanner, and whiteboards.
What Happens Here?
Laptop users can work together using the following capabilities of the TeamSpot software:
Control the shared display: Users can take turns or share control of the large public display(s). They scroll their mouse pointer off the top of their laptop screen into the shared display, where they can control the host machine like any other computer.
Share files or Web pages: Users drag selected files or URLs to the CrossWarp icon and drop them onto the name(s) that appear in a drop-down menu. They can choose to share with one or all, including the host computer driving the shared display.
Copy and paste to the shared display: Users can copy and paste text or images from within an application onto the shared display.
Annotate work in the shared display space: Users can mark up the public display, whiteboard-style, using colored electronic "pens" (the annotated screen is not yet savable and exportable as a file).
Track session work: Users can capture and view logs of collaboration session activities, such as CrossWarped files and URLs, and add comments to the log.
Examples of using these functions include:
Academic coursework: Students use the GroupSpaces for collaborative research using online and library resources. They can also compose and rehearse group PowerPoint presentations for courses across the curriculum. Other activities facilitated by GroupSpaces are study groups and section meetings for large undergraduate introductory courses (for example, chemistry or human biology), collaborative editing and peer review for writing courses, team computer programming, or team design projects (for example, for mechanical engineering).
Academic support and tutoring: Small group tutorials with teaching assistants or peers are facilitated in GroupSpaces.
Residential education: Small groups of residential staff and/or residents working on community-building projects such as dorm Web sites, social or educational events, videos, or slideshows use GroupSpaces.
Student organization projects: Stanford has more than 500 registered student organizations, which increasingly need to produce collaborative multimedia projects such as videos and Web sites.
Casual student use: Multiplayer gaming or simply watching videos or other entertainment in small groups happens in GroupSpaces. These activities have lower priority than academic tasks.
How Is Technology Used?
GroupSpaces take advantage of large displays, servers, client and logging software, and wireless capability to support users.
Large shared displays: The Meyer GroupSpace uses two 42-inch plasma displays, and the two residential GroupSpaces each use a single 23-inch LCD display, mounted on steel standards.
Host server computers: A host machine (we use both Dell towers and Apple Mac minis) drives each display, delivers the client application to users, and manages user information and interaction. The server application provides configuration and service options and downloadable configuration profiles. Only physically present users can connect for a session ("room-based authentication"), though remote users may be supported in the future. Socket-layer encryption protects cross-machine communication over the network. Our host machines provide the same robust suite of productivity and courseware applications that we deliver in our public and residential computer clusters, making these applications available for users in the TeamSpot shared work space.
Client computers: Walk-up laptop users (PCs or Macs) download the TeamSpot client the first time they use any GroupSpace. With the client, they can start working together by just clicking a few buttons. (See Figure 3.)
Figure 3. The TeamSpot Client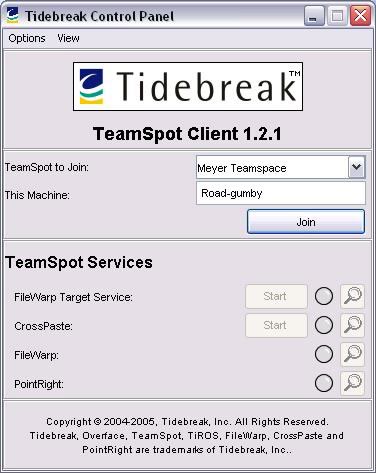 Logging software: A beta application uses XML templates to capture "events" (actions) in every TeamSpot session. These event logs provide data about how student groups use the TeamSpot software. We have configured the application to protect user privacy; a privacy policy is under development as part of the GroupSpace project.
Wireless networks: Users connect in each GroupSpace and to one another via wireless or cabled (CAT5) networking.
What Makes the Space Successful?
Initial user studies1 conducted in the Meyer GroupSpace found that:
Students quickly adapted to the metaphor of shared versus personal workspace.
Groups that were already acquainted and had a real-world project to work on developed social protocols to work effectively in the space more quickly than groups given an experimental task by the researchers.
Most students found the software helpful in facilitating their collaboration.
Evaluations under way in 2006 are exploring:
What students use GroupSpaces and the TeamSpot software for (including analysis of logging data).
The efficacy of multimedia demos for educating users about the usefulness of TeamSpot for specific academic projects (for example, group PowerPoint presentations or collaborative writing).
Self-reported learning outcomes.
Differences in usage and learning outcomes between public and residential deployments.
What Principles Were Behind the Design?
The GroupSpace design aligned with perceived learning needs, Net Generation needs, and university academic needs. Learning and social cognition research, for example, suggests that opportunities for social and collaborative work enhance learning. Moreover, today's Net Gen students have a bias for working collaboratively and for social uses of technology. Finally, a new university writing requirement includes a course that focuses on the written, oral, and multimedia presentation of research and that assigns group projects-emblematic of a trend across the curriculum. GroupSpaces support all these needs.
The three GroupSpaces all have different physical designs, exist in different social contexts (public and residential), and take different approaches to managing "noisy" group work near adjacent "quiet" individual study areas, according to the design team's evaluation of the preferences for users in each context. All of the spaces offer TeamSpot software, which works across platforms and requires near-zero administration. TeamSpot, which evolved from the TeamSpace open source software project,2 aims to keep barriers low for users and to be as intuitive and low-maintenance as possible.
What Is Unique or Noteworthy?
Two factors stand out in GroupSpaces at Stanford: the spaces fill institutional gaps, and they demonstrate the results of human-computer interface (HCI) research combined with advances in classroom technology.
Filling institutional gaps: Specifically oriented to group learning, GroupSpaces integrate an installed collaboration software technology with physical spaces designed for teams. Except in a very few high-tech classrooms, students have lacked access to such environments. Residential GroupSpaces, in addition to supporting the academic mission, also facilitate community-building and social uses of technology for today's Net Gen students.
Rolling out classroom technology and HCI research: The software behind TeamSpot began in the computer science research labs of Stanford University's Interactive Workspaces Project (see Figure 4) and evolved into, first, the production "iSpace" technology in the classrooms of Wallenberg Hall [http://wallenberg.stanford.edu/] (see chapter 36); second, TeamSpace, an open source, lightweight client-server application scalable for large public deployments; and third, the commercial TeamSpot product-a model of knowledge transfer within and beyond the institution.
Figure 4. Stanford Interactive Workspaces Project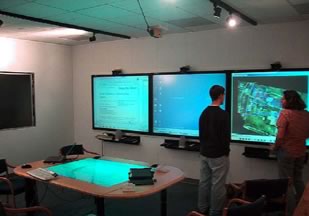 Endnotes
Clara C. Shih et al., "Teamspace: A Simple, Low-Cost, and Self-Sufficient Workspace for Small-Group Collaborative Computing," CSCW 2004 Interactive Poster, Chicago, Ill., November 2004.
See the research papers available at Stanford HCI Group.
About of the Author
Richard Holeton is senior strategist for student computing and associate director of academic computing, part of Stanford University Libraries and Academic Information Resources, at Stanford University.