2019 Top 10 IT Issues
2019 Reveals Focus on "Student Genome"
In 2019, after a decade of preparing, higher education stands on a threshold. A new era of technology is ushering in myriad opportunities to apply data that supports and advances our higher ed mission. This threshold is similar to the one science stood on in the late 20th century: the prospect of employing technology to put genetic information to use meaningfully and ethically. Much in the same way, higher education must first "sequence" the data before we can apply it with any reliability or precision.
Our focus in 2019, then, is to organize, standardize, and safeguard data before applying it to our most pressing priority: student success.
The issues cluster into three themes:
Empowered Students: In their drive to improve student outcomes, institutions are increasingly focused on individual students, on their life circumstances, and on their entire academic journey. Leaders are relying on analytics and technology to make progress. Related issues: 2 and 4

Trusted Data: This is the work of the Student Genome Project, where the "sequencing" is taking place. Institutions are collecting, securing, integrating, and standardizing data and preparing the institution to use data meaningfully and ethically. Related issues: 1, 3, 5, 6 and 8

21st Century Business Strategies: This is the leadership journey, in which institutions address today's funding challenges and prepare for tomorrow's more competitive ecosystem. Technology is now embedded into teaching and learning, research, and business operations and so must be embedded into the institutional strategy and business model. Related issues: 7, 9 and 10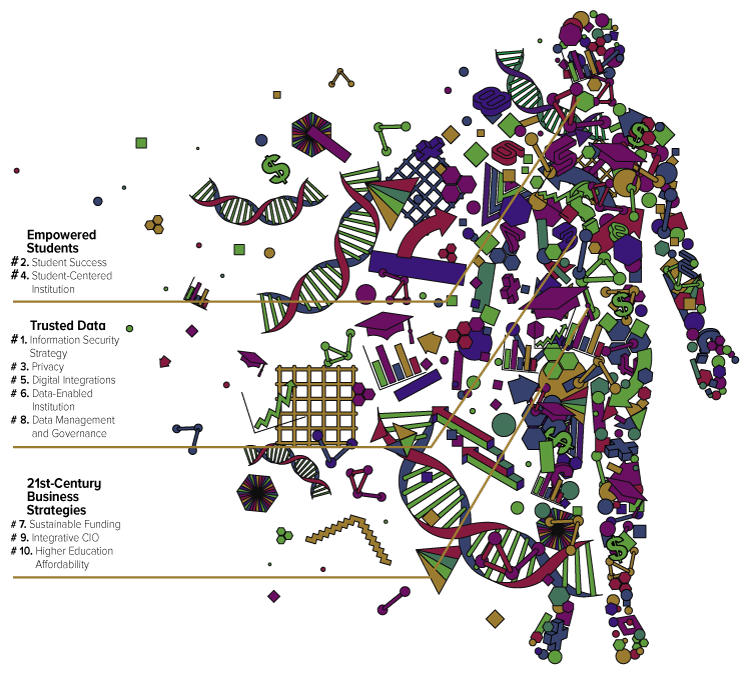 Read the EDUCAUSE Review Feature Article
A Quick Visual Tour
You can view a quick video summary and infographic of the Top 10 IT Issues—and share with your network—before taking a deeper dive into the many resources available (see sidebar for more!).
View the Numbers Behind the Issues

Download the Top 10 IT Issues infographic now.
How the Top 10 IT Issues Are Derived
The Top 10 IT Issues list is developed by a panel of experts comprised of IT and non-IT leaders, CIOs, and faculty members, and then voted on by EDUCAUSE members in an annual survey. This list is created by the community for the community—identifying what's important and where to focus.