Sponsorships
Align with Your Target Market
Choose to partner with EDUCAUSE to get your brand, industry knowledge, and thought leadership in front of technology leaders and professionals across higher education. Sponsorship opportunities exist in the following areas:
For pricing and availability, please contact our corporate team at [email protected].
EDUCAUSE Conferences and Events
Interested in exhibiting, presenting, or sponsoring opportunities at EDUCAUSE conferences and events? Visit our Conferences page.
---
Showcase Series and Program-Level Sponsorships
Showcase Series
STRATEGICALLY ALIGN WITH GRAND CHALLENGES IN HIGHER ED
The EDUCAUSE Showcase Series, based on our popular Top 10 IT Issues, spotlights the most urgent issues the higher ed community identifies each year. For each topic, EDUCAUSE gathers the tools and resources the community needs into one place to help guide campuses forward.
Sponsorship of the series provides an all-in-one opportunity for your organization to be part of strategic conversations taking place in higher education technology and remain top of mind with your prospective customers.
Two packages are available: Premier and Basic. Basic packages come with all of the same great benefits as 2022 including thought leadership, branding, and advertising. The new premier package comes with these benefits plus participation in showcase webinars and panel participation at the 2023 EDUCAUSE Annual Conference.
2023 topics and launch dates include:
Privacy and Cybersecurity 101 | January 23
Moving from Data Insight to Data Action | April 3
Online, In-Person, or Hybrid? Yes | May 22
SaaS, ERP, and CRM: An Alphabet Soup of Opportunity | July 31
Smooth Sailing for the Student Experience (+ Student Success) | September 11
Plan Your Work and Work Your Plan: 2024 | December 4
View examples of recent Showcase Series topics and download the guide below for additional details on sponsorship benefits and tips.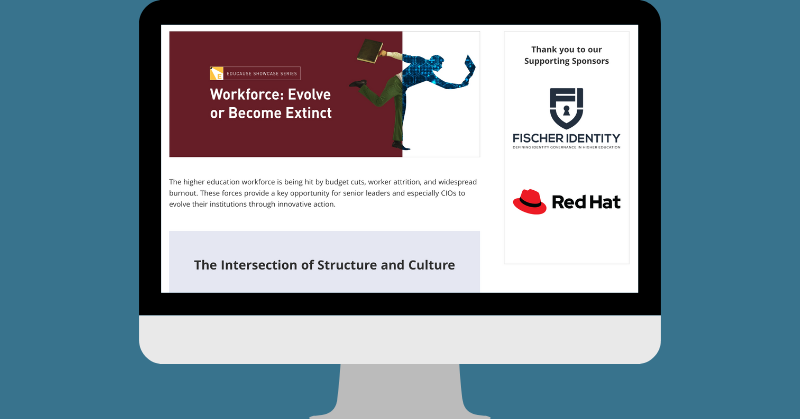 Target: 63,000 higher ed technology, teaching and learning, and other campus professionals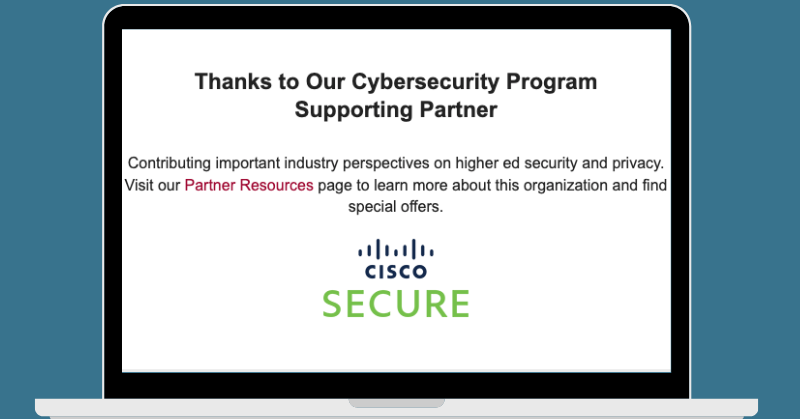 ---
Webinars and Demo Days
Industry Insights Webinars
Highlight your industry expertise
Conduct a webinar on a topic that positions your company as a thought leader with a campus partner from a higher education institution or in a diverse panel of up to three.
You'll receive a recording of your webinar, participant evaluation results, a transcript of comments in the chat, and a list of registrants who agree to share their information for your team to follow up.
EDUCAUSE will:
Set up the web page and registration, and collect your content
Provide a presenter walk-through and moderate the webinar
Promote the series via email and social media channels
Archive your webinar recording in the EDUCAUSE Library
View examples of recent Industry Insights Webinars (formerly Industry and Campus Webinars) and download the guide below for additional details including deadlines and next steps.
Find Out More about Industry Insights webinars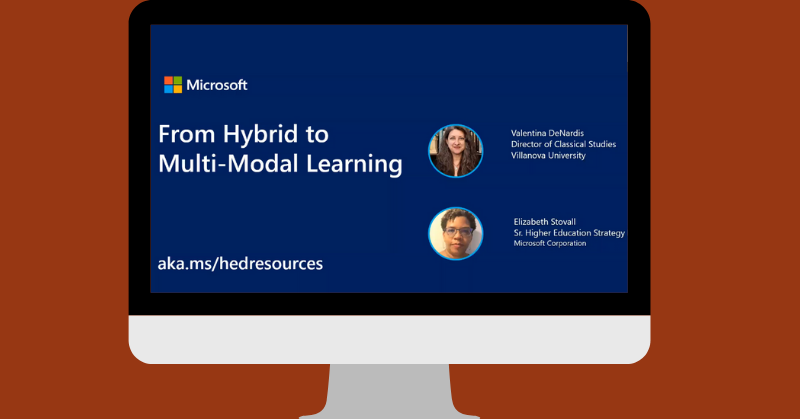 Target: 59,000+ higher ed technology, teaching and learning, and other campus professionals
EDUCAUSE Demo Days
Show off your products and services
EDUCAUSE Demo Days are new online events designed to highlight particular products or services that have been identified by our community as technology needs for their institutions. During the event, a handful of companies conduct consecutive, live 30-minute presentations with 15 minutes of participant Q&A. 2023 Demo Day event topics and dates include:
Be one of a handful of companies to secure a spot in a Demo Day event of your choice (participation is on a first-come, first-served basis). View examples of previous Demo Day events and download the sponsor guide below for more information including benefits, deadlines, and best practices.
* The EDUCAUSE Demo Day: Spotlight on Start-Ups will be a series of live 20-minute demos with up to two presenters and a 10-minute attendee Q&A.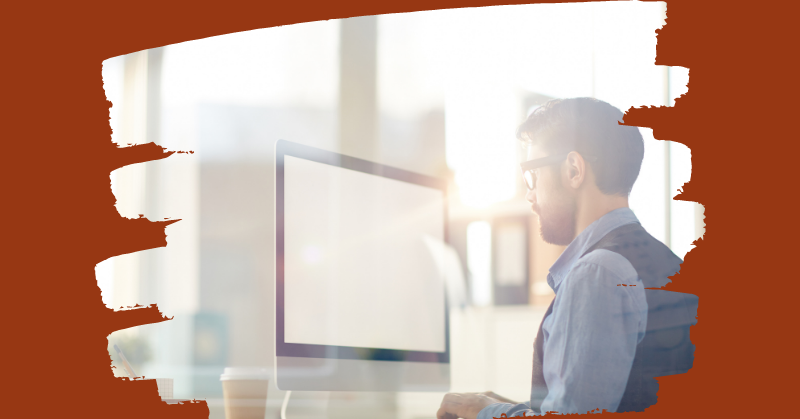 Target: 59,000+ higher ed technology, teaching and learning, and other campus professionals
---
Research
Annual EDUCAUSE Research
Associate your brand with trusted benchmarking data
Technology professionals across higher education turn year-round to EDUCAUSE for the latest findings on developing and advancing the IT workforce, students and faculty technology experiences, emerging technologies like extended reality, and industry-shaping trends like data analytics.
Sponsor our signature research to be part of the latest issues and trends in higher education. Exposure is extended through higher education media and partner publications.
Regularly recurring EDUCAUSE research may include products like: The Top IT Issues and Trends; Horizon Reports; studies on student and faculty technology experiences; among others.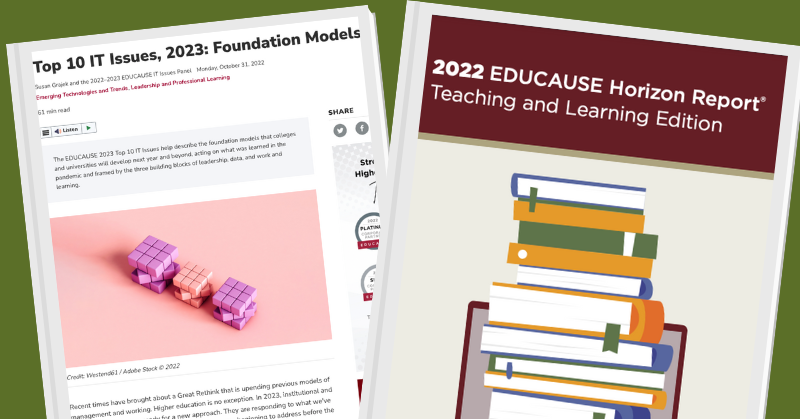 Target: 63,000 higher ed technology, teaching and learning, and other campus professionals
Custom Research Studies
Collaborate with EDUCAUSE and the higher education community
We work with you to design, conduct, summarize, and visualize a custom study, program, or analysis, and promote your content to the higher ed community and media. A limited number of custom research studies are available each year. View a recent collaborative project.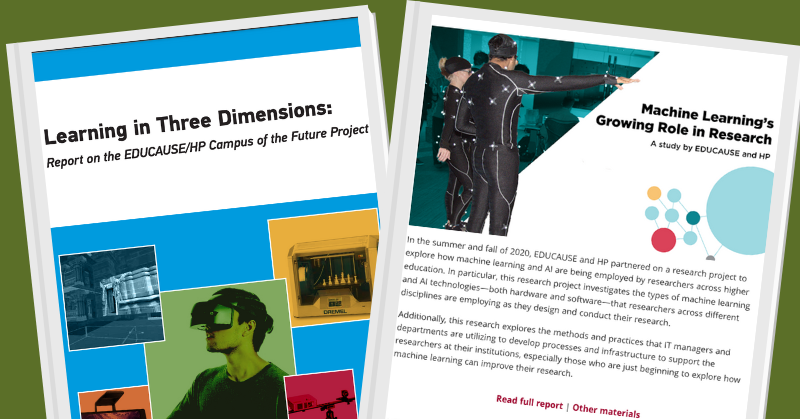 Target: 63,000 higher ed technology, teaching and learning, and other campus professionals
HP has been partnering with EDUCAUSE to investigate a number of topics including XR, machine learning, and esports. Together we've published multiple custom research reports, garnering media coverage in Forbes, The Chronicle of Higher Ed, Inside Higher Ed, EdSurge, and more. The reports have been consumed over 20,000 times.
---
Scholarships and Awards
Scholarship Program
Be recognized for your support
EDUCAUSE Scholarships are an extension of our commitment to those who lead, manage, and use information technology to shape strategic IT decisions at every level within higher education. Awards are made on an annual basis and preference is given to underserved individuals at financially challenged institutions.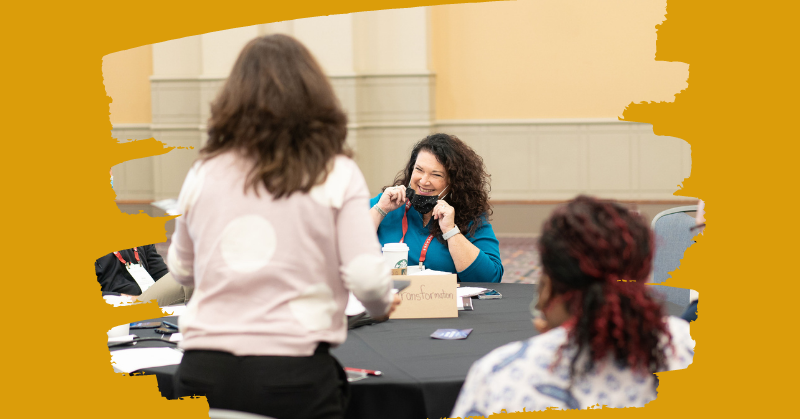 Target: 63,000 higher ed technology, teaching and learning, and other campus professionals
EDUCAUSE Awards
Sold
Invest in leaders
When you choose to sponsor our awards, your organization is investing in our members' accomplishments. You become part of honoring exemplary leaders who: progress the theory and practice of information technology in higher education; actively volunteer; advance diversity, equity, and inclusion; and demonstrate ongoing, exceptional professional growth and contributions.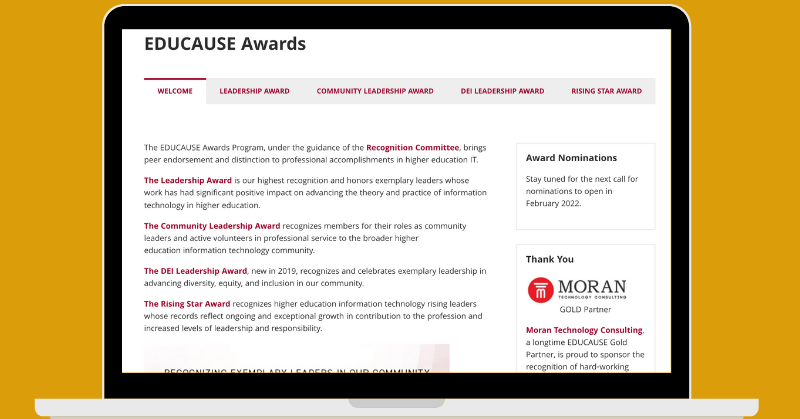 Target: 63,000 higher ed technology, teaching and learning, and other campus professionals




Target numbers are subject to change. Contact us for the latest details.