2019 DEI Leadership Award Recipient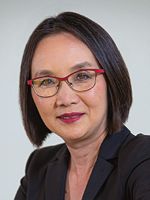 Melissa Woo
Senior Vice President for Information Technology and Enterprise Chief Information Officer, Stony Brook University
For championing and expanding the diversity, equity, and inclusion conversation and shedding light on the challenges faced by marginalized or underrepresented groups; for cultivating a culture of honesty and trust among working groups; and for promoting and providing leadership opportunities and mentorship to underrepresented groups.
The 2019 EDUCAUSE DEI Leadership Award is presented to Melissa Woo, Senior Vice President for Information Technology and Enterprise Chief Information Officer at Stony Brook University, for her inspirational leadership and actions that have improved diversity, equity, and inclusion across the higher education IT community.
Melissa's understanding of the importance of diversity for organizational success has been evident since the beginning of her higher education IT career. At the University of Wisconsin–Milwaukee, Melissa organized a highly diverse team of faculty to help the institution achieve R1 status. At a time when diversity was perceived largely as a politically correct buzzword, the success of this team demonstrated the importance of diversity in creating strong teams that can move large initiatives forward.
At Stony Brook University, Melissa's goal is to even the proverbial playing field for all, not to tilt it in favor of any particular group. She provides everyone around her with the opportunity to succeed. To ensure equity among her direct reports, she uses inclusive language in position titles, descriptions, and recruitment postings, and she has established a system of equivalent pay for equivalent job roles. She was awarded a grant to create a diversity student internship within the Stony Brook Division of Information Technology. As a member of the Steering Committee for Women in STEM Leadership program at Stony Brook, Melissa serves as a strong advocate for improved DEI practices, resources, and tools and is an inspirational mentor for colleagues who are seeking to contribute to DEI initiatives.
As a member of the EDUCAUSE community, Melissa leads DEI efforts through panel discussions, presentations, videos, and EDUCAUSE Review articles. She is the recipient of the EDUCAUSE 2012 Rising Star Award and is a Frye Leadership (now Leading Change) Institute Fellow. In 2017, she was selected to serve on an EDUCAUSE Expert Panel on DEI, which was tasked with addressing the complexity of the DEI landscape in higher education. The collective efforts of this group culminated in the creation of an EDUCAUSE DEI Task Force and CIO's Commitment on Diversity, Equity, and Inclusion. Melissa was the ninth CIO to publicly affirm her support by signing the commitment.
In addition to her service within the EDUCAUSE community, Melissa is active in many other professional IT organizations and DEI advocacy groups. She has been a keynote speaker at the Women Advance IT leadership conference at the University of Nebraska and an invited speaker at the University System of Georgia Women in Technology Summit. She openly and honestly shares her personal views and insights about the DEI opportunities and challenges faced by marginalized and unrepresented people, creating a safe space for discussion among all groups. She also partnered with Florence Hudson at Internet2 and the National Science Foundation Cybersecurity Center of Excellence at Indiana University to create programs that expand opportunities and eliminate barriers for undergraduate and graduate students who are from underrepresented populations and are interested in computer science, data sciences, and technology.
Working tirelessly to elevate and illuminate the challenges faced by people of color, members of the LGBTQ community, professionals of all ages, women, and individuals with disabilities, Melissa Woo exemplifies and inspires action for success in DEI discussions and practices across the academy for the benefit of all.
This EDUCAUSE Award is sponsored by Moran Technology Consulting, Gold Partner.