2021 DEI Leadership Award Recipient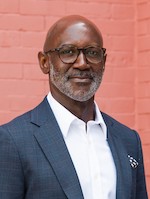 Michael Cato
Senior Vice President and Chief Information Officer
Bowdoin College
For exhibiting wide-ranging advocacy, influence, and impact in promoting diversity, equity, inclusion, and anti-racism in the higher education community; for being a champion of organizational cultures that are collaborative, collegial, and effective; for mentoring and building relations with young professionals and those from underrepresented communities
The 2021 EDUCAUSE DEI Award recognizes Michael Cato, Senior Vice President and Chief Information Officer at Bowdoin College, for his extraordinary influence in advancing diversity, equity, and inclusion (DEI) initiatives and for serving as a role model of advocacy and action to members of the IT profession and the higher education community.
Michael's contributions to DEI initiatives have been a part of his entire career in higher education IT. Beginning with his first position at the University of North Carolina (UNC) Chapel Hill, where he provided IT services for the Partnership for Minority Advancement in the Biomolecular Sciences, Michael successfully used his relationship-building skills to cultivate connections between the university and high school science programs in underserved communities and historically minority-serving institutions across the state.
Throughout his career, Michael's collaborative and problem-focused approaches have brought about meaningful change and improved IT services. During his tenure in successive roles at UNC Charlotte, he continued drawing attention to DEI issues, focusing on hiring and promotion at all levels, from student employees to administrative positions to senior IT roles. Understanding the importance of investing in the professional development of others, he hired, mentored, and advocated for junior staff, building teams that were diverse across an array of identities, and he explicitly addressed the topics of inclusion and representation with others. When serving on search committees across the institution, he openly engaged in these conversations, sharing his own experiences and encouraging others to authentically share their own.
With a leadership style characterized by intentionality, wisdom, and generosity, Michael has built partnerships across institutions and associations to highlight and pursue goals of greater representation and engagement for underrepresented communities. Since he served as Interim CIO at UNC Charlotte in 2012, then became a vice president and CIO, first at Vassar College in 2013 and then at Bowdoin College in 2018, Michael has expanded these practices while strengthening his focus on the strategic importance of DEI to the practice of IT, making the case that more diverse teams working in inclusive environments are better at solving complex problems.
Michael became active in the EDUCAUSE community in 2006. Since then, he has been a Frye (now called Leading Change) Institute Fellow, served as faculty for the EDUCAUSE Institute Program and as director of the Management Institute in 2016, and has presented widely at EDUCAUSE national conferences. As a leading voice in the association, he generously engages on leadership and DEI issues with both seasoned leaders and new professionals, in both large and small groups, in one-on-one conversations, and on email lists. In fact, one of his email exchanges on the EDUCAUSE CIO list helped to inspire the eventual creation of the Anti-Racism in Academic (ARiA) initiative, which Michael then supported as it developed. He was also instrumental in securing seed funding that enabled the program's growth and enhancement and has helped to cultivate partnerships between ARiA and other associations such as EDUCAUSE, NERCOMP, and CUPA-HR.
Beyond EDUCAUSE, Michael has devoted time to a number of nonprofit boards. He has also frequently presented or facilitated sessions on organizational leadership, cultivating inclusive environments, and DEI-related topics at a variety of regional and national conferences. Since 2013 he has been a member of the IT Senior Management Forum, a national organization addressing issues of inclusion in the corporate arena. And as the founder of the Next Leadership Fellowship Program, he is creating a network of opportunities and advocacy to support professionals from Black, Indigenous, and People of Color (BIPOC) communities who are pursuing senior leadership roles in higher education IT.
His commitment to and advocacy for DEI as a way to strengthen our community and the profession has been a driving force for Michael. He is someone who speaks up and speaks out and, more importantly, puts actions behind his words on matters related to DEI and anti-racism. In doing so, Michael Cato inspires others and encourages awareness and actions to make higher education more inclusive, vibrant, and successful.
This EDUCAUSE Award is sponsored by Moran Technology Consulting, Gold Partner.