2022 DEI Leadership Award Recipient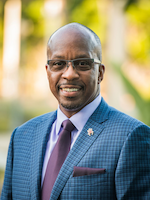 Keith W. "Mac" McIntosh
Vice President and CIO
University of Richmond
For displaying exemplary commitment in promoting and advancing DEI efforts within the IT profession; for fostering inclusive partnerships within his own institution and beyond; for leading with intention and catalyzing critical conversations around how DEI strengthens the profession
The 2022 EDUCAUSE DEI Leadership Award is presented to Keith W. "Mac" McIntosh, Vice President and CIO at the University of Richmond. As a leading voice for diversity, equity, and inclusion, Mac has made significant contributions to the IT profession and has successfully leveraged his leadership position to advance DEI efforts at his institutions, to raise awareness of biases, and to lead critical conversations within the community.
Mac came to higher education after a long career in the U.S. Air Force. During his tenure at Ithaca College, Mac created a Diversity Standing Committee to raise awareness and address biases within the college's IT team. Following this successful academic‐administrative partnership, Mac and his team developed a robust program focused on gender bias and involved the entire IT team in monthly meetings using table exercises, group discussions, videos, and articles from experts in the field. Advancing to his current position at the University of Richmond, Mac continued his advocacy for DEI, beginning with his IT division and expanding to university‐wide efforts. The Information Services Division DEI Committee provided demographic data along with other key resources to aid the process. In 2017, Mac began facilitating weekly conversations, dubbed "Intersections," within the division, and the group was so immediately impactful that it expanded to include students, faculty, and staff outside of the division in its second year. The "Intersections" group has served as a model for cross‐cultural conversations at the university and has spawned other similar discussion groups.
Mac's commitment to DEI is evident throughout the university, where he has been a featured speaker, sharing the story of his career and DEI journey. He was also one of four facilitators for the university‐wide community meeting, "No Room For Hate," in January 2020, where students shared stories, concerns, and ideas while participants considered how to move forward as a community following recent incidents of racism and xenophobia on campus. This meeting provided a venue for university leaders to listen to and engage with students and resulted in several actionable themes to improve the campus culture.
As the inaugural recipient of the EDUCAUSE Rising Star Award in 2011, Mac has continued to have an impact resonating throughout EDUCAUSE over the past decade. For instance, Mac co-chaired the EDUCAUSE DEI Task Force that created the CIO Commitment statement on DEI, which now has over 600 signatures, and he became an ex-officio representative when the task force became the standing DEI Advisory Committee. He co-authored an EDUCAUSE Review article that served as a call to action to focus on DEI in the higher education IT profession, and he has many publications on topics ranging from recruitment issues to retention of a diverse workforce. He is a popular presenter at EDUCAUSE conferences, speaking on DEI topics such as methods to foster diverse IT leadership and the experiences of African American higher education CIOs. He is also active in promoting productive discussions in community forums. Within the broader IT and human resources communities, Mac lent his expertise as co-author of the CUPA‐HR report Diversity in Higher Education Information Technology: From Today's Workforce to Tomorrow's Leaders in 2019, was named 2020 Capital CIO of the Year and ORBIE Award Winner, Non-Profit Sector, and was on EdTech magazine's "30 Higher Ed IT Influencers" list in 2020. He has delivered keynotes on DEI topics at national and international events and is a generous mentor to others in their IT professional journeys. He has been an ally and advisor for the Anti-Racism in Academia (ARiA) initiative and is one of twelve mentors for the Next Leaders Fellowship program, which is building a framework to identify, develop, and advocate for IT professionals in higher education, with a special emphasis on those who identify as Black, Indigenous, and people of color (BIPOC). He strives to increase development opportunities for women, particularly women of color, in IT leadership and their IT professional journeys.
Combining boundless energy with a spirit of generosity, Keith McIntosh has demonstrated an advocacy around DEI that has catalyzed action and enlarged the significance of this issue in the arena of higher education. He is a role model for instilling in others a sense of common purpose and for inspiring in others a commitment to create a better, more diverse, inclusive, and equitable profession.
This EDUCAUSE Award is sponsored by Moran Technology Consulting, Gold Partner.