2023 DEI Leadership Award Recipient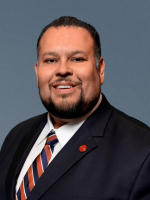 Felix Zuñiga
Information Technology Services Campus Engagement Partner
The California State University
For elevating conversations about race, allyship, and diversity, equity, and inclusion (DEI); for reaching beyond institutional boundaries and leading change in the DEI space; for inspiring the next generation of DEI leaders in higher education technology
The 2023 EDUCAUSE DEI Leadership Award is presented to Felix Zuñiga for advancing DEI-related practices and initiatives, for ensuring that diverse perspectives and voices are heard and elevated, and for exemplifying strong DEI leadership, community involvement, and service to the greater EDUCAUSE community.
Felix is a Campus Engagement Partner for Information Technology Services at the California State University (CSU) Office of the Chancellor. In this role, he fosters collaboration, communication, and excellence across a campus system that supports nearly 460,000 students and over 56,000 faculty and staff. His leadership on DEI issues extends across the CSU system and beyond. He led efforts to create a diversity-related ally network within the CSU technology community and has served as an advisor to the systemwide CIO to ensure that DEI-related discussions are occurring and that DEI speakers are featured in systemwide event programming. He has also initiated collaborative efforts on DEI initiatives across the California higher education system, involving the CSU, the University of California, and the California Community College system.
Felix has been a strong advocate for DEI issues throughout his career. Before joining the CSU Office of the Chancellor, Felix spent eighteen years at California State University, San Bernardino (CSUSB). While at CSUSB, he was appointed to serve on the University Diversity Committee. In that capacity, he served as a diversity trainer, created the Yotie Talks diversity speaker series, and was co-creator of the inaugural CSUSB Symposium on Race.
Felix always strives to lead within his spheres of influence and effect change in the DEI space. While at CSUSB, he served as President of the Association of Latino Faculty Staff and Students Association and as an advisor to the Latino Business Students Association. Felix currently serves on the Board of the Inland Empire Future Leaders Program, which provides an annual leadership development conference for eighth and ninth-grade Latino/a/e students. He is also a mentor for the Puente Project, an award-winning program that has improved the college-going rate of tens of thousands of underrepresented students in California.
Beyond his institutional service, Felix is an active member of the EDUCAUSE community. He has been a member of the DEI Advisory Committee since 2019 and is currently its Chair. As an EDUCAUSE conference proposal reviewer, Felix plays a key role in ensuring DEI-related topics are featured at the EDUCAUSE Annual Conference. His interest in the intersection of DEI and technology made him a key partner in developing EDUCAUSE DEI Toolkits, designed to help institutions understand how they can leverage DEI to advance their success. He also championed the development of the Inclusive Hiring Kit, a resource for building more inclusive hiring processes and work environments for all people. The committee is excited to be working on topics like belonging and inclusive procurement.
In 2021, Felix was awarded a doctorate in Educational Leadership by CSUSB for his unique study about the experiences of Latino/a/e students in service-learning courses at a Hispanic-Serving Institution. While Felix is an established DEI leader, he remains committed to professional development. He completed the EDUCAUSE Institute Management Program in 2019, is a member of the New Leadership Academy (NLA) Fellows program 2021–2022 cohort, and is a 2022–2023 Next Leaders Fellowship program Fellow. He also generously shares his DEI skills, knowledge, and experience with the broader higher education technology community, presenting on DEI and technology topics at the EDUCAUSE Annual Conference and other events across the country.
Felix leads from the front and works intentionally to foster an environment of inclusion and respect. His achievements, service, and commitment to excellence embody what it means to be an exemplary DEI leader.
This EDUCAUSE Award is sponsored by Moran Technology Consulting, Gold Partner.