2014 Rising Star Award Recipient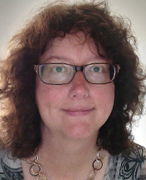 Katie Vale
Director of Digital Learning
Harvard School of Public Health
For increasing impact to academic IT; for leadership, innovation, and service; for willingness to volunteer her time; for collaborative leadership in establishing valuable programs; for overall contributions to the profession
Katie Vale's recent appointment as director of digital learning at the Harvard School of Public Health demonstrates her continued progression in responsibility, innovation, and leadership. She epitomizes service to the academy and leadership in the field of information technology. Katie has worked on some of the most influential educational technology projects of the past few decades, providing the critical roles of planning, launching, and providing dependable support for these initiatives.
Katie's career demonstrates a pattern of increasing impact in academic IT. From Brown University (where she supported use of a pre-web networked hypermedia system called Intermedia) to MIT (where she led foundational work helping to start TEAL and MIT Open CourseWare) to Harvard (where she helped launch HarvardX and the Harvard Initiative on Learning and Teaching), Katie has been involved in the development, incubation, operation, and support of significant academic technologies and educational improvement efforts. At Harvard she has served as director of academic technology and cofounded the cross-departmental Instructional Support Services team to provide coordinated resources for the design and delivery of general education courses. She helped bring together staff from IT, libraries, and education offices to form a University-Wide Learning Support Network. She founded the Student IT Experience initiative, in which a student IT advisory board was established, addressing methods for allowing students to give input or create applications for university use. In 2013 she was awarded the Golden Bit Award for IT innovation at the Harvard CIO Summit. Currently she is designing Harvard's first blended degree program in public health.
Outside work hours, Katie has been a committed teacher, advisor, and mentor. After finishing her master's (which, like her doctorate, she completed while working full time), she taught the first course about the Internet and education at Boston University. At MIT she served as an undergraduate advisor; taught freshman seminars on multimedia, social media, and reflective practice; and won the Steven Wade Neiterman Award for coaching colleagues. She has been a freshman advisor at Harvard and frequently guest lectures in courses in education and computer science. In addition, Katie volunteers as a mentor for LearnLaunchX, an education start-up incubator, and has been a Girl Scout troop leader for over three years.
Katie has been active in professional societies. She attended the EDUCAUSE Institute Learning Technology Leadership Program in 2007, was a Frye Fellow in 2012, and was a guest speaker at Leading Change 2013. She has presented often at NMC, NERCOMP, EDUCAUSE, SXSW, and ELI and has served on the NERCOMP conference board for four years. She is a member of the EDUCAUSE Program Committee for 2015.
Katie's publications and presentations demonstrate her knowledge of and commitment to academic technology. She has published several book chapters and journal articles, and she edited the MIT Athena Insider and Ed Tech Times newsletters for several years.
Her innovative spirit can be seen throughout all of her work. She is a role model for helping to grow projects from their infancy to a point of wide dissemination. Her impact is felt not only at her institution but also throughout the profession in the expanded scope of her projects, in her willingness to share her knowledge through publications and presentations, and in her collaborations with colleagues across institutions. Katie embodies the qualities we celebrate in a future leader in our field.
This EDUCAUSE Award is sponsored by Moran Technology Consulting, Silver Partner.